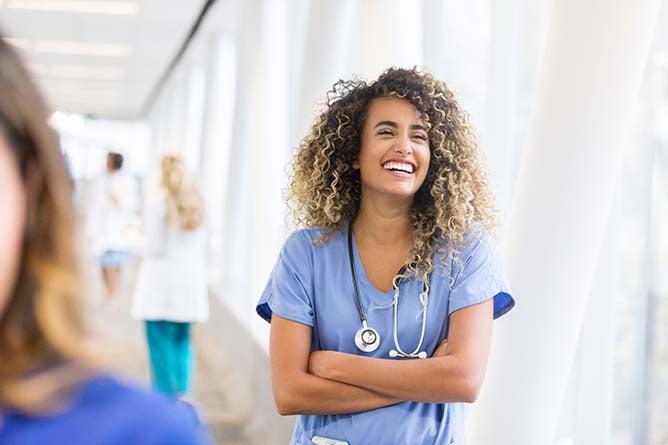 Sarah Handzel is a bachelor's-prepared registered nurse and a medical writer who writes pieces that educate, inspire, and entertain.
Making a career change isn't easy. Doing it successfully takes hard work, dedication, and support from your family and friends. But making the leap and trying something new could lead to the most rewarding experience of your life.
Many nurses enter the field with an associate's degree in nursing (ADN), which has long been the minimum requirement for professional practice. But standards are changing, and many healthcare organizations now require their nurses to hold a bachelor's degree in nursing. In some situations, an ADN might even limit your advancement opportunities and scope of practice. But you can do something about it.
I did.
My nursing story.
I took a roundabout journey to becoming a registered nurse. I held a bachelor's degree in zoology when I decided that I wanted to go into nursing. But making a career switch meant going back to school, and going back to school meant choosing the right program that would get me into the field quickly and efficiently.
Further Reading: WGU's BSN prelicensure program, at a glance.
I wanted an education that would give me myriad options for career advancement. Yes, an ADN would have gotten me in the door at many healthcare organizations, but I knew from my research that my advancement opportunities would be limited. More healthcare facilities are working toward certification from the American Nurses Credentialing Center (ANCC)'s Magnet Recognition Program, which requires facilities to establish that they're working toward meeting the Institute of Medicine's recommended benchmark of an 80 percent BSN-prepared RN workforce by 2020.
Enter the BSN degree.
Earning my BSN degree allowed me to develop fundamental nursing skills in topics such as anatomy and physiology, health assessment, community health principles, and nutritional science. But it also helped me hone the skills that set me apart from other nurses, such as leadership and management, information technology management, nursing education, and communication.
Hard work pays off.
After I earned my BSN, I found that I was qualified for many new graduate nursing jobs at local hospitals. In their effort to improve patient care, the healthcare facilities hiring for the jobs only accepted applicants with a BSN—so I was already ahead of the curve compared to some other applicants. I quickly found a job in the operating room, my specialty.
Without my BSN, it's unlikely that I would've been able to start my nursing career in a specialty as competitive as the operating room. Fortunately, my BSN prepared me for the technical and non-technical skills I would need for the field. And I knew that if I ever tired of surgery, my degree would allow me to move to another practice area with relative ease.
If you're already a practicing nurse, you might not think that a BSN can offer you anything you don't already know. But I was surprised at the amount of time spent developing critical-thinking and leadership skills, which ultimately enhanced my practice. Learning these skills also helped me approach patient care holistically while working collaboratively with my colleagues.
I also learned about the nuances of the healthcare system, including organizational systems, research processes, and how various technologies can be applied to enhance healthcare delivery. These topics proved invaluable, as I was ready to hit the ground running as soon as I was hired.
The value of a BSN degree.
But don't just take my word for it. BSNs are becoming the norm in healthcare facilities across the country. Today, 56 percent of nurses hold a BSN, according to the ANCC, up from 49 percent in 2010. Facilities with higher numbers of bachelor's-prepared nurses have lower failure-to-rescue, congestive heart failure mortality, and postoperative issues, according to a study in the Journal of Nursing Administration. And the nurses benefit, too: bachelor's-prepared nurses earn more during their careers than their ADN counterparts, according to a study in Health Services Research.
In my opinion, there's no other degree program that sets you up for almost limitless career possibilities in the nursing field. My BSN not only enabled me to succeed in the operating room; it also allowed me to seamlessly transition into a pharmaceutical role and, later, into starting a freelance healthcare writing career. As long as I maintain my credentials, I will always have the option to return to clinical practice or pursue a master's degree in a nursing field, such as education or informatics.
If you'd told me years ago that I would be living this kind of life, I'd never have believed you. And there are many others out there who've taken their practice to the next level with a BSN degree. Making the decision to earn my BSN was one of the best decisions I've ever made. If you're ready for a new challenge, it could be the right decision for you, too.