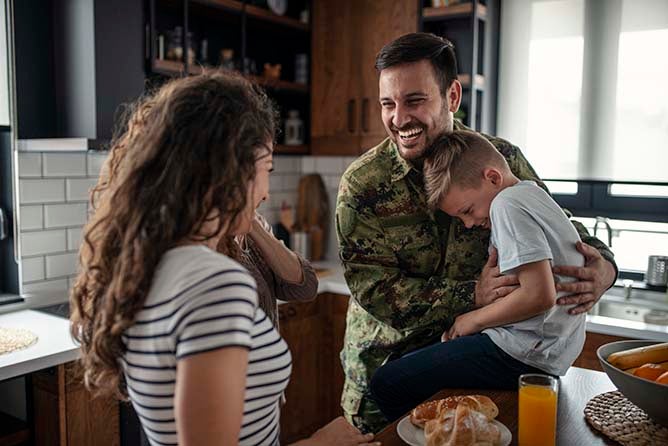 Transitioning from military to civilian life can be challenging for myriad reasons. Finding a job doesn't have to be one of them. In fact, the skills you learn while serving roles in the military can set you up for success in the private sector once you've finished your service.
Here are a few industries in which your military career can help you prepare for your post-service career.
Information technology.
As weapons systems and tactics become increasingly sophisticated, technology plays a larger part of many roles in the military.
Military units need traditional IT specialists—such as network and database administrators, cybersecurity engineers, and computer programmers—to store and process information and keep systems functioning properly. But according to Today's Military, there are many roles unique to the military, such as cyberwarfare engineer, intelligence officer, and unmanned vehicle operations specialist. These military IT professionals use data to analyze and improve procedures and operations.
The civilian job opportunities for former service members with military IT experience and a bachelor's degree in IT seem limitless. For instance, you could lead an organization's technology division as an IT director or chief information officer, or you could safeguard networks from attack as a cybersecurity specialist. Intelligence officers could find civilian employment as data scientists or research analysts, while unmanned vehicle operations specialists could operate robotics equipment at a research lab.
Business.
Leadership and organizational skills are prized in the military and in the business world. The armed services are complex organizations that must be run efficiently; like any other organization, they require employees who are skilled at administration, financial management, human resources, and other key business roles. The military employs human resources managers, unit leaders, and financial managers, among other roles; people in these roles can easily transition to civilian positions post-service.
Military recruiters and personnel specialists, for example, could easily transition to a civilian career as the director or manager of an organization's HR department. Acquisitions and contracts managers, who are responsible for procurement in the military, can find work as purchasing managers for civilian organizations. Military logisticians, who are responsible for making sure that equipment and people are where they need to be, possess the kind of planning and organizational skills essential to managing a company's business units. Earning a business degree—including an MBA—can set you up for success.
Healthcare.
Whether you want to help people as a hands-on practitioner or work behind the scenes as a medical administrator, there are many roles in the military for people interested in a medical career.
Medics and field nurses provide emergency care to wounded soldiers and officers in the field. Medical technicians operate medical equipment, test patients, and interpret results. Healthcare administrators manage military hospitals, clinics, and other healthcare facilities.
Each of these military roles can prepare you for similar careers in the civilian sector, such as registered nurse, healthcare services manager, or nursing informaticist. Because military medical positions train you to administer urgent and acute care, you will be well positioned for a civilian role in almost any healthcare facility. Earning a healthcare degree, during which you'd specialize in one area of healthcare, would add to your foundation.
Applying your skills to civilian life.
Wherever your interests lie, you'll likely find roles in the military that align with those interests—and you'll likely be able to parlay your experience into a good-paying civilian career when your military service is finished.
The leadership skills you develop in the military and your ability to work well with others and function in a stressful environment should make you highly attractive to civilian employers. Earning a bachelor's or master's degree can help you further advance your career goals.