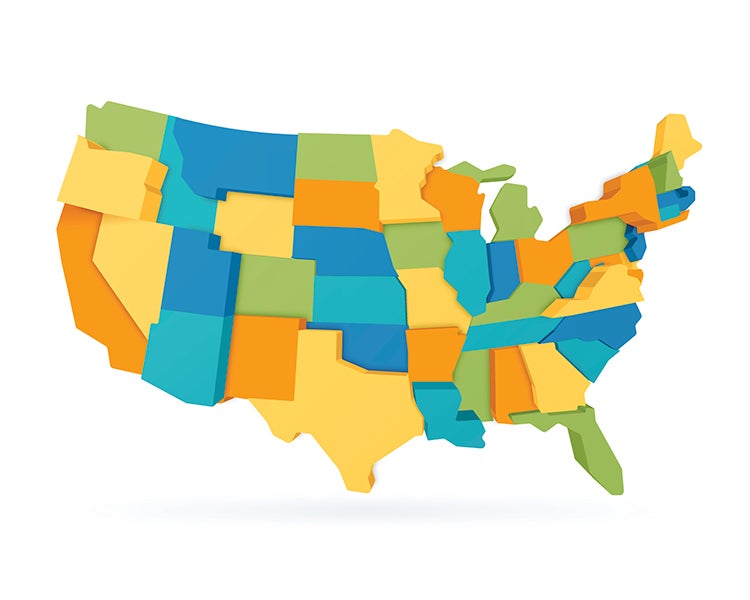 One of the unique features of becoming a teacher is the ability to choose where you want to live and teach, since teachers are needed virtually everywhere (desperately in  some cases). 
There's just the somewhat tricky matter of determining whether, or to what extent, your credentials will transfer. Here's a basic breakdown of what you can expect when you take your teaching talents across state lines.
1. Requirements that Most States have in Common.
Generally speaking, if you hold a valid professional teaching license in a state obtained by graduating from a regionally accredited and state-approved teacher preparation program and pass the state's basic skills and content exams, you will be able to obtain a teaching license in another state.
Many states are willing to issue temporary or provisional teacher licenses to out of state license-holders. This temporary or provisional license allows you to teach in the new state while working to satisfy the additional state requirements to obtain a professional teaching license. The transfer process can take weeks, possibly more, so it is important to check a state's transfer requirements as soon as you know you will be moving.
While you look into transferring your teaching license, you will likely come across the term "teacher license reciprocity". Reciprocity agreements between states aim to work through differences in licensing requirements. With a high demand for qualified, educated teachers across the country, these agreements simplify the transfer process to fill in-demand teaching positions.
The first recommended step in determining if you qualify for a professional teaching license in your new state outright, or if there are additional requirements, is to go ahead and apply for the new license.

2. Examples of Teaching License Transfer Policies.
With few exceptions, your new state will have additional requirements to satisfy before obtaining that state's professional teaching license. The requirements vary, but examples are included below:
GPA Requirements:  New York and North Dakota require at least a 2.5 GPA, and New Jersey requires a 2.75 GPA.
Waivers for state-specific praxis subject assessment or equivalent test: Alabama and Arizona offer these if candidate has 3 years of professional teaching experience. 
State Specific Testing:
California's Basic Skills test.
Indiana - CORE Assessments and Developmental/Pedagogy exams, plus certification in CPR/AED/ Heimlich and suicide prevention.
Massachusetts Tests for Educator Licensure (MTEL) required - no other tests accepted.
Minnesota Teaching Licensing Examinations (MTLE) required - no other tests accepted.
Nevada candidates must pass exams in Nevada School Law and Nevada and US Constitutions.
New York requires 3 specific tests plus Content Specialty exams through NES, and the following workshops/training: School violence prevention, child abuse, needs of children with autism, harassment, discrimination, and bullying.
Oregon: Test of US and Oregon civil rights laws and ethics. 
Please click here or here for detailed requirements on all 50 states. We recommend that you review them and start the license transfer process prior to moving if you are given enough notice.
Although it can be easier to obtain licensure in a new state if you already have it, true reciprocity does not exist. It is rare for one state to accept a teaching license earned from another state unconditionally, even if you are a veteran teacher. Most states follow the NASDTEC Interstate Agreement when it comes to reviewing the licensing credentials of teachers prepared out of state.
3. Teacher Licensure FAQ.
I have several years of certificated teaching experience. Will that experience allow me to meet some of the requirements in my new state?
An applicant with three or more years of certificated teaching experience will need to meet fewer additional requirements to obtain a license in their new state than someone with less than three years of certificated teaching experience. For example, a state may not require a teacher to pass the state's subject matter examinations if the teacher has three or more years of certificated teaching experience but may require them to pass state subject matter examinations if they have fewer than three years of certificated teaching experience.
Is there a national teacher licensure standard I can meet to make me eligible for a teaching license in any state?
State sovereignty laws give power to individual states to create and execute teacher licensure policies that address the unique needs of the state. While states are aware of the need to develop policies that complement those of other states to allow for teacher mobility, not all states have the same licensure requirements.
Becoming a National Board Certified Teacher (NBCT) is one pathway that could make you eligible for teaching licenses in multiple states without needing to meet additional state requirements. Most states accept National Board certification in lieu of satisfying their own state requirements. More information about becoming board-certified is available on the National Board for Professional Teaching Standards website.
Who can I contact if I have questions about obtaining a teaching license in a new state?
Western Governors University has a dedicated team of Certification Specialists willing to assist you in navigating the application details and requirements for obtaining a teaching license in your new state. Our Licensure Office may be reached by e-mailing licensure@wgu.edu or by calling 866.889.0132, Option 3. Certification Specialists are available by phone weekdays between 7:00 a.m. and 4:00 p.m. Mountain Time.