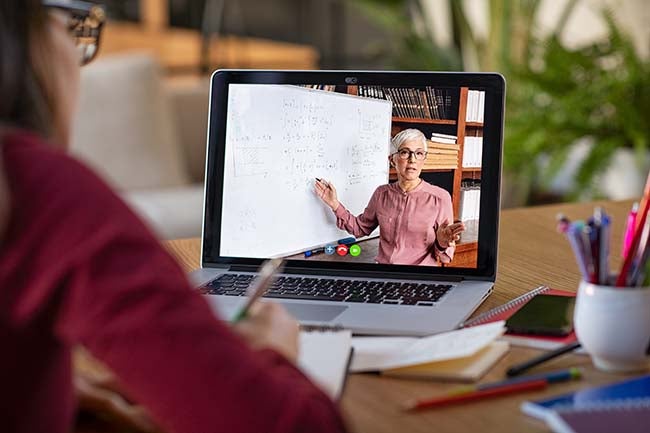 There's no simple playbook for how to get better at math. Getting better at math, like getting better at anything else, takes hard work and practice. But there are plenty of practical tips and tons of free resources out there to help you sharpen your math skills.
In many industries, acquiring job-ready skills and knowledge means understanding foundational mathematical skills and concepts. And you'll likely need to know basic math to continue your education and earn an advanced degree, too. But perhaps it's been a while since you've done math, and you might not feel confident in your abilities.
The first step toward getting better at math isn't about memorizing algebraic equations or learning problem-solving mnemonics—it's about adjusting your outlook. As noted by Education Dive, a Stanford University study found that having a positive attitude about learning how to get better at math is at least as important as your IQ.
It's time to develop a growth mindset. In fact, studies mentioned in the New York Times suggest that when our brains firmly believe that our intelligence can grow through concentrated effort, we're more likely to succeed. This is especially true in a cumulative subject such as math, where it can be easy to get confused and frustrated.
Tips for improving your math skills.
Break down complex problems into simpler ones. The beauty of math is that every problem is built on a foundation of interconnected skills and concepts. If you're facing a difficult problem, don't dive headlong into it; instead, take some time to break it down into a series of smaller steps.
Review the underlying concepts. Of course, you can't break down a problem if you don't understand its underlying concepts. To perform operations with rational numbers, for instance, you need to understand integers and rational numbers, operations with decimals, and operations with fractions, the Harvard Kennedy School's Education Next journal reports.
Don't rush. Patience, the old saying goes, is a virtue—and that's just as true with math. Take your time.
Find a quiet place to work. Studying from home might be the new normal, but your home isn't exactly free from distractions. Turn off the TV, music, and podcasts. Create a work schedule and workspace that will allow you to deeply focus on learning.
Practice, practice, practice. And don't just practice, but expect to fail. If you're right all the time, it means you're not challenging yourself; put in the time and go the extra mile.
Talk about math and get help if you need it. Resourcefulness is a critical learning skill, especially in math. Knowing about—and taking advantage of—available learning resources will not only help you when you're stuck but also help you cultivate a learning community. Math is too often thought of as a solitary intellectual pursuit. Talking about what you're learning and how you're learning it with your peers is one of the best ways to learn at a deeper level.
Resources to help you understand math concepts.
You're not alone in your journey to get better at math. There are tons of learning apps and programs that can help you sharpen your skills. Here are a few to consider.
Math games to help you practice.
Tools can help you develop procedural knowledge, but math is more than plugging in numbers. Interactive math games are a great way to practice and reinforce the math skills and concepts that you're learning or refresh some fundamentals. Here are a few games you can play.
King of Math is an addictive math game featuring characters, time-based challenges, and lots of leveling up. Its hours of gameplay can help you sharpen your mental math techniques. It's primarily focused on middle school- and high school-level math skills, which can be a great refresher on pre-college concepts if you're out of practice.
Math Brain Booster Games is like a personal trainer for your brain. It consists of several training modes designed to improve your concentration and problem-solving abilities. It's generally geared toward learners who are college-aged and older.
Star Dash Studios is a math app for both high school and college students, and it boasts an appealing premise. The action takes place on a movie set, and you use everyday math skills to complete missions set by the crew. Star Dash Studios strives for real-life scenarios to help learners see the relevance of math skills.

Math anxiety is real, and it's all too common. If you're concerned about whether you have the necessary math skills to complete your degree and land your dream job, the tips and resources above can help you build confidence. And remember: Learning online doesn't mean learning alone. There are student-facing faculty, learning resources, and student-to-student collaboration opportunities ready to support you on your way.