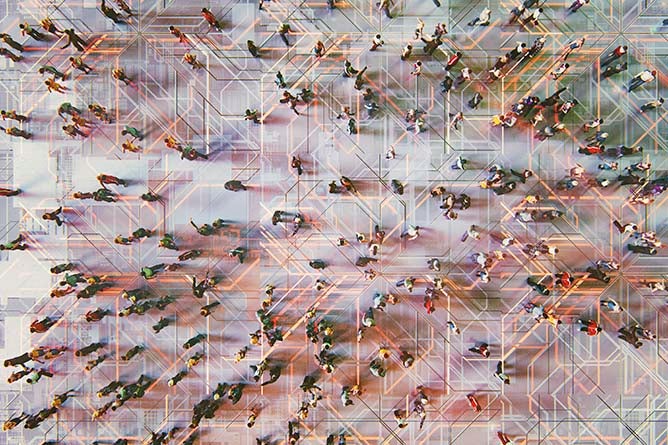 A common misconception is that online degree programs leave students to fend for themselves.
After all, there are no brick-and-mortar classrooms where you see your professors and peers each week. And in competency-based programs, such as the one at Western Governors University, virtual class attendance might not be required for the online degree program. The model is great for busy students because it's efficient and flexible.
But just because class attendance is not mandatory, doesn't mean that learning is any less social and collaborative. As learners, we have to ask questions, discuss topics, and receive feedback to make sense of what we're learning and to keep us motivated and resilient, no matter how we choose to study.
This is one of the things that distinguishes high-quality online degree programs—and WGU's myth-busting support resources keep students connected and working toward their goals.
Student-facing faculty support.
According to the Chronicle of Higher Education, students learn best when they're actively engaged in their own learning, which isn't always the case when they're sitting in a 60-minute lecture. 
At WGU, students are personally assigned to a Program Mentor as soon as they enroll, and these faculty members are there with students until they graduate, helping them develop and follow a tailored learning plan that aligns with their life and goals. Students meet with their mentors weekly, over the phone or via virtual meetings, discussing learning resources, assessments, and how courses are going. Program Mentors have advanced academic and work experience in the fields their students are studying, so they can provide real-world expertise as part of their program-level instruction.
Kristen Gibson, a 2017 graduate, shared how her mentor, Jeremy Little, inspired confidence en route to earning her master's in business administration.
"Life doesn't stop just because you're going to school, and you're bound to get lost along the way, but I knew my mentor Jeremy would get on the phone and say 'Hey, this is where you should be going.' I found myself reassured as I progressed to a degree," Gibson said in her commencement speech.
In addition to Program Mentors, other faculty members serve students in specific parts of their academic journeys. Course Instructors work with students to create personalized course plans and provide subject-specific instruction through online discussion forums. These instructors are subject matter experts with advanced degrees, so students receive instructional support from experienced experts in their fields.
Other faculty members at WGU include Evaluators, subject matter experts who review students' projects, papers, and other performance assessments to determine whether they've demonstrated competency. Students learn more—and learn better—when they receive clear, timely, and comprehensive feedback about their learning, and that's precisely what Evaluators provide.
Learning resources.
The shift from a classroom model in which students learn the same thing at the same time as the rest of the class to a more student-centered model requires students to be in greater control of their own learning. But students don't successfully make this shift without robust learning resources to support them along the way.
Student learning communities.
The power of learning communities is profound, and online degree programs often set up ways for students to connect with one another. WGU, for instance, encourages students to connect through online conversations as part of their experience. Within every course is a feature called Course Chatter, where students can discuss the course materials, ask questions, and share thoughts. These learning communities deepen as students advance through the program. Alumni communities, such as WGU's Night Owl community and private LinkedIn group, keep those connections active even after students graduate.
Course materials and study tips.
WGU's comprehensive learning resources hub supports students by providing tips for studying and time management. It also grants students access to a range of high-quality online and digital materials, including e-textbooks, library services, and web-based tutorials.
"The Writing Center is dedicated to helping students become great writers," says Madonna Tritle, a faculty Program Mentor in WGU's College of Business.
Clear writing will help you distinguish yourself as a viable job candidate in any professional field. WGU's writing centers offer live and on-demand webinars and one-on-one consultations to help students build key 21st-century communication skills, improve their writing tone and style, and get familiar with APA style and formatting.
These kinds of support services and resources can help busy students succeed in their experience at WGU or in other online degree programs. If you are considering enrolling in an online degree program, ask about these kinds of resources on offer. They'll help you reach your goals.