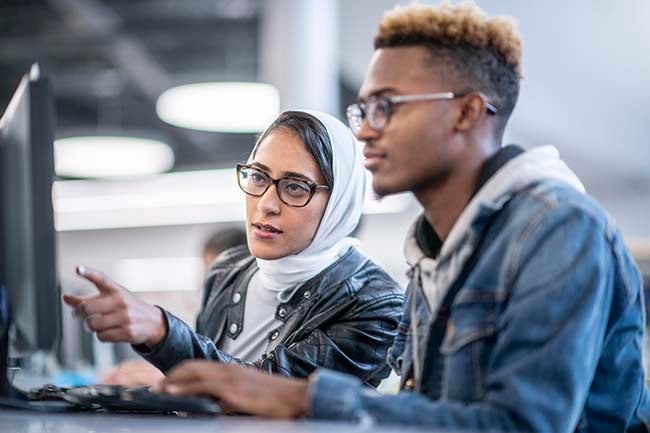 When she arrived in the United States, Daria Decuir faced one of the all-too-common educational challenges for immigrants: she held a bachelor's degree in education from a university in her native Russia, but it didn't translate in the US.
Instead, she was working at a children's clothing store.
"Every day, I got to see and interact with delightful kids," she said. "However, every day I would be folding clothes or standing behind the cash register and asking myself, 'Why am I doing this? Is there not something that has more purpose?' I wanted to make a difference in those children's lives. I started to think of my job as a huge waste of time and, honestly, a waste of myself."
Decuir quit her retail job to pursue an education degree at an American university, but she found schools and employers reluctant to accept her foreign credentials.
"I had to start from scratch," she said.
Immigrants to America face many obstacles, and sometimes highly skilled and college-educated immigrants encounter barriers when trying to apply their skills and knowledge in their new home. Attending an online college can help them overcome these barriers.
Here are three reasons online education can be a great fit for immigrants—especially immigrants with a college education.
1. Competency-based learning.
The roughly 44 million immigrants to the United States are better educated than ever, Pew Research says. In 2016, 17 percent of immigrants 25 and older earned a bachelor's degree; another 13 percent held a postgraduate degree.
However, these immigrants often find that US employers are reluctant to accept their education credentials. This disconnect, which the Migration Policy Institute calls brain waste, leaves more than 2.2 million college-educated immigrants working in low-skilled jobs or unemployed in the US labor market.
That's what happened to Decuir. American schools wouldn't recognize her education degree, so she was stuck working menial jobs, unable to lean on her skills.
Competency-based education helps immigrants like Decuir, who earned her bachelor's degree in elementary education at Western Governors University, earn US degrees faster. Immigrants who already hold degrees can move through courses quickly by demonstrating their understanding of the material and mastery of the skills, applying their knowledge to accelerate their education rather than simply accumulating a set amount of credit hours.
Competency-based education was also a big help to Christoph Hilscher. In 1997, Hilscher participated in a hospitality management exchange program that brought him from a small village in Germany to California. In 2001, he started to pursue a bachelor's degree, but no one would consider his German education beyond high school. He had to take extra courses to meet general education requirements.
"I took classes on and off—at times more off than on—and the goal of achieving a bachelor's degree just seemed so far away," he said. "I struggled to stay motivated. By chance, I saw an ad about WGU. After doing some research, I realized that the competency-based approach could be key to finally finishing my degree."
Three years later, he completed his bachelor's in human resource management. And less than a year after that, he earned his MBA.
"The master's degree will give me the competitive edge I need to advance my career," he said.
2. Flexible scheduling.
Many immigrants who come to the United States as adults balance work and family obligations with their desire to earn a degree. Attending college online can make this balancing act much easier.
Online college offers flexible pacing and asynchronous learning, meaning students can complete their degree in a way that fits their lifestyles. Students must complete a minimum number of competency units per term to meet on-time progress goals, but they can choose when to study and when to complete assignments as their busy schedules allow.
When Decuir started working toward her degree in 2015, she scheduled study sessions around her job cleaning condos and looking after her son. One semester into her program, she learned that she was pregnant with her second child. Because her program was flexible, Decuir was able to complete her degree on her own terms and her own time.
"For the next four years, I would cram studying into every spare moment I had," she said. "Early in the morning and all through the night, while the babies were playing, while the sink was piling up with dishes and dust bunnies invaded our house. I took tests with babies napping on my lap and participated in video calls with my toddlers braiding my hair."
3. Personalized support.
To make sure that students don't feel isolated taking classes online, many online colleges provide an extensive support system. One-on-one mentors accompany students on every step of their journey, from the day they enroll to the day they graduate.
Decuir says it wouldn't have become a certified teacher if not for the support she received from her mentor.
"My mentor, Jacinda, was always able to show me the light at the end of the tunnel, no matter how dark it seemed to me," she says. "Her constant, genuine support and lively encouragement would always help me keep studying. Her greatest advice was 'Take it one day at a time, and you'll get there sooner than you think.'"
Eritrea Habtemariam, who immigrated to the United States from Ethiopia and earned her master's degree in health leadership at WGU, also felt overwhelmed at the thought of adding college courses to her busy life. But the combination of competency-based learning, flexibility, and extensive online support helped her succeed.
"As my journey at WGU comes to an end," she said, "I believe I have gained the knowledge to become a better nurse, a leader, and an educator."