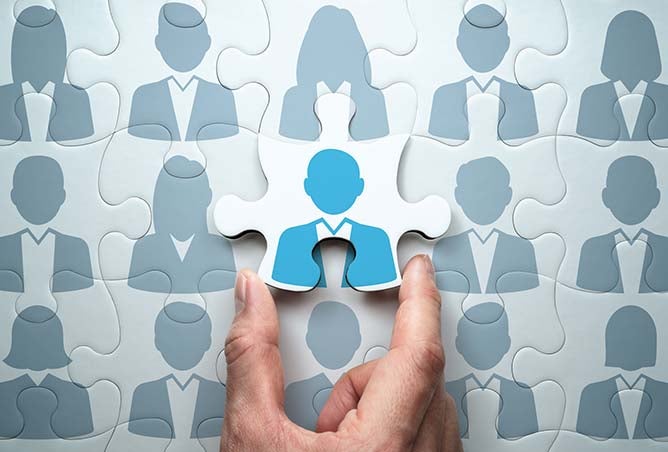 All human resource jobs entail certain core responsibilities, such as recruiting new talent, training employees, managing payroll and benefits packages, and fostering employee development programs. But the specific duties of HR professionals vary depending on where they work and in what sector.
Here's a look at HR roles at three kinds of companies and how size, industry, and location influences those jobs.
What do human resources managers do?
Nearly every company has a human resources department that manages the administrative side of the business. HR managers develop policies and handle the tasks associated with staffing, talent management, and employee advocacy. Those tasks include:
Hiring employees to fill vacancies
Training and developing employees
Developing and implementing policies and procedures
Ensuring adherence to state and federal regulations
Advocating for employees
Managing benefits and payroll
How does organization size affect HR jobs?
An HR manager might also have additional responsibilities based on the size and needs of the organization.
HR manager at a small business.
There are 32.5 million small businesses in the United States, the U.S. Small Business Administration reports, and some small businesses have as many as 1,500 employees. The business's industry will likely determine what HR roles are available and what those roles entail. A privately owned business with fewer than 50 employees, such as a small landscaping company or a tax preparation service, for example, might only need one HR manager.
Other small businesses might have employees who handle HR tasks on an ad hoc basis. Seventy percent of small business leaders surveyed in a 2017 ADP study handle human resources tasks on their own, but only one in five thought they handled them well. Small-business owners who prefer to delegate payroll, staffing, and employee training often hire HR specialists because the size and expense of their business necessitate it.
HR specialists at small businesses spend a considerable amount of time recruiting staff via social media and local newspapers because employee churn rates are usually high. They also handle employee scheduling and approve time-off requests as needed. If the job doesn't require payroll duties, the owner might outsource them.
HR manager at a large firm.
The larger the business, the more likely it is that an HR manager oversees an entire department. In an enterprise organization, each department likely has its own budget and manager.
In addition to standard HR duties, HR managers in enterprise organizations take on additional responsibilities and challenges. Large firms might have a remote workforce to manage, which makes health insurance open enrollment more difficult, and there are often benefit programs, such as workplace wellness and financial wellness, to oversee. More employees in the workplace often means more communication issues, too, so HR managers are often called on to resolve conflicts.
HR manager at a nonprofit agency.
More than 12.3 million people work for nonprofits—about 10 percent of the private-sector workforce in the United States, the Johns Hopkins Center for Civil Society Studies reports. Whereas businesses focus on earning profits, nonprofit agencies support causes central to their efforts. They rely on grant funding, which can limit the number of paid staff. Volunteers, interns, and independent contractors help agencies stay afloat, and HR managers must train and manage them—and help them manage their expectations about compensation and benefits available to them, the National Council on Nonprofits says.
Even with limited funding, some nonprofits offer benefit programs that need management. HR managers at nonprofits must stay abreast of employment regulations, because employment laws are no different at nonprofits. The Affordable Care Act, for instance, requires employers with 50 or more employees to offer health insurance. HR managers are responsible for ensuring their businesses follow these kinds of regulations.
How does industry affect HR jobs.
Different industries have different needs, and that affects an HR manager's duties. For instance, HR managers in the construction industry deal with frequent worker's compensation claims and adherence to specific labor laws. Tech companies, on the other hand, strive to attract fresh, innovative talent, so HR managers there strive to create a positive company culture with competitive benefits and ample learning and development opportunities.
In the banking industry, HR managers must help prevent financial fraud, which makes the proper screening of candidates essential. They also work with security and leadership to establish clear policies for handling money. In the retail industry, HR managers focus on anti-discrimination and anti-harassment education, although risk management is also a big consideration. Finding the right HR role for you means determining which aspect of the job you want to focus on most.
How does location affect HR jobs?
Although businesses have the same basic HR needs no matter their location, some regions have reputations for attracting certain industries. Attracting candidates to their area of the country requires advanced recruitment strategies and possibly putting together relocation packages.
Charlotte, North Carolina, for example, is the second-largest banking center in the United States, according to The Charlotte Observer, and requires a specific hiring pool to meet the demands of this industry. Similarly, the chemical and machinery companies that make up a majority of the manufacturing sector in Texas need professionals with specific skill sets. HR managers develop expert knowledge about their fields and learn how to create benefits packages that will attract talent for these regions and industries.
HR is a necessary staple of most businesses, and the roles therein can be exciting and lucrative. The average HR manager makes about $113,000 a year, the Bureau of Labor Statistics reports, and the employment rate for these professionals is expected to grow 7 percent by 2028, faster than the average for all occupations. All in all, the future looks bright for HR managers, regardless of industry, organization size, or location.
A degree in human resources management can help you jump-start your career. Once you've figured out what industry you'd like to pursue and where you'd like to live, all you have to do is take the first step on your HR career journey.