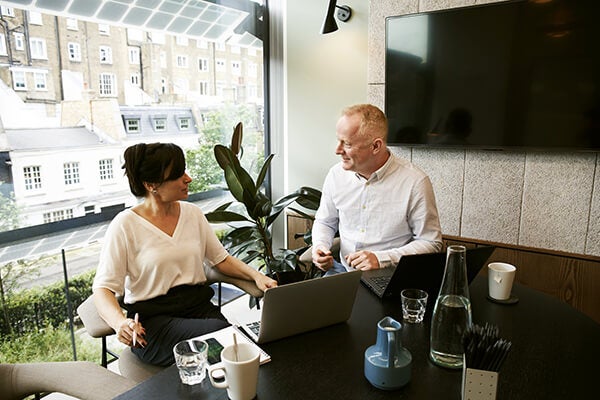 By April Kinchen, M.S., SPHR
Program Mentor, College of Business, Western Governors University
At the onset of the recent pandemic, the world had to move its operations to remote work environments practicing social distancing.  Some organizations were ready to shift their operations to an online existence, while others lacked a strategy for this scenario and execution.
The recent move in higher education from ground operations to a virtual presence is an example that shows a lack of preparation for online learning and the workforce to move to an online learning-teaching platform. This pandemic has presented a chance to measure whether the traditional business environment can be productive and achieve the execution of strategy in a virtual community. We will find out if organizations came to a screeching halt, or did they continue uninterrupted based on their industry? There are industries where virtual work is not applicable, like manufacturing or service industries that rely on the public for interaction. For organizations that do business in an office environment, the world of technology has presented opportunities to reduce the carbon footprint and measure work output.  

During the year 2020, the world discovered what it was like to manage and work in a virtual remote environment. How individual and group decision processes can support or hinder the decision-making process in the business environment is critical in human resource development (HRD).  Recently conducted research describes the new practice in the process of strategy development and execution. Current research in the academic field of HRD demonstrates how human resource practice, as a function within the organization, impacts the process of business strategy development and execution. Flexible work arrangements like virtual teams will be the new normal from an HRD function of managing performance and shifting strategy to a new business model and new age.
It is essential to the field of HRD as human resource professionals are on the front line of this pandemic to understand flexible work arrangements and new business strategies. Human resource teams around the world are making critical decisions about employees and their lives during this pandemic. 
Opening the economy up will require further decision-making and strategy for the execution to be successful. Top-level executives and HRD will be developing strategy and impacting decisions as it relates to furloughed employees and plans for bringing back employees. This requires planning and preparation for what work looks like in the future.  If there are still social distancing guidelines, what plans are in place for traditional office workspace or have positions been identified to work remotely? All these decisions will impact HRD in how they partner with the executive team and execute the strategy in the future.
Current scholarly research suggests that HRD must sustain a competitive advantage for its overall strategy and execution. The labor market before the pandemic of 2020 was a thriving economic boom.  Anytime an economic upswing occurs, the competition for labor becomes fierce. Chapman, Sisk, Schatten, and Miles (2016) found that "HRD and HRM practice are increasingly important moving away from ancillary function to collective components to the organization's overall strategy and execution" (Chapman et al., 2016).  It is essential in HRD to be prepared for how individuals feel they are contributing to the organization and whether they perceive they are valued.  Employees will respond to economic incentives, and if they are going to be paid for the same job, they are more likely to see a higher value in leaving the organization. The HRD opportunity is to understand the market and be responsive to changes that might impact the workforce.   
Several things can impact an organization's competitive advantage, and people are at the top of the list.  Scholarly research suggests there are many factors that HRD can sustain a competitive advantage. HRD can utilize data analytics to analyze retention and turnover rates to determine where problems might be occurring in the organization. Using data analytics enables the organization to move more quickly on any issue and resolve it, finding the root cause of the problem. This shows that one group might have a higher turnover than another impacting the business. HRD can change strategy by understanding where talent exists and using expertise to react and assess their talent streams. HRD can partner with leadership on succession planning, so there is a proactive plan in place for filling critical roles within the organization. HRD can use data analytics to evaluate market rates for talent and provide insight into leadership by impacting high-quality hires. The competitive advantage is knowing and understanding the landscape to determine a strong compensation strategy that aligns with the organization's objectives and business strategy. HRD's insight on how the competition is structured is key to the overall success of the organization. HRD can impact competitive advantage as they have access to various HRD events and conferences that presents networking and understanding of how competitive organizations impact the execution of strategy.  HRD can provide leadership with insight into what the industry and similar organizations are doing to remain competitive with talent acquisition. HRD using data analytics can glean some understanding and show leadership where there might be skill gaps and the opportunity to address those deficiencies proactively versus reactively. Is it becoming obvious how strategic HR teams can be in partnering with the executive team?
Employee development is critical to the success of developing and executing a business strategy. HRD can partner to determine professional development pathways that meet the short- and long-term needs of the organization, impacting retention as the workforce is improving their skill sets, which affects the organization.  Employee engagement and conducting surveys allow HRD to provide insight into how employees' overall mood is if they are engaged or disconnected from the organization.  This enables the organization to take the necessary action to address it immediately.  HRD can align with the organization to work with leaders on succession planning and understanding its strategic goals and objectives. With the understanding of competitive environments, HRD can spend the critical time assessing critical positions and possible employees that are next in line to take those positions.  HRD focused on high performers can alert leadership to who can be fast-tracked to promotional opportunities and cross-functional projects.  Legal matters are essential for maintain a competitive advantage. This ultimately will save the organization from losing money due to significant legal setbacks.  HRD can strategically work to prevent legal matters from impacting the workforce by providing critical training on employment laws, employee policy related to those laws, and enforcement if those employment laws are violated.  HRD can provide insight when an organization has an opportunity to impact potential liability to the organization.
People and their shared value in the organization's mission statement and core values impact strategic execution. Knowledge transfer is essential to group decision-making and dynamics, so it is necessary to recognize the organization's significant and critical roles that affect its overall business strategy.  Top management is vital to the success of HRD strategy and impacting overall business strategy development and execution.  Research suggests that partnership with HRD is critical to the organization's progress and how the firm approaches the overall business model. During the recent events of pandemic and stay-at-home orders, organizations have partnered with HRD for remote work and performance management to include the creation of new virtual communities and remote work output.  There is an opportunity for scholarly HRD research in recent events to evaluate how organizations and executive leadership utilized their HRD alignment in strategy and execution.
References

Chapman, E. F., Sisk, F. A., Schatten, J., & Miles, E. W. (2016). Human resource development and human resource management levers for sustained competitive advantage: Combining isomorphism and differentiation. Journal of Management & Organization, 24(4), 533–550. doi: 10.1017/jmo.2016.37