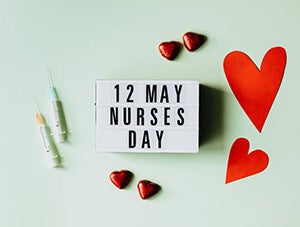 May 12th marks 200 years since the birth of Florence Nightingale, the fearless pioneer of modern-day nursing, and one reason why The World Health Organization declared 2020 the Year of the Nurse and Midwife. It also marks the final day of Nurses Week. 
At a time of great strain to healthcare systems across the world, nurses and other healthcare workers spend their days helping those in need—their patients, their families, their communities, their colleagues, even their facilities. Their time, skill and sacrifice deserve many thanks.

Amid the worldwide coronavirus health pandemic, there's a renewed spotlight on the need for skilled healthcare professionals and the many career possibilities in the field. In fact, by 2025, there will be a deficit of over 20,000 registered nurses in the state of Indiana alone and by 2030, an estimated 9 million more nurses are needed worldwide for optimal global health. At the same time, there is a lack of quality, affordable nursing programs, which is especially concerning at a time when the pandemic has forced temporary changes for many higher education institutions.
At WGU Indiana, we are dedicated to developing the state's healthcare workforce through bachelor's and master's degree programs within our College of Health Professions. In the last six weeks, WGU has seen a surge in applications to its prelicensure nursing program, an encouraging sign as the pandemic continues.

Every May, nurses nationwide are celebrated for giving their all to every patient, every shift. At WGU Indiana, we don't think a week of celebrating nurses is nearly enough. That's why now through June 30, we invite nurses and other healthcare workers who are ready to start or advance their career in healthcare to apply for the Nurses Appreciation Scholarship. We will award multiple scholarships, each valued up to $2,500, to motivated nurses and healthcare workers who are ready to take on the increasing challenges of today's healthcare practice.

WGU Indiana is the state's only fully online, competency-based university and offers more than 60 accredited bachelor's and master's degree programs and is open to all qualified Indiana residents. WGU Indiana's affordable tuition and online model gives students more flexibility and certainty through these difficult times.

Learn more about the Nurses Appreciation Scholarship and apply.