Hitting the road.
As nationwide debt continues to rise, it's become even more critical to educate our communities about the affordability of WGU Indiana. While the average debt for Hoosiers that attend a 4-year or more institution in Indiana is $29,064, the average student loan debt for WGU graduates between 2018-2019 is only $14,941.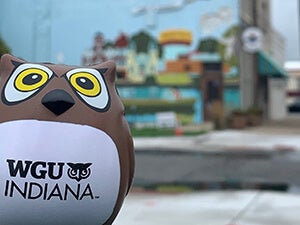 This key finding and much more led WGU Indiana Chancellor Alison Bell to take the "Sage Car" on the road for a statewide tour. In a few months' time, she visited 16 counties and 18 cities to connect with key leaders from around the state to better understand the education and workforce needs of each community and how WGU Indiana's model can support the community at large. 
From South Bend all the way down to Evansville, the key takeaways were clear: there's still a deep need for affordable, flexible higher education in Indiana. 
The challenges. 
A majority of the visits around the state were with the city's mayor and chamber members. After visits to some of Indiana's more rural counties, the access to online learning was noted as an obstacle. High-speed internet isn't always easily accessible in every area of the state, which limits some communities' access  to more affordable and flexible education options. Better internet services would allow WGU Indiana to be a viable option for rural residents.
Other places are flourishing with business growth by adding new company headquarters and an influx of new residents. With this growth comes the need for more workforce development opportunities and highly skilled workers. It also poses the need to encourage high school students to pursue a form of post-secondary education. As a result of our one-on-one meetings, many representatives from around the state began to see WGU Indiana as a solution to their evolving workforce and higher education needs. 
WGU Indiana's key differentiators. 
There are many reasons WGU Indiana is a leader in online higher education, and many city and town representatives expressed intrigue around our competency-based education model. Pioneered by Western Governors University, the competency-based model measures skills and learning rather than time spent. As of today, WGU remains the only institution that offers competency-based degrees at scale. Many of WGU's students also work full time, and the flexibility that comes with this learning model is a vital contributor to each student's success. With 24/7 access to online learning resources, students can manage their degree progress on their own time and reimagine their path to earning a degree. 
WGU Indiana also fosters a partnerships with community colleges around the state, such as Ivy Tech, to create transfer pathways for prior coursework and professional experiences. Having the opportunity to apply past experiences to WGU Indiana's coursework allows many students to accelerate through their selected degree programs. 
Next steps.
Ultimately, this year's tour was both a listening and learning opportunity for all parties involved, and each visit helped WGU Indiana discover new ways to serve communities statewide. Through future participation in committees, coalitions, roundtables and events, WGU Indiana will continue to actively engage with current and potential students, alumni, and key city and town officials and offer accessible, flexible and affordable education to anyone looking to take their future to the next level.