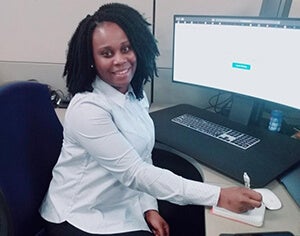 The past year was a difficult one for many reasons, most notably the global pandemic that brought personal, economic and of course public health challenges. Over the course of the unpredictable and unprecedented year however, WGU Indiana remained steadfast in its commitment to student achievement and found new ways to build on its mission to expand access to higher education throughout Indiana. The online, competency-based university was able to award 328 scholarships in the 2020 calendar year.
Tosin Ajayi is one student who, amid the pandemic, decided to switch careers and looked to WGU Indiana to help her accomplish that dream. Tosin has a passion for STEM and cybersecurity and after receiving an internship from Women and Hi-Tech, she then decided to pursue a career in STEM.
Tosin is a deserving recipient of WGU Indiana's $10,000 10th Anniversary Scholarship and is well on her way to earning her bachelor's degree in cybersecurity. Learn more about Tosin and her journey to WGU Indiana below.

What led you to pursue a degree in Cyber Security? 

Since I was a child, I have always loved technology. The thought of a person or company losing their data, identity or life savings because of cyber criminals breaks my heart. I want to be part of the change and be able to help everyone protect their data and assets. 
What led you to pursue a degree with WGU Indiana?

I am a mother of two: a five-year-old boy and a two-year-old girl. I want to continue my education, be a good mother and continue to work in my career field. I chose WGU because it will allow me to be a student, mother, and an employee at the same time and work towards my goals at a pace that makes sense for me and my family.
How did you know that a career in tech was the right path for you?

I have passion for technology and that passion has fueled my motivation. Motivation keeps you going and drives you to success.
How did you learn about the 10th Anniversary Scholarship?

I had a plan to pay some of my tuition out of pocket, then COVID-19 happened and I lost my job as a result. I saw an email from Women & Hi Tech, an organization I follow closely, about the 10th Anniversary Scholarship, so I decided to apply and share some of my story.
How will the 10th Anniversary Scholarship support your journey toward earning a degree? 

The 10th Anniversary Scholarship helped lift the tuition burden off of my shoulders. I can now concentrate more fully on earning my degree.
What was your reaction to learning you were a recipient?

I was excited and felt honored to be a recipient.
What did it mean to you to receive this recognition? 

It meant a lot to me. I felt that each of the positive and negative experiences I encountered along the way added value in achieving my goals.