By Dr. Becky Melton and Dr. Jim McCleskey 
Have you heard the saying, "It's not what you know, it's who you know."  If you heard it, you may have reacted with some degree of resentment or disappointment to the statement.  It seems to imply that your talent and hard work are not enough and that only those with the right connections can reach high levels of success in their chosen field.  It may bring to mind images of a "good ole boys club" or climbing up a ladder and over others to get what you want.  The authors felt the same way.  However, with years of career development and experience, a new light was cast on this adage.  Here is an example to illustrate.
After 10 years in the workforce, John was approached by an executive recruiter.  The recruiter was given John's name by an acquaintance who felt that John was an up and coming manager with potential for an executive role.  The recruiter spoke with John but realized that he lacked some of the experience that the client wanted.  Before ending the call, John asked the recruiter one question, "I have 10 years of progressive experience in management roles and my MBA.  What advice would you give to someone like me?"  The recruiter responded, "At the executive level, the most important thing you bring with you is your Rolodex (list of contacts)."  In other words, it really is all about who you know.  What potential employees, vendors, suppliers, investors, and advisors are part of your network and will be coming with you to the new organization?  The answer highlights the vitally important task of networking for success.  And this connection between networking and success is vital to both the career progression of individuals and the recruiting efforts of organizations.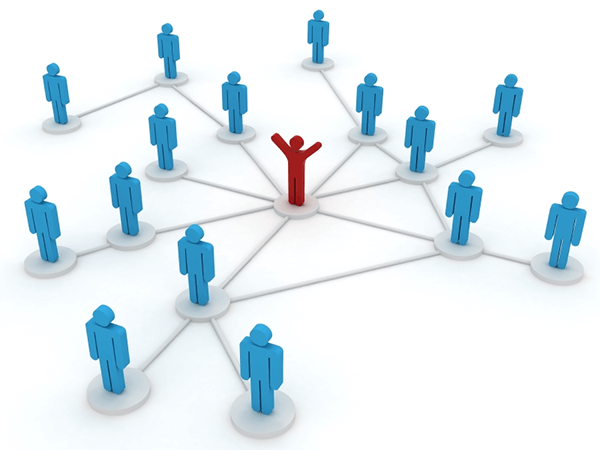 Your network, not your social media.
It is important to point out that networking in this instance does not refer to social networking.  Having 1,000 Facebook friends might assist you in your professional networking, or it may not help at all.  Networking means a purposeful effort to create relationships designed to help accomplish your professional goals (Kuwabara, Hildebrand, & Zou, 2018).  The kind of networking described here is having the personal direct phone number and possibly email address of people who will take your call, listen to your request or question, and possibly provide you with help or information.  These are people who will suggest your next job opportunity, ask someone to listen to your business proposal, or invest in your business.  These people know you to some extent, and they have a reason to like you or to at least believe that you are competent, capable, and hard-working.  These are relationships that you must earn.  Maybe you are not sure how to develop these relationships.
It is useful to see your networking as an investment that will eventually pay off and to see that creating a new connection with someone is itself a payoff.  Thinking of the success of others rather than your success will help you embrace networking and keep others from deciding that you have hidden agendas or a mercenary approach to making friends.
You may also find it helpful to think about networking in a novel way.  Kuwabara et al. (2018) suggested that networking has three stages.  In the search stage, you identify new networking opportunities and initiate contact with the individual, usually one-on-one.  In the maintenance stage, you work to maintain network ties with deliberate outreach and interactions designed to reaffirm the relationship or strengthen it, and in the leverage stage, exchanges of resources or assistance between two or more network members take place.  If each stage requires a specific competency to network effectively, it follows that your skill and confidence in each one may vary (Kuwabara et al., 2018).  This affects your choice to do it—that's human behavior.  Seeing it in steps or phases may increase your motivation to "jump in".    
Developing your network.    
First, be prepared to meet people.  Go to places, events, meetings, conferences, where meeting the right people for your business or industry seems likely and take business cards (print or digital) with you.  Second, follow up promptly with the people that you meet.  Third, do not start off asking for something.  Instead, offer something.  Suggest a good article, website, or media application to that individual or follow up with more information on the last thing you discussed with them.  In his TED talk, Robert Refkin (CEO and Founder of the Compass eCommerce platform) recommends five ways to create stronger connections with people.  Write handwritten notes of thanks or congratulations; pick up the phone and call people instead of just sending emails; ask interesting and meaningful questions to other people instead of making small talk; answer questions with honesty and transparency whenever possible, and use video options when meeting virtually rather than just voice or text only options (2020).  Video > telephone > written notes > email > or text, but always try to use the most effective form of communication available to you and aligned with the recipient's preference, if possible.
Best practices for effective networking.
Having established the need to network, what are some best practices for effective professional networking for both organizations and individuals?
1.  Embrace networking as a critical skill for success. 
A tennis pro doesn't say, "Well, I don't really want to learn to hit the backhand."  It's a necessary competency to win.  As you relate that concept to becoming a capable HR professional, where do your strengths lend themselves to networking?  In what ways can you build your recruiting "muscle" once you decide that you will grow this tool in your belt?
2.  Set a time on your schedule weekly to network. 
Where are your opportunities for the upcoming week?  If your local chapter of SHRM meets this week, how will you use that opportunity to connect with a specific contact (or company)?  What materials would you like to have in hand other than your business card?  Other steps this week may include calling a contact to arrange a meeting over a cup of coffee or lunch, commenting in a meaningful way on a LinkedIn post, or sending a "kudos" to acknowledge someone's achievement.  
3.  Craft and practice your key questions.
Research suggests the use of open-ended questions, such as those noted below:
"May I pick your brain?  I've got a problem.  I'm trying to find someone who fits this position.  (Townsend, 2014). "Can you recommend other people or groups I should connect with?"  (McDonald, 2020).  "Tell me a bit more about your industry." Or "What challenge or two are you facing in your business?  How can I help?  Or, how can I be of service?"
4.  Track your promises and over-deliver.
Pete Liebman, the author of Work Stronger, states that honoring your commitments builds a "trust bank account" with others.  As you make promises to people in your network, be sure to record them at that moment, if possible.  Use the back of the person's business card to note the action you intend to take.  Short comments can also jog your memory: "talked about our dogs," or "BG alum," allowing you to personalize your follow up.  Alternatively, you may use the notes feature in your phone or its recording feature if you are driving.  Assign these promises to your calendar upon your return to your cubicle or home office—and hold yourself accountable.  
5.  Celebrate your successes!
Small commitments increase the chances of securing a larger commitment in the future, according to Dr. Robert Cialdini in his national bestseller Influence:  The Psychology of Persuasion (2006).  As you network, anything that is not a "no" is a "yes." Your contact agreeing to receive a job posting for which you're seeking candidates is a "yes"; agreeing to meet is a "yes."  Someone in your network introducing you to someone you have not met before— "yes."  Gaining leads and candidates for interviews in a new way— "yes."  Build on the commitments you secure.  As we do with other recruiting sources, we suggest you track the number of candidates secured through this method as well as the number of hires.  How does this compare with your other methods?  This process will indicate if you need to refine your key questions and practices to make your networking more fruitful. 
Once more with feeling.
The truth is that networking is vitally important to your career success.  You should be capable, hard-working, talented, and ambitious, but at the end of the day, it really is about who you know.  Your contacts, suppliers, vendors, advisors, potential employees, and potential employers that have a relationship with you, know you by reputation, and are introduced to you by someone they trust will be your springboard to higher levels of career success than you previously imagined.  Good luck and get networking!
Cialdini, R.  (2006).  Influence:  The Psychology of Persuasion.  Wiliam Morrow and Company, Inc.  New York, NY.

Krumie, M. (2020).  How to Use Your Network to Find Good Hires.  Retrieved on May 13, 2020, from ZipRecruiter.
Kuwabara, K., Hildebrand, C. A., & Zou, X. (2018). Lay Theories of Networking: How Laypeople's Beliefs about Networks Affect Their Attitudes toward and Engagement in Instrumental Networking. Academy of Management Review, 43(1), 50–64. 
Liebman, P.  (2020).  The Ultimate Way to Hold Yourself Accountable. Retrieved on May 29, 2020.
Refkin, R. (2020). 5 ways to create stronger connections. [Video/DVD] TED.
Stones, R.  Networking for Recruiters:  How to Find Candidates Through Face-to-Face Connections.  Retrieved on May 13, 2020 
Townsend, H. (September 2014).  Financial Times Guide to Business Networking in What a Lot of Recruiters Get Wrong When Networking.  Retrieved on May 13, 2020