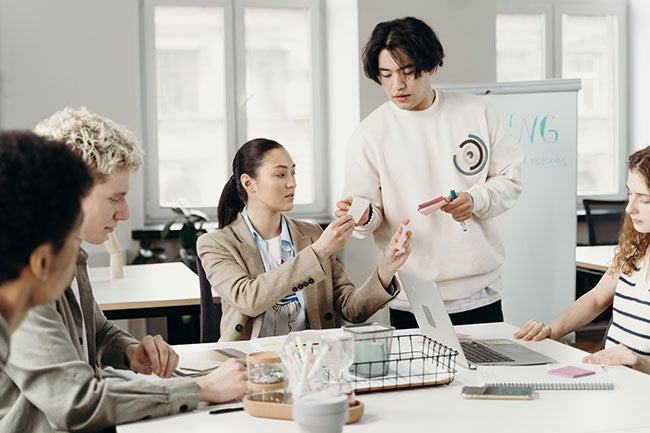 Managing a project can be like solving a puzzle. There are deadlines, budgets, communication, employees, and deliverables that all have to be pieced together. One thing that can help project managers (PMs) coordinate these moving parts is utilizing a project management method. If you see yourself pursuing the PM career path, it's important to learn about the different methods available to you. 
A project management method provides a framework for how a project will be strategized and executed. Its purpose is to give project managers (PMs) a system for delegating work, maintaining collaboration, streamlining project execution, and keeping teams organized and coordinated in achieving their goals. 

There are many different management tools you can choose from, each with its own advantages and challenges. You can also combine elements of different project management methods to create a blended system unique to your specific project. This guide will give you an overview of six project management methodologies and how they work so that you can decide which ones will be most effective in your current or future project management career. 

Six Popular Project Management Methodologies
If you want to work in project management, it's important to know common project management methodologies. The following six methods are among the most widely used in the PM world. 
The waterfall method is the most straightforward method for managing a project. Its name refers to the way a project develops systematically from one phase to another in a downward direction. Tasks must be completed in sequential, linear phases, and no phase can begin until the prior phase is complete. Each team member has a clear role and works toward an end goal. This method is designed to show progress simply so it's easy to see if a project is moving forward on schedule. 
The phases of the waterfall method generally look like this: 
Gather information
Analyze
Design
Implement
Test
Deploy
Modify
Because of its inability to adapt to change, the waterfall method works best for projects that have a single timeline and are well defined from the start—which is why this methodology is most used in manufacturing and construction. 
Agile project management is a popular methodology for organizing and setting goals for projects. It's a system that lets you break larger projects down into smaller, more manageable tasks. Agile project management usually involves short phases of work, called sprints, with frequent testing, reassessment, and adaptation throughout. The upside to using this methodology is that it allows your team to make changes quickly and deliver results faster. 
The stages of agile project management generally follow this sequence:
Work request 
Sprint
Stand-up meetings 
Agile board 
Backlog
Unlike other project management methods, where change is often avoided, agile project management gives room for continuous shifts in any project. Every sprint period gives a team the chance to reevaluate and focus on new goals.
Scrum is actually part of the agile process. It's considered less of a traditional project management methodology and more of a framework for product and software development—although it can be beneficial to any team working toward a common goal. 
The scrum process consists of meetings, roles, and tools to help teams working on complex projects collaborate and better manage their workload. Work is done in short sprints that typically range from two to four weeks. Each sprint consists of a planning session, a daily scrum to check in on tasks, a sprint review, and a sprint retrospective. 

For this process to work effectively, a scrum team needs three specific roles:
Scrum master: A person who leads scrum meetings and manages the framework, principles, and values that make scrum work, including the skills and tools needed for it to be effective.
Product owner: A person who focuses on the business side of the project. They're in charge of managing the product log and translating the vision of the project to the team.
Development team: All the members who are involved in helping to develop the product.
While the scrum method can lead to quality work and faster deliverables, it isn't for every organization. It usually works best with teams of 3 to 10 people and requires a well-trained and experienced team to effectively implement it.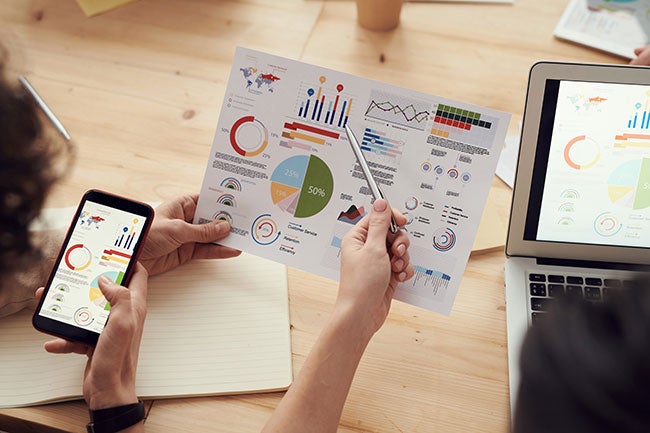 #4 Critical Path Methodology
If your project is large-scale, complex, and has many dependencies, then the critical path method (CPM) can be ideal. CPM is all about identifying the most important tasks in a project, then outlining their timeline and dependencies. These key tasks are put into a project roadmap so you can visualize what needs to be done to reach your end goal. 
The critical path method can provide valuable insight on how to plan projects, create budgets, and schedule tasks. Here's an example of how to execute CPM:
List all the activities or tasks needed to produce the deliverable.
Determine which tasks are dependent on one another.
Make a flowchart that displays the chronology of activities. Create a box for each task and use arrows to depict task dependencies. 
Estimate the duration of each activity.
Write down the start and end times next to each activity to calculate a critical path based on the longest sequence.
Find out if any tasks are flexible and can be delayed (also referred to as "floated") without impacting subsequent tasks or the project end date.
CPM can benefit project managers, teams, and stakeholders because it sets accurate expectations for deliverables, builds in safeguards for worst-case scenarios, and allows teams time to perfect the project. 
The term "kanban" originates from a Japanese word meaning "visual board" or "sign," and it's another method that works with agile project management. In this method, work items are represented visually on a kanban board made up of cards and columns. This board serves as a central information hub for team members to see the progress of every piece of work at any time.
The kanban method helps teams see where bottlenecks are at risk of forming—so, if one of the columns is getting overloaded, they can make changes quickly to keep work flowing efficiently. 
This method requires six core practices to be implemented successfully:
Visualize the workflow 
Limit work in progress (WIP)
Manage flow 
Make process policies explicit 
Implement feedback loops 
Improve collaboratively
You might notice that kanban is similar to scrum methodology in that both encourage adaptivity and transparency. However, kanban centers on a continuous work model while scrum organizes work in sprints. If you're looking for a visual approach to project management with continuous status updates, then the kanban method can be an ideal option.
Lean methodology is unique because it centers on the customer. It leans into the idea that by optimizing people, energy, and resources, a company can reduce waste, maximize efficiency, and ultimately provide better value to customers. A company that uses a lean method is focused on refining its internal process as much as possible. Anything that doesn't provide value to the customer is considered inefficient. 
Lean project management promotes continuous improvement over operational excellence. It encourages every employee involved in a project to share their ideas and to always look for ways to improve. This method can be applied to almost any business or production process—from marketing to manufacturing to software development. 

There are five basic principles in the lean project management model: 
Value: Identify the customers' wants and needs, and the value you want to deliver.
Value Stream: determine where value is being generated and which parts of the process do or don't produce value. 
Flow: Assess each part of the value stream to make sure every step is in sync and there are no bottlenecks or roadblocks. 
Pull: Only produce what customers want when they need it. 
Improvement: Always analyze the value stream to make changes that enhance productivity and reduce waste. 
Lean methodology is constantly evolving as products and consumer needs change. However, at its core, it promotes continuous improvement, responsible decision-making, and a strong focus on providing customer value. 
As you can see, there are several methods to help project management keep their teams on track, and these six are just the start. Earning a degree and certifications is really the best way to build your skills and knowledge in this field. 

An online business management degree from WGU can be a great way to get started in project management. The coursework in this program covers many different project management methods so you can understand and execute projects with direction and clarity. It also teaches you project management software and systems every PM needs to know. 

Earning project management certifications is also something to consider if you want to build your knowledge and skills. Not only can certifications give you higher earning power, but they can also make you more marketable to future employers. 

One of the best known is the Project Management Professional (PMP) certification, which is given by the Project Management Institute (PMI). Recognized by organizations worldwide, the PMP affirms your competence to perform in the role of a project manager as well as your ability to lead and direct projects and teams. To apply to take the exam and earn your certification, you'll need: 
A four-year degree
36 months of experience leading projects
35 hours of project management education/training or CAPM Certification
OR 
A high school diploma or associate degree
60 months leading projects
35 hours of project management education/training or CAPM Certification
 PMI also offers a Project Management Body of Knowledge, referred to as PMBOK. This is a valuable resource for current or aspiring project managers because it includes a collection of processes, best practices, terminologies, and guidelines that are accepted as standard within the project management industry. 
There are several reasons:
Our competency-based programs allow you to go at your own pace and use your knowledge to accelerate your courses and graduate faster. It's your terms, your timeline.
The courses in our programs are designed to give you real-world skills and knowledge that translate directly to your job post-graduation. Ultimately, your success is our goal.
WGU's tuition is charged per six-month term, not per credit hour—which means that you can complete more courses in one term without paying more money. 
On top of our already-low tuition rates, we offer scholarships and financial aid to help make your education even more affordable. 
Get started and learn more by exploring WGU's online degree options today. 
Frequently Asked Questions
What are project management methodologies?
Project management methodologies are tools, techniques, and systems that help managers stay on top of tasks and delivery. They provide a framework for how a project can be strategized and executed.
Can a degree prepare you for project management?
There are many approaches to becoming a successful project manager. 
A bachelor's degree in management can help you get your foot in the door for a project management position. In fact, according to the Project Management Institute (PMI), about 43% of project managers hold a bachelor's degree. Internships, on-the-job training, or certifications are also helpful. 
Although WGU doesn't currently offer a degree in project management, if you're looking to pursue a PM career, you can earn the education and skills you need through a business management degree at WGU.