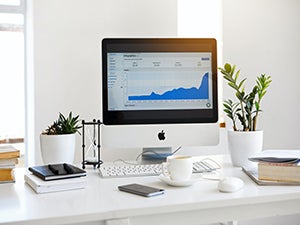 Everywhere you look you can see marketing at work—from the branding on your cereal box to the targeted ads in your Instagram feed. Marketers play a key role in helping companies sell their products and services to consumers. They have their hands in every part of the process of brainstorming and creating a product, including how it's packaged, sold, and promoted. 
Marketing majors dive deep into the art and psychology of what people want, then use that information to strategically promote products or services to a target audience. For this reason, a marketing degree covers a wide range of topics such as:
Creating marketing strategy
Creating consumer personas
Understanding consumer decision making
Developing sales forecasts
Writing and crafting email strategies
Writing a marketing plan
Creating advertising for digital and traditional platforms
Optimizing SEO 
Developing paid ads
If you're interested in launching this kind of career, completing a marketing degree program will give you the foundational skills and know-how that potential employers will be looking for. But before you invest your time and money in a marketing major, here are some important things to know.

What a Marketing Degree is Not
A marketing degree program encompasses a broad range of topics—so broad that there are some common misconceptions about what a marketing degree is and what it's not. Let's explore below.
1. It's not a social media or influencer marketing degree. 

Some students dive into a marketing degree program thinking social media or influencer marketing will be the main focus of their studies. But in fact, these are just two of the subjects you'll touch on. Many marketing curricula cover advertising, communications, consumer behavior, public relations, marketing strategy and research, just to name a few. 
2. It's not a degree for creatives only.  

If you operate more quantitatively than creatively, there are definitely a number of opportunities waiting for you in the marketing world. In today's digital world, data is collected on everything. Marketers need to understand that data to make decisions. Those with a knack for numbers and strong analytical skills would do well in a market research or market analysis role.
3. It's not a degree that will lock you into one specific job. 

The great thing about a marketing degree is its versatility. It will give you a solid foundation in marketing that can lead to jobs in advertising, sales, and public relations or give you the skills you need to become a market research analyst, marketing specialist, or marketing manager. 
What Can I Do with a Marketing Degree?
Because marketing intersects with almost every part of a business (finance, sales, customer retention, product development, and strategy) a marketing degree can prepare you for a variety of specialties such as: 
Brand management 
Product management 
New product development 
Digital marketing 
Social media marketing 
Email marketing 
Content marketing 
Copywriting
Marketing analysis 
Public relations 
Event marketing 
Inbound marketing 
Sales management 
Sales executive 
Business development 
Search engine marketing 
Search engine optimization 
Market research 
Influencer marketing 
Advertising and promotions 
Digital advertising 
Web development 
Retail management 
Business owner 
As you can see, a marketing degree can prepare you for a range of job opportunities. So, whether you're more of a creative type or an analytical thinker, it's likely marketing has a spot for you.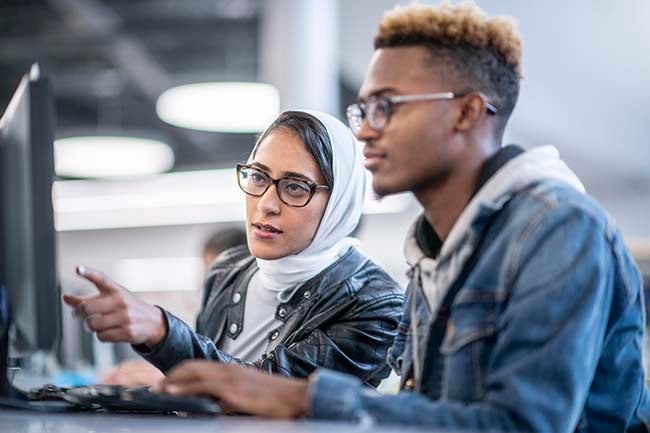 Should I Get a Degree in Marketing?
Getting a marketing degree is the way to go if you're serious about a career in marketing, advertising, sales, public relations, or any of the many specialties in marketing. It will give you a more complete understanding of how all areas of marketing work together and how you can utilize them together to sell a product. 
If you're still wondering if a marketing degree is the right move, here are some questions to ask yourself:

Do I enjoy thinking strategically? 

When you study marketing, you learn to think from a marketing and business standpoint. Oftentimes, that means being able to look at problems strategically, as well as creatively, to come up with the best solutions. 
Do I like working in a team? 

Marketers are true team players, and they work with a variety of departments to coordinate their efforts. Having strong interpersonal skills will help you succeed in any kind of marketing role.  
Am I a multitasker? 

As a marketing pro, it's likely you'll be in a role that requires you to manage multiple tasks at once. On any given day you might be doing things like creating an email marketing strategy, brainstorming event ideas, or analyzing social metrics. 
Do I have a natural interest in sales? 

Marketers play a major role in helping companies sell their products and services to consumers. They're constantly coming up with new strategies and methods to keep consumers interested.
Why Is WGU a Good Fit for a Marketing Degree?
WGU's online marketing degree is designed to give you the tools you need to position yourself as a top marketer. Here are just some of the reasons why our students choose WGU for their marketing major: 
It's affordable. 
WGU's tuition is less than $6,500 per year, including fees. Tuition is charged per six-month term, not per credit hour—which means you can complete more courses in one term without paying more money. 
It's flexible.
A bachelor's marketing degree at WGU is 100% online, which means when and where you do your coursework is entirely up to you. 
It's AMA certified.

WGU offers American Marketing Association (AMA) approved courses that are field-tested and widely applicable across the marketing domain so you can feel confident in your education. 
You will do relevant marketing work. 

In your program you will write a marketing plan, create a consumer persona, write content assets, create brand crisis management plans, and more. This coursework is directly applicable to your career and allows you to have things in your portfolio before you even graduate.
It's doable.

WGU uses a competency-based education (CBE) model that measures skills and learning rather than time, which means you can move through courses as fast as you can learn the material. No more having to wait until the end of semester or term. 
It's worth it.
According to a 2019 Harris Poll survey, WGU graduates reported an average increase in income of $11,800 within two years of graduation, compared with salary pre-employment. 
If you're looking for a degree program that offers all this and more, WGU could be a perfect fit. Learn more about our online marketing degree and get started today.