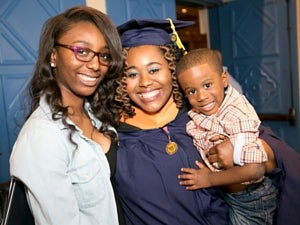 According to the Bureau of Labor Statistics, almost 53 million working adults in the U.S. have bachelor's degrees. With so many people who have bachelor's degrees competing for the same jobs, it can be difficult to stand out.
Standing out is one of the major benefits of obtaining a master's degree or higher.
In fact, more and more in today's competitive workplace, it seems that master's degrees hold the same status bachelor's degrees used to hold: No longer just a nice-to-have, a graduate degree is increasingly being seen as a must-have. In many cases, master's is the new bachelor's.
You may have wondered once, twice, or possibly multiple times whether completing a master's degree would be worth it or is even pertinent to your career development and advancement. You've probably seen that with most institutions, the price you pay for a master's degree is steep, and the thought of additional school debt may be discouraging. Working a full-time job and having a family could also make finding time to return to school seem like too big of a task.
WGU's online degree programs are designed to help you save time and money as you gain the qualifications you need to succeed in four high-demand fields: IT, nursing and healthcare, K–12 teaching, and business. Whatever your career goals are, a master's degree can only help you!
Here are some ways a master's degree will be an asset to you and help you advance your career.
A master's degree in the IT field is typically required for anyone looking to obtain a management-level position. In 2014, the median salary of IT managers in the U.S. was $127,640. WGU offers several IT-focused master's degree programs that could help a professional obtain the necessary credentials, and in-depth knowledge and skills to move into management positions and expand their expertise.

Jobs a master's degree in IT could qualify you for: IT manager, IT project manager, software engineer, senior database administrator, senior software engineer, web developer, IT specialist, etc.
A survey conducted by Accountemps, a global temporary staffing service for finance and accounting professionals, found that 80 percent of the surveyed executives said a graduate degree in business is important to obtain senior management positions with most companies. A degree from WGU could qualify you to move into management positions. And while an MBA remains an outstanding option for graduate-level business studies, it's not the only master's degree available in business. Others include an M.S. Management and Leadership, M.S. Integrated Healthcare Management, or M.S. Accounting, as well as MBAs with specializations like IT management or healthcare management.
Jobs a master's degree in business could qualify you for: upper management in business, nonprofit, or government, including c-level positions; accountant; financial analyst; management analyst; compliance manager; auditor; risk analyst; tax examiner; revenue agent; etc.

A master's degree in nursing and healthcare-related areas enables you to increase your level of responsibility. If you have been working the floors for many years and are looking for a change, a professional with an MSN degree tends to qualify for more flexible work schedules and higher pay. You have the opportunity to work in administrative and management roles or become a nurse educator, which may mean better schedules and more leadership opportunities. Our master's programs in nursing and healthcare management provide you with the knowledge and skills that enable you to design, implement, and manage nursing and healthcare programs or effectively teach nursing courses. Completing a master's will help you qualify for higher-paid administrative and management roles.
Jobs a master's degree in health professions could qualify you for: nurse educator (faculty member in a nursing school or teaching hospital), nurse manager, advanced care specialist, healthcare administrator, care manager, home healthcare, general medical and surgical hospitals, independent practice, schools or universities, chief nursing officer, chief executive officer, chief operations officer, chief administrator, provider network executive, home health agency president, health system vice president, ambulatory services executive, department or division director, behavioral health director, clinical director, managed care analyst, etc.

If you already hold a teaching license and currently teach, you may wonder how you could benefit from a master's degree. Completing a master's program as an already-licensed teacher makes it possible for you to become an expert in your preferred subject matter or it could qualify you for educational leadership positions such as principal or vice principal. Business Insider reported that elementary education is one of the "10 Most Useful Graduate Degrees," along with special education. WGU has several programs that will prepare you to fill positions in those fields. A master's degree will help you specialize and adjust lessons to address the needs and unique learning styles of all your students, which could likely lead to greater success. WGU offers master's programs for teaching and leadership positions that are in high-demand.
If, on the other hand, you aren't a licensed teacher—but want to become one—and you already have a bachelor's degree in another field, an MAT degree, or Master of Arts in Teaching, is a great way to earn a teaching license through a graduate degree program.
Jobs a master's degree in K–12 teaching could qualify you for: principal, vice principal, assistant principal, teacher, special education, curriculum developer or specialist, specialized teacher in a public, private, or charter school.