Going back to school can be scary. But you shouldn't have to worry that you'll be haunted by your online university choice. In honor of Halloween, here are 8 frights you can avoid when you decide to go back and earn your degree.

1. Spine-tingling tuition.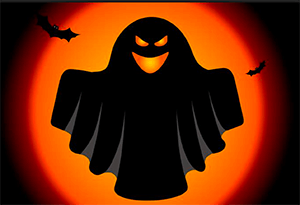 College can be expensive, but it doesn't have to be. If the university you're researching makes it difficult to find out how much they charge for tuition, beware! Do you get the chills thinking about paying for school? Shop around: College doesn't have to cost an arm and a leg…
WGU Missouri charges a flat rate per six-month term—less than $3,500 for most programs. WGU Missouri is a nonprofit and works hard to keep tuition low for students. Also, at WGU Missouri, you may be able to accelerate your program if you are able to devote the needed time to your studies or if prior work or life experience has given you the knowledge you need to pass your courses quickly and move on. A competency-based education model coupled with a flat tuition regardless of how many courses you complete can translate to saved time and saved money.
2. Frightful financial aid process.
Do you dread the thought of applying for financial aid? Scared of finding yourself entombed in endless paperwork?
At WGU Missouri, a financial aid counselor helps walk you through the process, and is there to guide you and answer questions. Your enrollment counselor is with you every step of the way through your enrollment process. And your financial aid counselor will assist you with your questions and the whole application process. Furthermore, WGU Missouri offers several scholarships for new students.
3. Terrifying transcript evaluation.
Do you get the jitters wondering what courses will transfer from your prior college experience?
WGU Missouri partners with many community colleges nationwide to ensure seamless credit transfer a smooth transition into your program. Even if some courses don't transfer, competency-based education means you needn't waste time with material you already know. If you can demonstrate your competence in a course, you take the assessment and move on to the areas you need to focus your time on.
4. EEK! My textbooks cost how much?
Textbooks can really add up, and lugging them around for studying on the go can be a nightmare. Most horrifying of all: buying a book you never end up using.
At WGU Missouri, most textbooks are available as e-books, available for free as part of your tuition and fees. E-books also mean studying becomes a multi-media experience, offering multiple approaches to mastering the skills and knowledge you need to succeed. Videos, interactive quizzes, webinars, live chats with subject-matter experts—you'll feel like you've received more than your money's worth with WGU Missouri's learning resources.
5. Paralyzing class schedules.
Are you haunted by memories of time wasted in a classroom, listening to a lecture about things you already knew? Do you have nightmares about being late, showing up in your pajamas, or just plain forgetting to show up for a class where you're required to put in the seat-time to get credit?
WGU Missouri is flexible, a university that goes where you go and lets you study on your schedule. You can go to school full time, work full time, and still have a life. WGU Missouri is about what you're able to learn, not about how, where, or when you learn it. It's about competency, not classroom hours.

6. What's lurking under the surface?
Have you heard horror stories about schools not being what they claimed to be? Do you worry about finding skeletons in your university's closet?
WGU Missouri is an open book. We were founded by 19 U.S. governors with the sole mission of providing a high-quality alternative to traditional higher education. We're a nonprofit with accreditation by the Northwest Commission on College and Universities. Our Teachers College, nursing degree programs, and health informatics program have received additional industry-specific accreditations.

7. My professor is an alien.
Ever sit in a crowded auditorium, one among 500 people, and then try to talk to the professor afterward—along with another 50 students?
At WGU Missouri you have mentors, not lecturers. Faculty are there for you! Course mentors are subject-matter experts whose job is to help you when you're struggling with material (they leave test grading and curriculum development up to other, specially assigned faculty). Meanwhile, your personally assigned mentor is a faculty member who is with you throughout your time at the university, checking in with you regularly, ensuring you're making progress and on track to graduate, as well as providing you any help and guidance you need. WGU Missouri's faculty are more of a "guide on the side" rather than a "sage on the stage."
8. The path is dark, scary, gloomy—and lonely.
WGU Missouri is dedicated to your success. Our goal is your graduation! From the first time you speak with an enrollment counselor through graduation and beyond, you're at the center of what we do. This includes resources to get you through your degree program but also career guidance, webinars on personal skills like studying and organization, and countless other tools to ensure you're never alone. You can even meet your fellow students and get their advice, encouragement, and friendship through robust social communities. In fact, you can meet your first WGU Missouri friends now: Stop by the WGU Missouri Facebook page and ask students what they think of the school and their program!