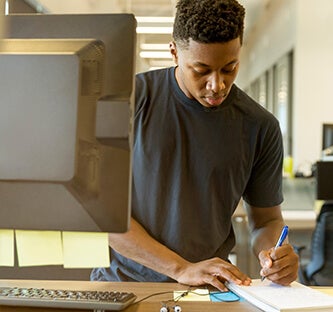 In honor of Black History Month, we wanted to take this time to look at the educational statistics for African Americans in America and then in Nevada. Additionally, we will end by looking at the resources that may be available to encourage education, especially higher education. 
First and foremost, the National Center for Educational Statistics conducted research on the matter of racial and ethnic identities within education. From their results, we were able to find that the number of bachelor's degrees awarded to African American students increased by 75 percent between 2000–01 and 2015–16. 
However, if we localize that information, we can see that African Americans are the lowest number of high school graduates in Nevada. "The graduation rate for African American students in Nevada was 58.1 percent, compared to 86.6 percent for Asian students, reflecting a gap of 28.5 percentage points," from the Nevada Department of Education.

Educational successes are steppingstones. If a student does well in elementary school, they will likely do well in high school, and that success can contribute to the decision to attend college. So, we must look at public school as step one. In its study, the National Center for Educational Statistics showed that in the 2015-2016 school year, U.S. teachers were predominately Caucasian at 80% while African American teachers only made up 7% of the population. In fact, in the Economics of Education Review, researchers Anna J. Egalite, Brian Kisida, and Marcus A. Winters wrote a paper called Representation in the classroom: The effect of own-race teachers on student achievement that shows having a teacher of the same race/ethnicity can have positive impacts on a student's attitudes, motivation, and achievement. With African Americans making up only 7% of the population, we do not have that representation for those students in the state. 

In 2017, Nevada submitted the Every Student Succeeds Act (ESSA) plan which focuses on how to help students succeed, and therefore help our state raise in the national ranks of educational success. The plan goes onto to delineate ways to help students succeed by closing the opportunity gap in Nevada by identifying and helping students who need extra assistance. 

In the higher education realm, competency-based education (CBE) is leading the charge in making degrees more accessible. Lumina Foundation, an independent and private foundation committed to making opportunities for learning beyond high school available to all, supported a paper written by Stephanie Malia Krauss Director of Special Projects Jobs for the Future. "This paper considers how CBE can be used to educate, equip, and empower learners who struggle in postsecondary learning programs because of who they are and where they live." CBE can provide anyone, including African Americans, the opportunity to learn what he or she doesn't know rather than having to relearn what is already known. This educational model is also reflected in WGU Nevada's core principles, making education possible, affordable, and attainable.  

WGU Nevada also offers robust teaching degrees, which can be used to be part of the change. Anyone interested in shaping young minds in the classroom especially adults who want to provide representation to the students they teach, can earn a more affordable degree quickly, getting them into the classroom in no time.