We think WGU Nevada is pretty great—but who cares what we think? Hear it straight from our students! In the next installment of the Who: In Their Own Words blog series, we are happy to feature Souraya Green. Read her story below!
When did you graduate? 
I first earned my bachelor's degree in 2016, and then went back for my master's degree and completed the program in 2018. I had a long break after I graduated high school!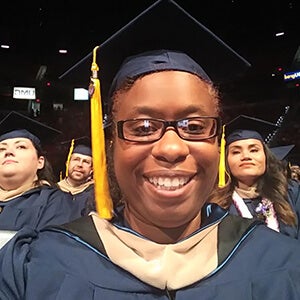 I headed back to higher education when I was in my forties, but finally finished! I've taken many college classes over the years since high school, but sometimes life gets in the way. I was a single mother and had some rocky marriages. I made my focus supporting my family and my home and placed school on the back burner. 
What career are you in now? 
I worked in management for a short while but am now running my own CPR Training business!
Did your degree aptly assist you in entering this career? 
I definitely had a leg up when I was in my management business thanks to my degree.
What made you choose WGU Nevada as your higher education institution?
I was sitting in my car while in prayer one day thinking about my life and asking for direction to further my education because I was out of financial aid and didn't know what to do. Right after that, I looked up and saw a WGU billboard. Something said call them, so I did, and the rest is history!
Did you receive any tuition assistance from WGU Nevada? 
I did...thank God! I received some scholarships from WGU and am super grateful for it.
Have you attended any WGU Nevada events: graduation, luncheons, baseball games, bowling nights?
I was able to walk at both my graduations, first for my bachelor's degree and again for my master's.

What advice do you have for an adult thinking about going back to school? 
Just do it! WGU is an awesome avenue for you to reach your degree destination. Honestly, it was the best experience ever because of the self-paced, affordable (because I had to pay mostly out of pocket for my bachelor's degree), and most supportive school experience I've ever had. The staff truly cared, listened, and supported me throughout my years there, and even made sure to meet me in person at graduation. There's no other place like WGU. I hope they add doctorate programs soon!