Jordan Siragusa, a first-grade teacher at Montclaire Elementary School (MES) in North Carolina, was recognized for her kind heart in the classroom with a full scholarship to Western Governors University (WGU), as well as $10,000 from the nonprofit university to help with expenses.
Siragusa has always dreamed of receiving her master's in curriculum and instruction and was thrilled to find out she was the recipient of the scholarship from WGU live on "The Ellen DeGeneres Show". She shared on the show that her students inspire her by working hard despite their personal challenges. MES is a Charlotte-Mecklenburg Title 1 school where 92 percent of the students are high poverty.
What is truly inspirational is that Siragusa's first thought after receiving the money was how she could pay it forward to help her school and her students. She and her husband quickly decided they would donate the majority of the after-tax value of the $10,000 WGU donation to the school and started a fundraising campaign on the crowd funding site "You Caring". Jordan plans to match every dollar donated, up to a total of $5,000, to help provide students with unforgettable learning experiences that are often limited for Title 1 schools such as field trips and events. Each dollar raised will have the power to change a student's life. Siragusa told a local TV reporter that "I'm their teacher, but they are the ones teaching me."
On Tuesday, March 6, MES Principal hosted an assembly at the school where Jordan's students, their parents, WGU North Carolina Chancellor Catherine Truitt, and Charlotte-Mecklenburg School System Learning Community Superintendents all gathered to show Jordan how much her efforts meant to MES and the greater community. Jordan surprised everyone in attendance by announcing that she had started the You Caring fund for the school and several generous donations had already been made. Chancellor Truitt then shared that WGU North Carolina donated $1,000 to Jordan's campaign page, bringing the total to almost $4,000. Students also received "Be Kind" t-shirts from Ellen and WGU backpacks filled with apparel and school supplies such as winter hats, tumblers, pencils, and more.
"Jordan is an amazing person with a huge heart and is so deserving of the recognition and the opportunity to advance her career with WGU," said Chancellor Truitt. "I was honored to be there on behalf of WGU to see firsthand the impact teachers like Jordan can have on the next generation."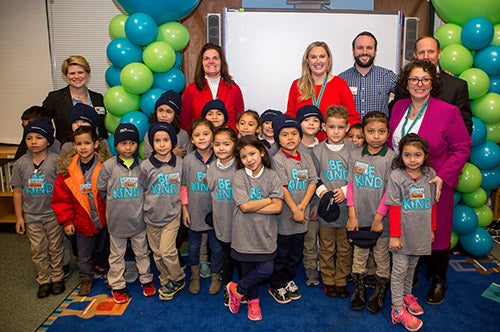 Photo credit: Kevin McCarthy