WGU North Carolina is proud to be a corporate partner of the USO of North Carolina. We reached out to its new president to ask about his priorities and how WGU can help the military community.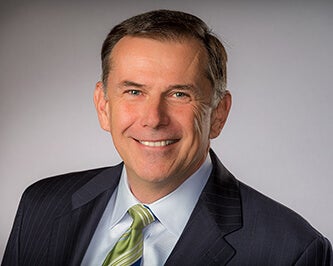 Jim Whaley started his career in the U.S. Army, and became a Master Army Aviator and U.S. Army Helicopter Instructor Pilot. He has been awarded the Legion of Merit, Air Assault Badge, and Humanitarian Service Medal, as well as numerous other awards during his more than 20 years of service in the U.S. Army. He also served as Director of Communications at the United States Military Academy at West Point. 

After retiring from military service, he stepped into the corporate communications world, first serving as the SVP of Communications and Marketing for Siemens Corporation for 10 years and then as VP, Global Corporate Communications and Government Affairs for Sealed Air Corporation.
After making the decision to retire last December, he founded Sonnet Public Relations, LLC, a veteran-owned public relations firm that provides expertise in designing and implementing strategic communication plans that propel brands and improve reputations. He started his current position with the USO of North Carolina in August 2019.

Whaley is a graduate of Lock Haven University where he received his Bachelor of Arts degree in communications; he completed his MBA at Embry Riddle Aeronautical University. He currently serves on the boards of Veterans Bridge Home and Red Cross of the Carolinas.

What is your current title? 

President and CEO, USO of North Carolina.
In your new role, what are the immediate goals, or things you would like to see happen first?

There is a growing need for the USO's services in North Carolina, which means the need to increase resources, and a capital campaign is a great way to help get us there. Eleven percent of U.S. military active-duty forces call North Carolina home, and we need more resources to support them. Another goal of mine is to open a USO office in Charlotte. There is a lot happening here and a physical presence in Charlotte would be very beneficial.
What do you think are some of the most pressing education needs the military community in North Carolina is facing?

I would say the challenge of translating the leadership experience gained while in the service to the workplace. It's also critically important to help human resources professionals and recruiters understand their value. Military retirees are often young and in their prime when looking for a job. One benefit to hiring a veteran is they join an organization with the intent to stay. Loyalty is very important to them.
How can WGU North Carolina help address these concerns? 

Our partnership with WGU is hugely important as we feel the overall model is a great fit for the military community. Its programs are affordable and the competency-based approach helps veterans use their experience to move through the courses more quickly. They need a chance to transition and get back in the mode of learning the civilian way, and WGU helps make that possible, especially by offering scholarships targeted towards veterans. It's also a great fit for military spouses. One of the big drawbacks in the military is frequent relocation, and it's often hard for spouses to find meaningful employment or get settled in a university program. WGU gives them the flexibility to study from anywhere. 
WGU North Carolina also has a partnership with Veterans Bridge Home in Charlotte. How are the USO and VBH different? 

It's really like two horses pulling the same wagon. VBH's focus is on supporting veterans in the Charlotte area and our focus is statewide and represents all active duty and reserves. Both groups are critically important and we are so glad WGU North Carolina is helping reach both audiences.
What do you see as the most significant economic trends or issues affecting the state's business community over the next 24 months?

With all the growth we are seeing in our business community, there is also the need for strong leaders and entrepreneurs. Time spent in military service can help produce future leaders who know how to lead, take risks, and think outside the box. These folks are our next generation of business leaders. Companies who get them plugged in will have an employee who is going to make a real difference.
Why do you think the WGU model works?

A major concern is that students today are graduating from traditional universities with degrees but unable to find jobs and left with enormous debt. They are too often not seeing a return on their investment. WGU has broken the code and is trying to make every dollar count for its students.