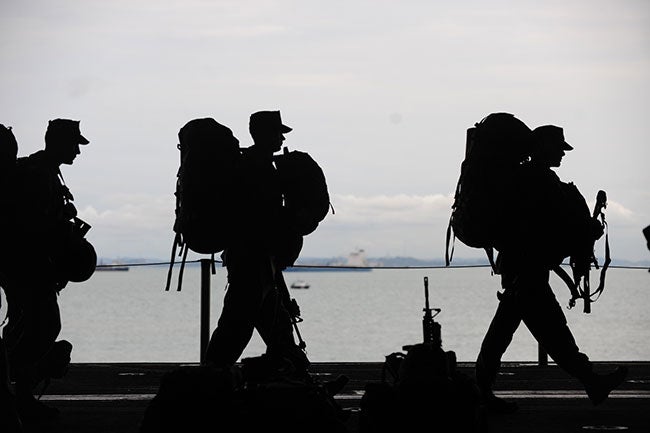 For the 12th consecutive year, WGU has been named a Military Friendly® School. For 2022-2023, WGU is also ranked as the #1 online school by Military Friendly®.
Institutions earning the Military Friendly® Schools Awards designation are evaluated using public data sources and responses from a proprietary survey. Final ratings are determined by combining the institution's survey responses and government/agency public data sources within a logic-based assessment. According to Military Friendly®, the evaluation process measures the school's ability to meet thresholds for retention, graduation, job placement, repayment, persistence, and loan default rates for all students and specifically for student veterans.
"WGU recognizes and honors the sacrifice and dedication it takes to serve our country, and we strive to be a military-focused institution that makes educational opportunities available to active-duty service members, National Guard, reservists, veterans, and their families," said Jeff Harley, Director of Military Engagement Strategic Partnerships at WGU. "We are proud to be once again designated as a top Military Friendly® School."
Military-Focused
Going beyond just being "military-friendly," WGU strives to be "military-focused." That means there is a dedicated Military Tuition Assistance Team that can help applicants review their GI Bill benefits and other potential funding sources, including scholarships.
All degree programs offered at Western Governors University are approved by the Department of Veterans Affairs for all education benefits offered under the GI Bill. Education benefit options are available for veterans and active-duty service members, dependents, and those with service in the National Guard and Reserves.
WGU has a dedicated team of Military Strategic Partnerships Managers who regularly visit military bases and events around the country. Former U.S. Marine Corps officer Ryan Bauman serves in that role for the Southeast Region.
"It seems that everywhere I go, service members come up to me and say they've heard great things about WGU's cybersecurity degree programs," said Bauman. "Other popular programs for those transitioning out of the military are our business degrees, at both the undergraduate and graduate levels, especially our one-year MBA track."
In North Carolina, about 19% of WGU students currently enrolled self-reported a connection to the military community (active duty, veteran, military spouse or dependent). Nationally, that figure is about 14% of WGU students.
As part of Military Appreciation Month, WGU North Carolina exhibited at the Fayetteville Woodpeckers' Military Appreciation Night on May 13 and is sponsoring the Durham Bulls' Military Appreciation Night on May 30. We also recognized Military Spouse Appreciation Day on May 6 with a special social media promotion awarding prizes to deserving military spouses.
Military Scholarships
For the fourth consecutive year, WGU North Carolina is proud to announce the WGU North Carolina Military Service Scholarships valued at $2,500. This scholarship is exclusively for North Carolinians with a connection to the military community. The deadline to apply is Sept. 30, 2022.
In addition, WGU offers these national military scholarships:
To help WGU better serve the military community, please spread the word about these scholarships. Learn more about WGU's support for service members here.