According to the American Association of Colleges of Nursing, the United States is projected to experience a shortage of Registered Nurses (RNs) as Baby Boomers age and the need for healthcare grows. As the World Health Organization's proclaimed "International Year of the Nurse and Midwife" comes to an end, their "State of the World's Nursing 2020" report projects a shortfall of 5.7 million nurses globally unless nations increase funding to educate and employ more nurses.
A report by researchers at Georgetown University projects that North Carolina is slated to have one of the worst nurse shortages in the country, with nearly 13,000 nurses needed by 2025.

WGU's College of Health Professions is accredited by the Commission on Collegiate Nursing Education and has produced more than 51,000 graduates nationwide, including 1,751 who live in North Carolina. As of December, 681 North Carolinians are enrolled in WGU's undergraduate nursing programs, and 326 are enrolled in master's degree nursing programs. 

WGU nursing students pass the National Council Licensure Examination (NCLEX) at a rate of 97%, compared with the national average of 91%.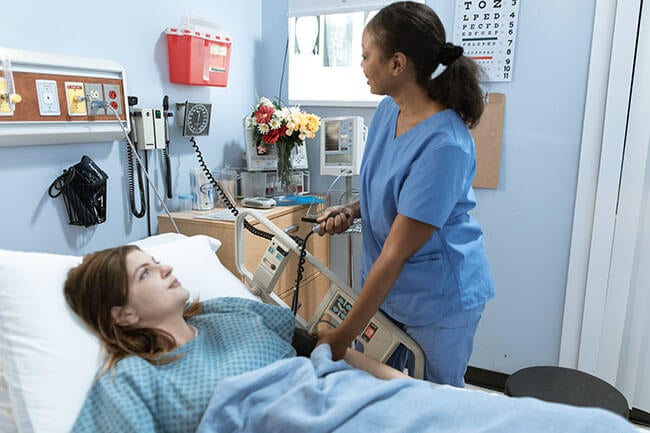 Nursing degree programs.
The College currently offers three bachelor's degrees: Nursing (RN-to-BSN), Health Services Coordination, and Health Information Management. Additionally, WGU's College of Business offers a Bachelor of Science degree in Healthcare Management. 
The College also RN-to-MSN and BSN-to-MSN programs in the following fields: Nursing-Education, Nursing - Nursing Informatics, and Nursing – Leadership and Management. Additional master's degree programs offered by WGU include Master of Health Leadership, and Family Nurse Practitioners – M.S. Nursing, as well as an MBA in Health Management offered by the College of Business.

The healthcare sector has not been immune to job cuts due to the COVID-19 pandemic, but experts predict that many jobs, such as administrators and registered nurses in certain specialties, will return after the pandemic has passed. Certain healthcare practices and procedures might change (e.g., more telemedicine appointments and fewer in-person visits), prompting many nurses preparing to enter the workforce to become more proficient with technology. 

Diversity in nursing.

WGU is committed to promoting diversity in the nursing profession. A study by the U.S. Department of Health and Human Services found that patients of diverse backgrounds had better outcomes with registered nurses of their own race or ethnicity. In a 2017 report, the National Council of State Boards of Nursing found that minorities are under-represented in the nursing field when compared to the general population.
WGU is addressing the issue of diversity in nursing through a commitment to better serving minority populations, a robust scholarship program, and a continued focus on competency-based education, which allows students to study on their own schedule and receive credit for their past education and experience.

"We've started analyzing student outcomes to see where inequities exist," said Dr. Jan Jones-Schenk, Senior Vice President of the College of Health Professions. "We've taken some early steps by asking our students, faculty, and alumni to raise visibility on unjust or questionable practices in teaching and learning. All of these steps are entirely insufficient, but they are a start."