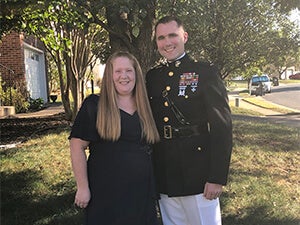 William Hogan and his wife.
Meet William Hogan of Stafford, Virginia. He graduated from WGU in 2020 with a Bachelor of Science in Business Management.
What is your military background?
I've been a Marine for more than 19 years.  Of those 19 years, I've been married for 16 of them and am the father of two wonderful sons.  I've also completed six combat deployments, to Iraq three times, Afghanistan two times, and to the Horn of Africa in Djibouti and Kenya. While deployed, I supported multiple different infantry battalions in combat operations. I currently serve as a staff officer at Quantico, Virginia. 
Why did you choose WGU?  
Between trying to balance family, work, and life, obtaining a college degree had been a challenge for almost two decades. When I heard about WGU's competency-based learning, I was drawn to an education model that not only made sense, but incentivized hard work and dedication. Over the course of one term, I was able to complete 98 CUs to earn my degree.
How will earning your degree advance your career? 
My degree has helped me with refining staff processes, project management, and creating and managing a budget. It's also assisted with my leadership and management styles. It will undoubtedly make me more competitive for promotion and assist me with securing a lucrative job when I eventually retire from the Marine Corps. 
Whom do you credit for helping you achieve your academic goals?

An excellent mentor coupled with easily digestible materials and interactive learning made my dream of obtaining my degree a reality. My wife has made tremendous sacrifices over the past 20 years that we've been together. We were high school sweethearts before I joined the Marine Corps. I couldn't have done it without her.  

What has been the best thing about your WGU experience?  

Along the way, I learned a ton and was able to set an amazing example for my sons, who watched me come home after work every day to complete classes despite being tired or distracted. Earning my degree has undoubtedly set me up for success in future endeavors. I'm truly grateful to WGU for providing me an opportunity to achieve one of my goals!