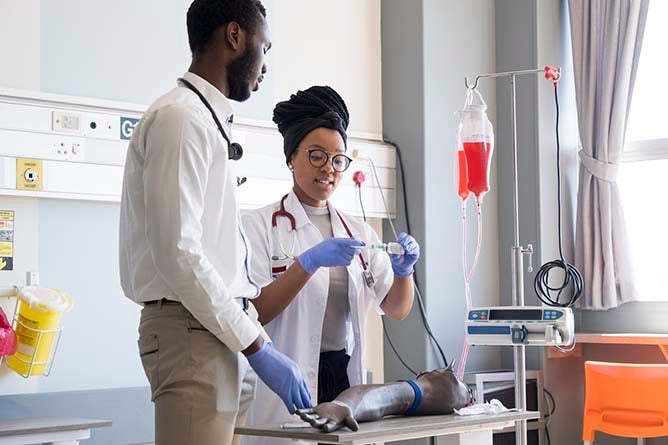 It's no secret that there's a global shortage of nurses. According to the U.S. Bureau of Labor Statistics, the employment rate for registered nurses is expected to grow by 12 percent by 2028. For advanced practice nurses, it's 26 percent. These figures are significantly higher than the average 5 percent rate of all other occupations. While record numbers of students are applying to and completing nursing school, many nursing roles still face significant shortages.
Further reading: 5 unusual nursing careers.
The nursing shortage has several contributing factors. People are living longer than ever, and they're experiencing significant health needs that require intensive levels of care as they age. Advances in treatments mean more healthcare services can be offered to patients facing any number of illnesses. Greater access to health insurance coverage has increased the number of people seeking care. Nurse burnout and nurse retirement rates are high, too, meaning that managers in some specialties are continually on the hunt for qualified employees.
The nursing shortage affects every aspect of the profession, but some specialties are affected more than others. Learning more about which nursing roles face the most significant shortages could help you determine the next steps in your career.
Nursing roles in high demand.
Increased demand in several nursing roles means that you have more options than ever for advancing your career in one of these fields.
Factors affecting shortages in specialty nursing roles.
Several factors affect healthcare facilities' abilities to meet patient demands.
Aging workforce: More than 1 million registered nurses are expected to retire over the next 15 years, the American Association of Colleges of Nursing reports. That's more than one-quarter of the 3.8 million RNs currently employed in the U.S., and the number of retiring nurses is outpacing the number of incoming nurses.

Burnout: PRC Custom Research's 2019 National Nursing Engagement Report found that 15.6 percent of all nurses report feeling burned out. Forty-one percent of nurses also report feeling unengaged in their profession.

Regional shortages: Some states have trouble attracting nurses to put down permanent roots. According to Modern Healthcare, California, Texas, New Jersey, South Carolina, and Alaska face the most substantial projected registered nurse shortages by 2030.

Wage disparities: Some nurse specialties pay substantially more than others. Regional pay differences and the gender wage gap affect registered nurses across the nation.
Further reading: Superheros wear gowns, not capes.
Your nursing education prepares you to meet the challenges of these and other specialties. Exploring one of these high-demand specialties might help you fill the nursing shortage gap—and give your nursing career the jump that you've been searching for.