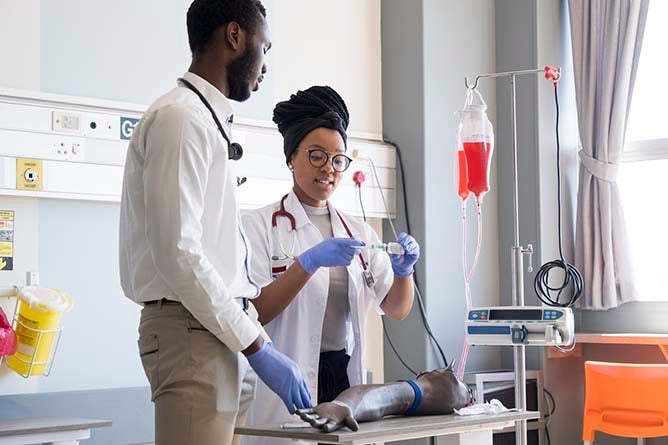 It's no secret that there's a global shortage of nurses. According to the U.S. Bureau of Labor Statistics, the employment rate for registered nurses is expected to grow by 12 percent by 2028. For advanced practice nurses, it's 26 percent. These figures are significantly higher than the average 5 percent rate of all other occupations. While record numbers of students are applying to and completing nursing school, many nursing roles still face significant shortages.
Further reading: 5 unusual nursing careers.
The nursing shortage has several contributing factors. People are living longer than ever, and they're experiencing significant health needs that require intensive levels of care as they age. Advances in treatments mean more healthcare services can be offered to patients facing any number of illnesses. Greater access to health insurance coverage has increased the number of people seeking care. Nurse burnout and nurse retirement rates are high, too, meaning that managers in some specialties are continually on the hunt for qualified employees.
The nursing shortage affects every aspect of the profession, but some specialties are affected more than others. Learning more about which nursing roles face the most significant shortages could help you determine the next steps in your career.
Nursing roles in high demand.
Increased demand in several nursing roles means that you have more options than ever for advancing your career in one of these fields.
Critical care: Intensive care unit nurses work in one of the most fast-paced specialties in acute care. You'll need to continually update your nursing practice to include the latest evidence-based care techniques and technologies to ensure that critically ill or injured patients have the best chance of recovery. As emergency care becomes more technologically advanced, nurses with critical care and technical skills will be in high demand. According to Recruiter, critical care nursing positions increased around 15 percent since 2004, and that number is steadily climbing year over year.

Geriatric nursing: Geriatric nurses care for senior patients by specializing in specific disease treatment and coordinating with other professionals, such as social workers and senior living facility managers. According to the National Academy of Medicine, less than 1 percent of all registered nurses and less than 3 percent of advanced practice nurses are certified in geriatric care. But by 2030, about 20 percent of Americans will be 65 or older and in need of nurses who can provide the care they need. The National Academy of Medicine reports that eldercare employment will grow by 48 percent by 2020.

Labor and delivery: Labor and delivery nurses often work long hours in a very physically demanding environment. While this specialty was once confined to acute care facilities, the rise in specialized birthing centers ensures continued demand for labor and delivery nurses. The Association of Women's Health, Obstetrics and Neonatal Nurses states that nurses in this field will account for more than 10 percent of the projected 440,000 new RN positions opened up by 2024.

Nurse educators: In 2018, 75,029 qualified prospective nursing students were turned away from nursing schools across the country, the American Association of Colleges of Nursing reports. Qualified nursing educators are essential to the future success of the workforce, but many schools lack sufficient nurse faculty. Some states are offering perks such as tax incentives for nurse preceptors to combat the issue. According to the Bureau of Labor Statistics, the United States will employ over 14,000 new nurse educators by 2028, growing the field by 11 percent.

Psychiatric nursing: The American Psychiatric Nurses Association estimates that almost 56 million American adults are affected by a mental health disorder or a substance use disorder. The current number of adequately educated and trained mental health professionals, including registered nurses, cannot keep up with this increased healthcare need. Facilities will need more trained psychiatric nurses to care for these specific patients. Employment for psychiatric technicians and aides is projected to grow by 12 percent by 2028, according to the Bureau of Labor Statistics, along with the need for more psychiatric nurses.
Factors affecting shortages in specialty nursing roles.
Several factors affect healthcare facilities' abilities to meet patient demands.
Aging workforce: More than 1 million registered nurses are expected to retire over the next 15 years, the American Association of Colleges of Nursing reports. That's more than one-quarter of the 3.8 million RNs currently employed in the U.S., and the number of retiring nurses is outpacing the number of incoming nurses.

Burnout: PRC Custom Research's 2019 National Nursing Engagement Report found that 15.6 percent of all nurses report feeling burned out. Forty-one percent of nurses also report feeling unengaged in their profession.

Regional shortages: Some states have trouble attracting nurses to put down permanent roots. According to Modern Healthcare, California, Texas, New Jersey, South Carolina, and Alaska face the most substantial projected registered nurse shortages by 2030.

Wage disparities: Some nurse specialties pay substantially more than others. Regional pay differences and the gender wage gap affect registered nurses across the nation.
Further reading: Superheros wear gowns, not capes.
Your nursing education prepares you to meet the challenges of these and other specialties. Exploring one of these high-demand specialties might help you fill the nursing shortage gap—and give your nursing career the jump that you've been searching for.