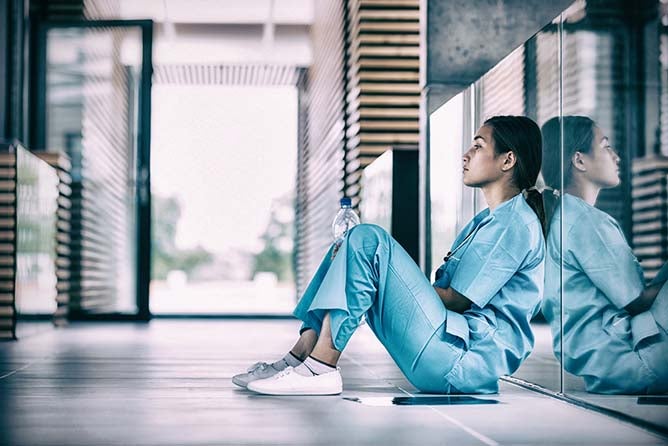 WGU Ohio is supporting students who work in healthcare as they and their families address the coronavirus pandemic.
While the competency-based online university provides a flexible schedule and allows students to enroll anytime for a six-month term, officials realize some students are having to defer their studies because they are working more or caring for children home from school.

"Some are working overtime and come home exhausted," said Molly Anders, a registered nurse who works full time at WGU mentoring students who are studying for a master of science in nursing or are in the nursing leadership and management master's degree program.

More than three-quarters of WGU students work full-time.

Anders, of Cleveland, said her students, who live around the country, are registered nurses and many are in management or work on hospital floors. 

"Mentors reach out to students and call them either weekly or every other week to check on them," said Anders, who graduated from WGU in 2016 with a master's in nursing. "We motivate them and check in to see if they have any questions with their classes. Other online universities don't have that personalization."

She said her students have described how their policies, procedures and work environment is changing daily due to COVID-19.

"We have never encountered this in healthcare before as they are preparing for the amount of patients that are ready to come in," she said.  "I reassure them and, without a doubt, we support them and care for them. If I call a student who is working on the front line in the ER, I am not just focused on them getting an assignment done. I focus on them as a person and how they are doing. That takes priority."

WGU students generally try to complete four or more classes in a term depending on their degree program and pay a flat tuition rate for that six-month period.
Some students have had to take a break from their studies to focus on their work, she said. But others, who work in fields such as elective surgery, that have been reduced, have more time to study.

As the healthcare crisis continues to expand, WGU may extend terms for students depending on their situation, she said. 

"We are student-obsessed and will do whatever is right for the student," she said. "We will accommodate and treat each student individually."