UPDATE: Chaunte placed sixth after successfully jumping 1.97 meters in the women's high jump final. To watch a replay, please visit NBC's Olympic Page. Way to go, Chaunte!
When Chaunte Lowe was 4 years old, she told her mother she wanted to be in the Olympics some day. Her mother responded by saying that a goal like that would take hard work and perseverance.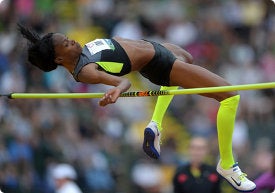 Photo courtesy of PRPhotos.com
Today, she has reached that goal—for the third time—only this time she is doing it as a mother of two and a full-time student earning her master's degree online through WGU.
Chaunte, the American women's high-jump record holder, started training for her chance at the 2012 Olympic Games in April 2011, immediately following the birth of her second daughter. And, she spent nearly two years before that carefully considering and researching her educational options.
"It's not unusual for professional athletes to end their careers with no back-up plan—I didn't want that to happen to me," said Chaunte. "I realized that most hotels have wi-fi and, with as much travelling as I do, I could use my down time to study."
Last September, just months after she began her intense training, Chaunte enrolled in the M.A. in Teaching Mathematics degree program at WGU. She chose the school because of its NCATE-accredited Teachers College and because the school is widely accepted in her home state of Georgia.
Chaunte says that what she loves most about WGU is the fact that she can accelerate her program but take time off when she needs it to pursue her athletic career or take time for her kids. "I can study and take tests and then take four days off if I need to," she said. In between taking care of her children, ages 5 and 1, and traveling to meets before the big Summer Games, Chaunte has managed to keep her studies on track. "Wherever I am, you can find me in the lobby of my hotel with my head buried in my laptop," she said.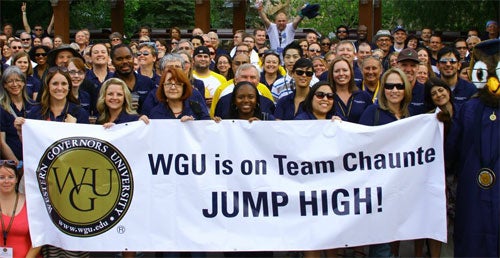 It's safe to say her studies have not interfered with her training or the other way around. Chaunte finished first in the women's high jump at the Olympic Trials in late June and will join Team USA in London later this month for her chance at a gold medal.
When asked what her plans are after the Olympics, Chaunte said she will keep working toward completing her degree, and will be starting her demonstration teaching in September. Much like achieving her dream of becoming an Olympian, Chaunte hopes she will reach her goal of becoming a teacher, too. "I've always wanted to be a teacher," said Chaunte, "and WGU is helping me get there."
To follow the latest news and updates about Chaunte and her progress at the Olympics, check out WGU's Facebook page. Go Chaunte! Go Team USA!