They say it's never too late to start something new. Need proof? Just take Roma Este McDonald, for example. Now a second-grade teacher at Muller Elementary School in Tampa, Florida's Hillsborough School District, Roma didn't start out with a passion for teaching. But when she found it, she knew she needed to pursue the right degree to help her turn that passion into a career.
"I didn't develop my passion for teaching until late—there was no way I could have done this in my earlier ages," Roma said. "I did not have the patience until after my son started school."

But once her son started school, Roma volunteered as a room mom and spent a lot of time around students. That's when she started to think to herself, "I could probably do this." In that same year, the kindergarten paraprofessional decided to retire—which is what opened the door for Roma to take their place.

As Roma put it, "That's how I ended up being a paraprofessional. I stayed in that profession for five years and then decided that I wanted my own classroom."

But before she could take on her own classroom, Roma enrolled at WGU and reached out to her district to make sure that she would be hirable with her WGU degree. "I actually sent off a letter to my district—I asked them, do you know who WGU is? And if I got a degree from WGU, would I be hirable? And that person wrote back and said yes," Roma recalled. Not only had her district heard of WGU, but they revealed that other employees had earned their degrees with WGU.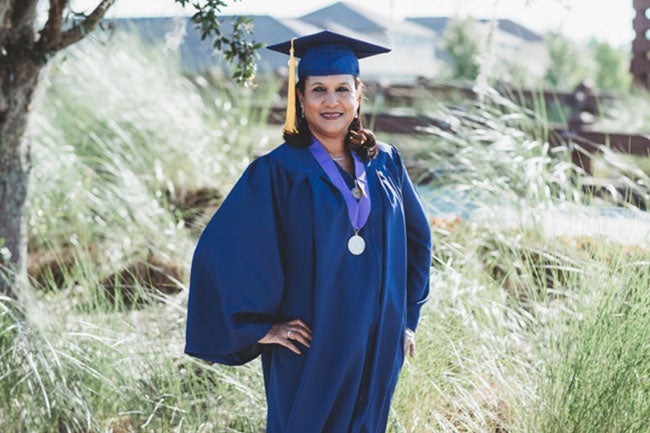 As Roma set out to earn her Bachelor of Arts in Interdisciplinary Studies at WGU, she was encouraged by her previous principal and fellow kindergarten teachers—all of them told her she should teach and have her own classroom. Once she obtained her degree, Roma did exactly that.
"Without the degree from WGU, they wouldn't have hired me—I would still be a paraprofessional," said Roma. "They gave me the experience; they gave me the strategies that I needed to become a better teacher. I think I am better for it."

And now Roma has made her passion her profession. As she shared, "If you can see kids' faces when they learn, that's what I live for. I feel like I'm making an impact on the next generation, and I don't know how many professions can say that. And I love that I can be a part of all of that."