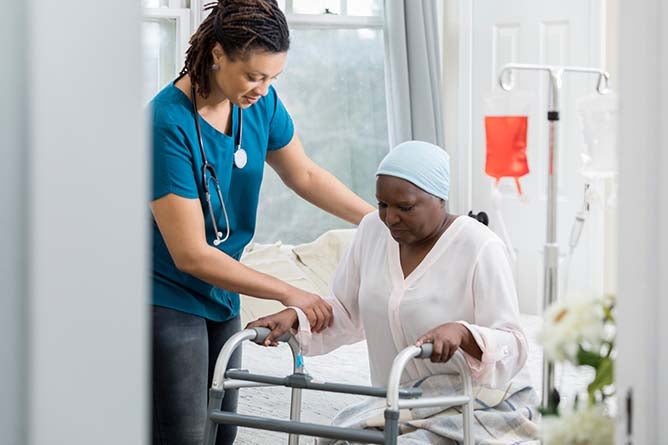 One of the most attractive aspects of nursing is its flexibility. Nurses work in many different environments—corporate wellness programs, outpatient oncology clinics, county administration buildings, even in patients' homes. Part-time nursing jobs offer flexible time commitments and working environments, and that flexibility can be invaluable when you're caring for loved ones or returning to school to pursue an advanced degree.
Keep in mind, though, that nursing jobs aren't one-size-fits-all. A nurse who's passionate about trauma might not enjoy the heavy paperwork of a nurse case manager, and a nurse who specializes in geriatric care might not enjoy working with infants and children. The key is to find what you enjoy and to find opportunities that meet your needs.
Start where you are.
If you work in a hospital, going from full-time work to part-time work could be as easy as going to your manager and asking. Many facilities will be happy to keep a trained, competent employee in any capacity.
For typical hospital jobs, full-time usually means three 12-hour shifts per week, and part-time means two shifts per week. That might be enough for you, but it might not be flexible enough for your needs. Another important question is to ask if dropping down to part-time will affect the benefits you receive from your employer.
Agency and staffing work.
So let's say that you want to work outside the hospital environment. Maybe you want something with eight-hour shifts, something with a slower pace, or something with more autonomy. There are several part-time nursing jobs you can look into.
If you need a change of pace, are adaptable, and hate repetitive jobs, an agency position might be right for you. Sign up with a reputable agency in your city and let them know when you want to work, and they can start sending you to fill in at skilled nursing facilities, in private duty, and at nursing homes. Most agencies require nurses to have a few years' of experience; if you have the experience, agency work can be a great way to go part-time.
Teaching and education.
If you've earned your master's degree in nursing education, you could take on a teaching role in your community or at an online program. This can be a full-time or part-time position, so specify that you're interested in working part-time when you apply. Part-time roles can be supervisory, training groups of nursing students, or they could involve teaching a course or two, depending on the institution. This could be a great opportunity to influence the next generation of nurses while keeping your schedule flexible, but keep in mind that you'll be doing much less direct patient care.
You might be able to find part-time work as a nurse educator or clinical educator who provides specialized education to patients or to groups of healthcare professionals. This position would be ideal for nurses who want to take a step back from direct patient care.
Home healthcare nursing.
The home healthcare model continues to grow; according to the Home Health Care News, it's now a $102 billion industry. Patients are being discharged home earlier in the recovery process, as home health services improve patient outcomes and cost less than extended hospital stays, the Home Health Care News says. Part-time work with a home health care agency might be a great change of pace for nurses looking for more autonomy and the freedom to make their own schedule, and who wish to see one patient at a time.
This job does come with plenty of documentation—all nursing jobs do—so be sure that you're taking the hours of charting into account when you're calculating your part-time hours.
Per diem nursing.
Per diem work essentially means you work as needed. There's no set schedule, but there's also no guarantee of work. How much you'll work depends on the facility; it can be as little as one shift per month or as much as a regular full-time slate. It also doesn't usually come with benefits, but hourly pay is often better than average, according to the Atlanta Journal-Constitution. But it can be the right fit for someone who wants to keep a foot in the door in a field that they love while they pursue full-time work elsewhere. It could also be good for a nurse who needs to accrue hours for licensure or certification while juggling other demands and opportunities. 
A word of advice.
Because full-time nursing positions often entail three 12-hour days per week, it might be tempting to take on a second part-time job instead of using the four off days for self-care, relaxation, and recuperation. If that's what you decide to do, make sure that both of your jobs have supportive coworkers, managers, and a healthy work environment so you can avoid exhaustion and burnout.
Part-time nursing jobs can also be a good way to try out a new position and see if full-time nursing in that specialty is right for you. They can also be a good way to work your way into a full-time position if one isn't available when you first apply.
Nursing's flexibility is one of its greatest strengths. Where will you go once you have your degree?