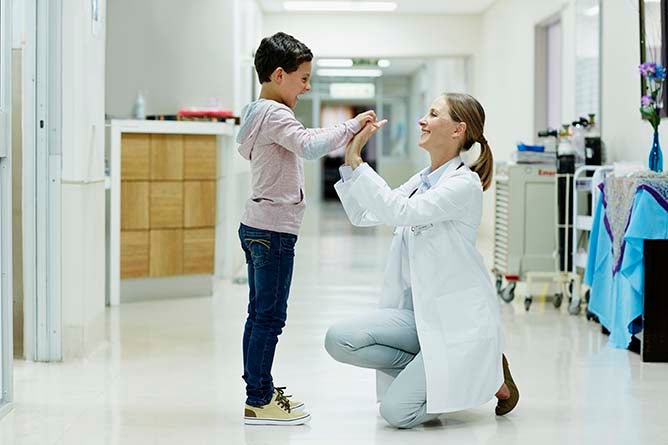 Healthcare leadership roles take many forms, but one thing all leaders have in common is their ability to confidently assess situations and offer solutions. The same is true for their career paths. Great leaders have the confidence to evaluate their background and skills and obtain the right professional and educational experience to land the job they want.
It also helps to be ambitious. In AMN Healthcare's 2018 Survey of Millennial Nurses: A Dynamic Influence on the Profession, about half of millennial nurses said that they were planning to enroll in an advanced-practice nursing program, while only about one-third of Gen X nurses did. Additionally, 71 percent of millennials planned to enroll in a graduate degree program within the next three years; only 56 percent of Gen X nurses said the same. And 36 percent of millennial nurses said that they were seeking leadership roles, compared to just 27 percent of Generation X nurses.
Further Reading: How to take your nursing career to the next level.
To build the right résumé for leadership positions, you have to know what you're aiming for. Here's a look at some of the top healthcare leadership roles and what it takes to get there.
1. Clinical nurse manager.
When ambitious nurses move up, they often first land in clinical nurse manager or clinical nurse leader roles. These managers are still heavily involved in bedside nursing, but usually as supervisors to nurses who provide direct patient care. They make the department's schedule, troubleshoot issues, and resolve conflicts. They might also take on organizational leadership issues and work with peers in other departments to improve patient care.
Nurses need a strong clinical background to succeed in these roles, and a bachelor's degree in nursing is typically required. Many large employers have moved toward requiring their clinical managers and clinical nurse leaders to hold a master's degree in nursing or leadership and management, too.
According to PayScale, the average clinical nurse manager makes about $82,000 a year, and the average clinical nurse leader makes over $93,000 a year. But the top 10 percent of clinical nurse managers earn an average of $112,000 per year. Bonuses and profit-sharing are possible in this role as well, which can boost compensation even further.
2. Director of nursing.
This role is a clear step up from clinical nurse manager, as it involves extensive clinical and educational accomplishments and requires years of nursing and leadership experience. Nursing directors often work in hospitals or other healthcare facilities; they lead teams of nurses and managers and steer the overall strategy of the nursing department.
A director of nursing's top priority is achieving excellent patient care through effective leadership of the nurses in their unit, department, or facility. They strive for this goal by planning the strategy of the department, organizing and leading teams to ensure excellence in patient care, and ensuring that all team members comply with state and federal regulations.
PayScale reports that the average salary for a nursing director is about $85,000; those in the top 10 percent earn about $127,000 per year. Many—if not most—employers will require a director of nursing to hold a master's degree in nursing.
3. Chief nursing officer.
As the name implies, the chief nursing officer (CNO) is an organization's top nurse. CNO is a key leadership position: they budget all nursing-related line items and ensure patient safety by strictly enforcing all relevant policies and procedures. Usually, CNOs also ensure that all new nurses meet all training requirements, and they often devote a lot of time to seeking out, developing, and refining appropriate training opportunities.
A master's degree in nursing is, essentially, the baseline credential for a CNO. As the role has evolved to include more technical knowledge of organizational systems and involve more sophisticated strategies for managing finances and leading people, many employers now require candidates to hold a doctorate in nursing to be considered for this top role.
PayScale calculates the average salary for a CNO at $127,784 a year, and the top 10 percent earn $200,000 or more. At this level, additional compensation, such as bonuses and profit-sharing, are common.
4. Healthcare administrator.
As the healthcare system moves from the old fee-for-service payment model to new value-based models, in which patients pay for good care and outcomes, skilled leaders are needed in nonclinical roles at all types of healthcare facilities.
Healthcare administrators understand the finer points of care coordination, resource utilization, community and public health, patient experience, and health outcomes. They're also experts in change management, and they're collaborative leaders.
Job titles for this role include chief executive officer, chief operating officer, chief administrator, vice president of nursing, and president of nursing, and these professionals can work in a variety of settings, including health systems, hospitals, nursing homes, large practice groups, health plans, and more. Because these roles aren't based in clinical practice, the people who fill them aren't usually required to have a clinical background. They do, though, generally have to have a master's degree, be it in business or healthcare administration. A handful of specialty degrees, such as the master's degree in health leadership, that specifically focus on value-based care are emerging.
The Bureau of Labor Statistics files medical and health services managers in one broad umbrella category, noting that median pay in 2018 was just under $100,000 per year. While that might be true for the middle-management level, hospital CEO pay frequently soars into the seven figures.
Further Reading: What does a health care coordinator do?
Great leaders are born out of a combination of education and on-the-job experience. They're not afraid of setting new goals and keeping themselves and their teams moving forward. As the decision-makers, healthcare and nursing leaders help drive the future of the industry.