Where else can a degree in education take you?
Teaching can provide a life's worth of career satisfaction and personal fulfillment. If you are one of the thousands of people who are now contemplating making a lifelong commitment to this most noble of professions, you should be proud of your dedication to your future students, your community, and society as a whole.
If, on the other hand, you find yourself expressing some doubts about becoming an educator, or wondered if pursuing a teaching degree will limit your future career options, you're not alone.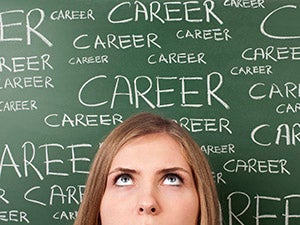 Surprisingly enough, the knowledge and skills you will hone for use in the classroom are also applicable to some pretty interesting areas of today's bustling employment market. In fact, many teachers have used their professional backgrounds in education as the catalyst to secure alternative jobs to teaching.

Surprised? These days, career-changing is just as common for teachers as it is for business people, healthcare workers, and IT professionals. If you are wondering about what other teaching-related jobs you can realistically qualify for with a degree in education, you might be in for a pleasant surprise, especially if you plan to complete your master's degree in education.
Here's a list of 7 great alternative jobs to teaching.
By working toward becoming a teacher, chances are you will gain strong communication and presentation skills—two of the necessary requirements to help create, administer, and deliver training programs for businesses and organizations.
Many employers across all industries challenge and reward employees who take continuing education and skill development courses throughout their careers. Training employees on an ongoing basis helps a company stay ahead of its competition, and with the economy booming and technology ever-evolving, there's a growing demand for corporate training professionals with the skills and qualifications to keep workforces current with the needs of industry.
If you love working with people and teaching them new skills, but think working with adults might bring you greater professional satisfaction, consider taking your qualifications out of the classroom and into the boardroom. You just might discover the best of both worlds as a corporate trainer!
A child star who needs to keep up with her education on the set of a TV sitcom. A high school senior getting ready for his college entrance exams. A star athlete who needs to keep her grades up to stay on the team. Private tutors are in demand in all walks of life, and with your teaching background and familiarity with middle school or high school subject matter, there might be a demand for your knowledge and experience in the area where you live.
Tutoring can be a satisfying career after teaching, because it offers you an opportunity to connect with students one-on-one, rather than 30 or 40 at a time. Our education system's focus on STEM is also driving the market for franchised, independent learning facilities like Kumon that focus on the benefits of individualized instruction to maximize student potential. If you're still passionate about teaching kids, tutoring might just be the ticket.
As you pursue a teaching degree, you will quickly understand (and appreciate) how hard it is to design lesson plans and develop educational resources that resonate with students and make them enthusiastic about learning.
In today's interconnected world, the need for content creators who have the knowledge and teaching experience to positively impact student outcomes has never been greater. Organizations like TeachersPayTeachers have tapped into the growing demand for original learning materials and created a network of experienced educators to help feed the demand.
Educational content creators develop everything from videos and digital assets to project-based learning materials and full-year curriculums. According to the New York Times, TpT has paid about $175 million to its teacher-authors. With so many educators seeking credible resources to enhance their curriculums, the real lesson to be learned is that it pays to become a teacher.
If you enjoy the role and responsibilities that come with being a teacher but have a strong desire to set your own schedule and/or work from home, distance education might play a role in your future. Online instructors perform essentially the same responsibilities as classroom teachers; they just do it over the internet.
Online education has become an increasingly convenient and popular way for adult learners to enhance their knowledge, skills, and professional qualifications. Top universities seek instructors with the right qualifications to develop quality curriculums and innovative learning materials that enhance student learning.
For example, WGU is a pioneer in reinventing higher education for the 21st century, and the university's programs have been consistently recognized as being in the top 1% of teacher-prep programs nationwide, according to the National Council on Teacher Quality.
One of the key responsibilities of teachers is helping their students learn how to find information and conduct research to complete their school assignments. If you're already a bit of a bookworm, or if you just thrive in an environment where information abounds, professional librarians are needed in a wide range of settings, from law offices and hospitals to businesses, museums, and government agencies.
You'll typically spend your days organizing library resources, researching and choosing new books and reference materials, and helping patrons or co-workers find the information they need. And with the ongoing explosion of digital information, librarians can play a key role in helping patrons sort through massive amounts of data to find the materials they need quickly and efficiently. Check your references and consider leveraging your education degree to become a librarian.
How many field trips have you taken to museums, planetariums, aquariums, and zoos? Because of your interest in the teaching profession, chances are you already have a genuine appreciation for educational facilities like these. They make learning immersive, interactive, and increasingly sophisticated as interactive media and other technologies have advanced.
As a museum educator, you might find yourself creating and sharing imaginative educational content. You'll play an important role in structuring an exhibit to optimize visitor experiences. You might also be charged with the responsibility of developing supplementary materials to enhance or market the facility where you work.
The education background you will have from earning a teaching degree—along with the firsthand understanding of how people learn that comes from being a student—will work together to prepare you for a satisfying future career after teaching.
So polish up your passion for science, art, history, and culture, and get ready to put your credentials on display!
At some point in your teaching career, you will probably have your share of students who need a little more encouragement and support than the rest of their classmates.
In this situation, you will have the opportunity to offer advice and direction that builds up their confidence and helps them be successful in the classroom and beyond. Being empathetic is an admirable quality common to many teachers, and guess what? Those same kids you will help nurture through their formative years will eventually grow up to become adults who could still use a little help recognizing their faults, sharpening their strengths, and achieving their personal or professional goals.
That's what life coaches do, and if the idea of having a positive impact on people's lives appeals to you, the creativity, problem-solving abilities, and communications skills you will hone in the classroom might have you well-suited to a very satisfying career after teaching.
For Careers Beyond the Classroom, Experience is the Best Teacher.
Teaching is one of the most honorable professions one can pursue, and those who make it a lifelong career deserve respect and recognition for the years they spend shaping, nurturing, and inspiring young minds.
Your motivation to pursue a role as an educator may keep you at the head of the class for the rest of your career. However, the field of education is also ripe with possibility and variation for teachers looking to expand their professional horizons down the road.
As you contemplate earning a teaching degree, keep in mind that you will be developing marketable skills and experience that can be applied to a wide range of interesting careers after teaching. Raise your hand if the idea of earning a teaching degree sounds even more promising than you once imagined!