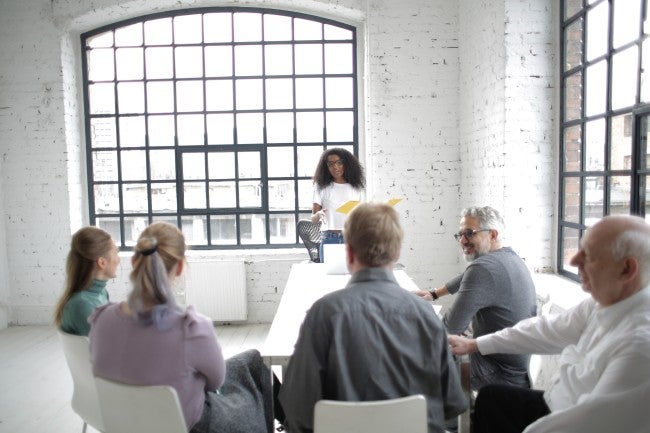 What is the servant leadership theory?
What if you took the traditional hierarchy of an organization, its leadership model, and flipped it completely upside down? You'd think that there would be chaos, but that's actually not true. This is actually a leadership approach called servant leadership. The servant leadership theory is focused on the idea that at the top of the hierarchy or system are the employees, and that a manager or leader's top priority is to serve them. Servant leadership is based on the idea that authority is more important than power, and that focus on empowering and uplifting others instead of personal gain is critical to everyone's success.
Servant leadership is used all around the world, and has roots in both Eastern and Western philosophy. This leadership style is used in different organizations, large and small, all around the world as well. While not widely adopted, many organizations have found great success by utilizing servant leadership. 
What type of leadership is servant leadership?
At the root, this kind of leadership seeks to accomplish an organization where personal gain and goals don't infringe on the group. Everyone is empowered, uplifted, and encouraged in servant leadership. Your personal motivations aren't as important as helping others, and everyone is encouraged to serve others to help everyone get where they want to go.
If you want to go into business, getting a degree that will help you learn about communication and strategy is key to your success. Learning about leadership theories is also important in preparing you for your future career. You'll want to use that degree to help you figure out the best leadership style, and servant leadership is a great option for becoming a manager everyone enjoys working with. Learn more about this kind of leadership and how you can use it to help your organization thrive. 
What are servant leadership characteristics?
Servant leaders have many crucial characteristics that they share. In order for servant leadership to work in an organization, a leader needs to have these characteristics and the organization must support servant leadership culture. If everyone else in the organization is solely focused on themselves and their personal goals, servant leadership simply won't work. Which is why these characteristics and skills are key for great leadership to thrive. The most important characteristics of this leadership style are:
Humility. In this leadership style a servant leader needs to be humble enough to give up the control that is usually associated with a leadership role. They need to be willing to let go of the traditional role and stereotype of a leader or manager and be willing to let employees take the reins. This takes a lot of humility and confidence. 

Empathy. A servant leader is focused on their employees, constantly working to understand them better. A servant leader wants to get to know them, work on a good relationship with them, and help them reach their goals as a team member. Empathy helps servant leaders connect with their employees and actively work to serve them.

Active listening. Leaders who are servants and are devoted to their employees practice active listening to show them that they truly care about them. They are open to discussion, so active listening helps demonstrate that to their employees. Active listening means they are truly hearing and absorbing what their employee says, and working to help facilitate a good conversation. They utilize organizational intelligence in conjunction with active listening to help steer the direction of the company.

Direct engagement. Leaders who are servants don't sit in their office and dictate. They are working right alongside their employees. They have tasks and responsibilities as part of the team. They often assign an employee to take the reins on a project, and the leader gets their hands dirty under the employee's direction. Direct engagement into what is going on in the organization is crucial for leaders who want to be servants.

Facilitation of growth. Servant leaders want their employees to succeed. They spend time noticing the skills their employees have. They don't just delegate tasks out to their employees, rather they work with them to find out what kinds of things they love to do and help give them tasks that are in that vein. They act as mentors to aid employee potential, and are directly focused on helping everyone grow and succeed.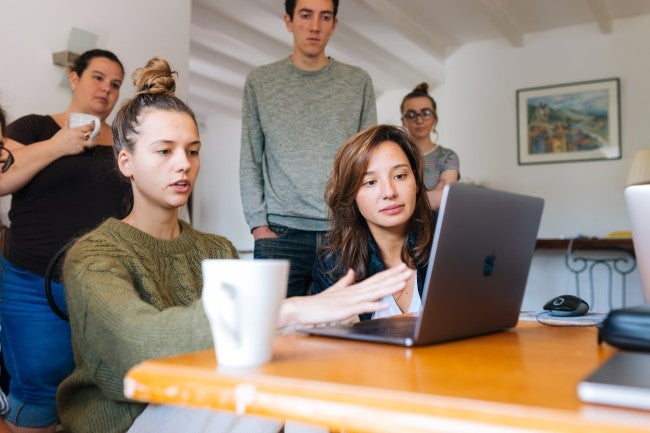 Servant leadership examples.
It's important to see great leaders at work to understand how to pursue this kind of leadership style. There are many good examples of how to be a good servant leader including:
A servant leader will lead by example, working right next to their employee. They'll divide tasks with them, encouraging them to do half of a presentation while they do the other half. They'll take calls with customers or send out the same status updates that the rest of the employees do. They demonstrate that they aren't above everyone else, but are on the same team and focused on the same goal.

A servant leader may have an employee take the lead on an important project. They understand that having control isn't what makes them the leader, so they may assign someone below them a leading role in a project. This helps that employee get motivated and excited, and shows that the leader is interested in their potential and development.

A servant leader makes sure everyone knows their job is important. A great example of this is in the medical field, where a doctor relies heavily on their nurse and assistants to get everything done. They know that they couldn't do their job without their team, and their team knows that too.

A servant leader has their employee's backs. A great example of this is Southwest Airlines. Employees know that the organization focuses on them first, and then the customers. This leads to high retention rates and extremely high job satisfaction in the organization. Servant leaders show employees consistently that they care about them, that they want them to be successful and happy, and that leads to better outcomes for everyone.
Advantages of servant leadership.
There are many important advantages to using this kind of leadership in business. Some of these advantages include:
Higher profits. Good leaders help empower everyone to do their best in the organization, which can lead to making more money. When the whole team understands the goal and are all working together to reach that goal, it's much more likely to happen.

Lower turnover. Servant leaders attract and keep good employees. Employees don't quit jobs, they quit managers. Servant leadership sees much lower turnover rates because employees are happy at work, and enjoy working with their manager.

Better company culture. Overall, your company culture will thrive under servant leadership. Everyone will start to focus on how they can help each other, making the work environment a healthy, happy, and thriving place. There isn't cutthroat competition, gossip, drama, or jealousy. Everyone wants the best for each other.

Higher productivity. When everyone in an organization gets along and wants to help each other, higher productivity is the result. In this kind of leadership, leaders help encourage everyone to be their best for each other, lift each other up, and ultimately reach the goals faster.
If you're studying business, it's important to understand what kind of management style you can take on in your career. Servant leadership is a great option for those who want to help encourage their organization to grow and thrive together.