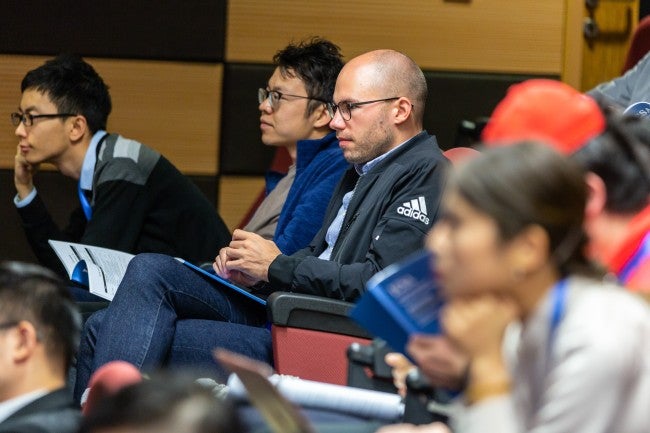 Whether you're a seasoned educator or a first-year teacher, it's never too early (or late) in your career to think about professional development.
Investing in yourself as an educator is the best way to ensure both professional growth for yourself and academic growth for your students. The demands of teaching are constantly evolving—and it's up to you to keep up with the latest developments in the teaching field. Taking part in professional development can help you stay on top of teaching and instruction trends, expand your skill set, and create a curriculum that sets your students up for success. 
So, what does professional development in education look like? Most people hear the term and think of traditional settings like seminars, college courses, or conferences. However, professional development can happen informally through individual research and reading, classroom observation, or peer discussions. To put it simply, if it's helping you stay informed, educated, and up to date in your profession, you can file it under professional development. 
Pursuing professional development opportunities is important for many reasons—after all, a good teacher is a good student—but more specifically it can help you: 
Fulfill continuing education requirements

Expand your knowledge base

Improve your instruction methods

Gain additional resources for your professional tool belt

Increase your own learning and teaching comprehension to help students thrive

Increase your chances of job advancement 

Give you a competitive edge

Provide networking opportunities 
Common areas of professional development.
There are a number of areas you can pursue when it comes to professional development as an educator. Here are a few categories you might consider: 
Technical Training

Developing technical, quantitative, and analytical skills can help you analyze student-performance data and then use the findings to make modifications to your curriculum or teaching techniques.
Specialized Training 
Furthering your education and knowledge in your specific subject teaching area—such as advancements in math, history, science, etc.—can help you teach subject-specific content and concepts more effectively.
Leadership Development 
If you're an experienced teacher ready to take on a new challenge, it might be time to think about leadership development training. Acquiring leadership skills can be used to develop and coordinate a school improvement initiative or community volunteer program.
Classroom Management 
This could be helpful if you're looking to increase your knowledge about student learning and engagement. Learning new strategies for classroom management can help promote positive student attitudes and increase academic motivation and achievement. 
Professional development ideas for teachers.
Professional learning opportunities can come in all shapes and sizes, but most fall into two groups: accredited programs and self-teaching.
Here's a deeper look at each: 
How to Pursue Professional Development through a Program
If you're interested in a master's degree, you'll need to find an accredited university. But other certifications and programs are provided by states, districts, and schools.
Continuing education from an accredited program might require: 
Focused, multi-day educational sessions that take place outside the classroom or school

Follow-up educational opportunities over the school year 

A specific time commitment, like a one- to two-year program
Keep in mind that most continuing education requires attending  an accredited program. WGU offers many online degree options and certifications for both aspiring and current teachers. Best of all, coursework is completely online and on your own schedule so professional development doesn't have to take away from your job and life. 
Self-Taught Professional Development

Unlike traditional professional development, self-directed development can happen in any place, at any time. This can help boost your teaching in simple ways by preparing you to make adjustments on any element. It allows you to gain valuable skills and knowledge outside the classroom at your own pace.
Self-taught professional learning can look like: 
Study groups among peers focused on a specific topic

Observing another teacher's classroom 

Watching free, online TED Talks 

Participating in LinkedIn Learning courses for teachers

Utilizing a mentor or more experienced colleague 

Attending workshops or conferences to dig deeper into a subject

Taking part in independent reading and research 

Joining a professional organization for teachers
What are some examples of professional development?
Here are a few scenarios where you might find professional learning helpful:
Example #1: You're ready to take your career to the next level by becoming a principal. Getting your master's in educational leadership would be the right professional development move for you. WGU offers an online master's degree program that can give you the skills you need to manage a modern educational institution and enhance your expertise in leadership, planning, law, and more. 
Example #2: You have a student that's being bullied by their classmates on social media. There are a wealth of resources you can tap into to learn more about internet safety, social media, and cyberbullying. LinkedIn Learning offers a series of videos that can give you the tools to address the situation and find solutions. 
Should I pursue professional development?
It never hurts to invest in yourself and your career. Professional development might be right for you if:

You want to expand your knowledge base in different subject areas (like math, history, science, etc.)

You want to pursue a leadership position, like a principal or school administrator 

You want to keep up on the latest industry insights 

You want to network with other teachers 
Professional development is likely to be a requirement for all teachers who want to maintain their license. Your state, district, or school will usually require you to complete a professional development program or certifications, so beyond the personal benefits, it may be critical for you to engage in professional development to maintain your standing as a teacher.
As an educator, a commitment to lifelong learning is just as important for you as it is for your students. Investing in your own professional development will give you skills and tools to use now and help you grow professionally over time.