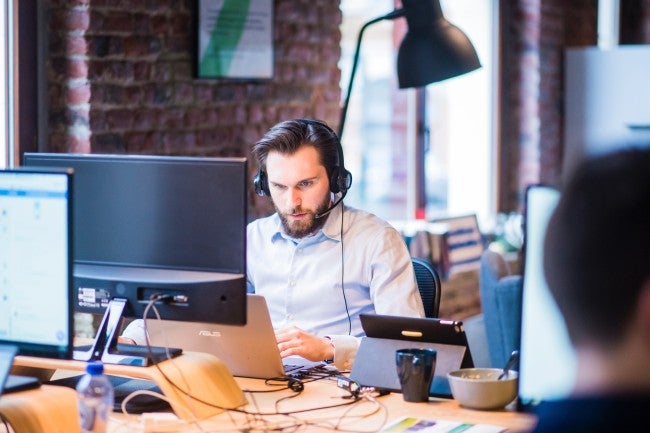 The IT industry is booming. We live in a technology-centric world, so IT professionals who can help develop, maintain, and secure current technology systems are increasingly in high demand. The Bureau of Labor Statistics predicts that there are over 1 million software job openings currently in the United States. 
With the industry this hot, people are rushing to get on the career path that can lead them to these lucrative opportunities. Many people find themselves at the crossroad of if they should get an IT degree or IT certifications in order to get into this booming field quickly. What if you could do both? And you wouldn't have to postpone starting in IT to earn them? 
At WGU, that's exactly what we offer. We help students get qualified for this exciting time in IT with bachelor's and master's degrees that come with top industry certifications. And because it's all online, you don't have to put an IT career on hold to go to school. You can pursue your degree in a way that works for you, and that can even benefit you as soon as you get started. At WGU, our goal is to help you learn, earn, and achieve so you can change your life for the better.
When you get an online degree from WGU, you don't have to quit your job, leave during the workday to attend classes, or revolve your life around your course schedule. Our degree programs are meant to fit into your life, however that looks for you. Competency-based education means that you can progress through your courses at a pace that fits your lifestyle. You can go quickly through courses that you understand or have experience in, and move slower through those that need more of your effort and attention.
Our IT courses are entirely online and can be completed at any time. Days, nights, weekends, any time that's convenient for you is class time. This means you can continue working your current job, keep up with your family responsibilities, all while going to school. At WGU, we focus on learning in a way that is the very best for you and your life. Many IT students are currently working in the IT industry, so you can utilize what you know
Earn certifications and more money.
When you pursue a diploma from WGU, you won't just leave with a degree. You'll also leave with several top industry certifications. We know that within the IT field, certifications and a degree are both critical to demonstrating your abilities and skills. Certain certifications can help you excel in a specific IT career, so we make sure our degrees also include the best certifications as part of the curriculum. You'll earn IT certifications along the way as part of your degree program.
Earning a degree and certs at WGU can start to pay off right away. Many IT students find that earning IT certifications in the beginning of their degree program directly translates to raises at their job. Before they've even officially graduated! Your degree can start to pay off before you've even completed it. Earn IT certifications, tell your manager or boss that they're added to your resume, and see your worth increase to your organization. When you pursue an IT degree at WGU, your investment starts to pay for itself even sooner than you could have imagined.
Achieve your potential with WGU.
At WGU, our ultimate goal is to help you achieve your full potential. In the world of IT, a degree and certifications can help you progress further than anything else. And you can earn both of these things while continuing to work at your current job. And you might earn more money in the process.
WGU has more than 128,000 graduates across the United States. So wherever you live, you can connect with alumni who have the same kind of achievements and work ethic that you do. Our degrees and certifications have helped thousands of WGU graduates become managers, directors, and C-Suite executives. Our alumni are achieving great things at tech companies all around the world, including: Dell, Adobe, Amazon, Google, Verizon Wireless, Facebook, IBM, and more.
WGU is focused on helping you learn, earn, and achieve more than ever before.