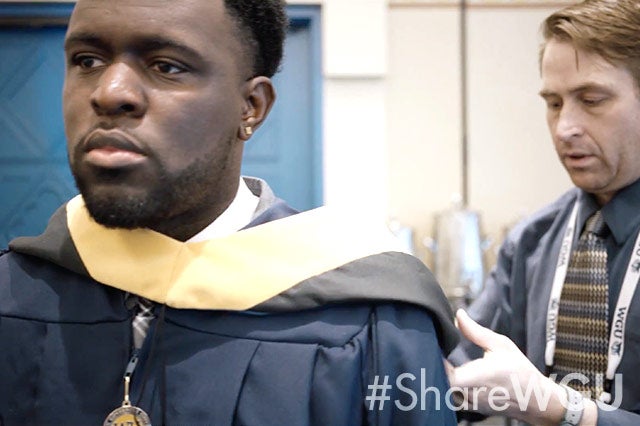 Refusing to listen to those who said, "You can't."
In 1895, a teacher famously told Albert Einstein, "You'll never amount to anything." A century later, Rashaan Green heard the same thing.
"I remember being in a class one day and the teacher told me, 'You're just not going to amount to anything—ever—in life," he recalls.

Diagnosed with ADHD and seen by his teachers and peers as "a troubled kid" growing up, Rashaan spent much of his childhood believing those dismissive words. He trudged and struggled through grade school and made it to the ninth grade before dropping out.
The ranks of successful people throughout history are full of men and women who very well could have given up because of failures and struggles in their early lives—and the cruel words of authority figures who doubted their potential.
From Henry Ford to Michael Jordan, Shakira to Beethoven, and van Gogh to Dr. Seuss, many of humankind's most brilliant talents were demeaned as hopeless at some point or another.
And each of them found the motivation to push forward anyway. Meet 10 other famous folks whose successes started as failures.

For Rashaan, who spent years as a dishwasher in restaurants after failing to complete high school, that motivation came from having a strong example of perseverance to look up to: his mother, who worked full time and attended college while suffering the pain of lupus.
Years later, at the commencement ceremony celebrating his master's degree, Rashaan—who was invited to be one of the ceremony's speakers—remembered watching Mom keep going. With tears in his eyes, his voice breaking, and the audience applauding and cheering, Rashaan said, "I thought to myself, 'If she isn't giving up, how can I?'"
Never giving up became a guiding principle for Rashaan—a mantra for a man who had once decided that he wasn't cut out for a high school diploma.
That's not to say that sticking with it was easy. While enrolled in his degree programs—first a B.S. Business – IT Management undergraduate program, then a master's program in Cybersecurity and Information Assurance, both at Western Governors University—he faced a number of hardships. He was unemployed on four separate occasions. He was evicted from his home. His father died five months before Rashaan's graduation.

With each hardship, Rashaan wanted to give up. Then, he thought about his mom, and the thought came back to him.
"If she isn't giving up, how can I?"
So he kept going. And assessment by assessment, paper by paper, course by course, he proved just how capable he was of learning—and mastering—the knowledge and skills employers were looking for.
And every time he passed a course or completed a degree, Rashaan says, "I thought about that teacher," the one who told him he'd never amount to anything.
Today, Rashaan has two college degrees and a résumé boasting just about every IT certification he could possibly need. His hard work has paid off—he now works as a Cyber Information Assurance Analyst IV at one of the world's largest aerospace and defense technology contractors. With his highly coveted skillset, Rashaan now finds himself in the unique situation where employers have openly fought over him.

In fact, in his commencement speech, Rashaan vividly recalled interviewing for a position with the National Security Agency. His first interview took place at a hiring event, where the competition was steep.
"Here I was, a graduate of WGU, sitting in a waiting area with other college graduates from NYU, Columbia, Georgetown, and many other Ivy League colleges from across the country.
I was eventually offered two different positions that I declined because, when I told my current employer that I was planning on leaving due to an offer with the NSA, they doubled my salary amount."

Never give up. It's a mantra that has served him well—and placed him in the ranks of the likes of Winston Churchill and Dame Judi Dench, people who were told they lacked what it takes to succeed, but refused to listen.
"I would definitely say that I'm a person that doesn't give up," Rashaan says. "My mom always taught me that if one thing goes bad, if one door closes, another one will open. If something is not working out, move on to the next thing, but don't ever give up."