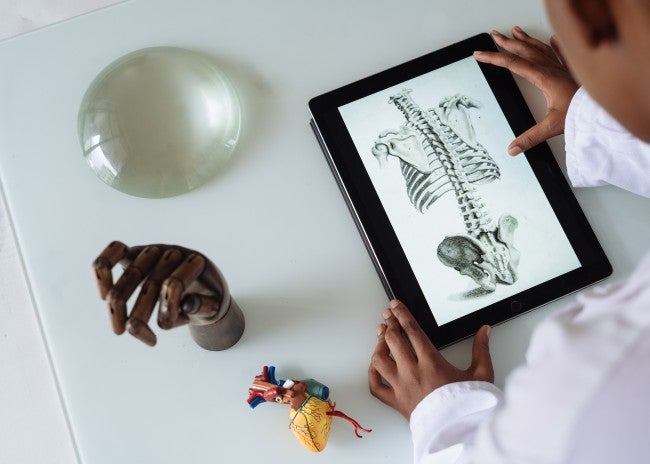 As technology has advanced, more people than ever before are looking for ways to be able to work at home. Some industries that may traditionally have not had remote-work options, now can allow workers to do their job at home. Healthcare is one of those fields. The health care industry is increasingly taking advantage of technology to allow workers to do their work at home. This can help solve specific challenges and deliver superior care to patients. Remote work can be a great option for many employees, and hospitals and clinics can see direct benefits.
Remote nursing is an interesting up-and-coming profession that many hospitals and clinics are taking advantage of. For many current or aspiring RN's, a remote position is exactly what they are looking for. If you want to become an RN or go back and get a nursing degree, you may want to have remote nursing as your career-goal. Learn more about remote nursing and how you can be prepared for an exciting RN career that involves remote options.
Can registered nurses work from home?
It may seem counterintuitive or strange, but nursing employees have a variety of options to choose from when it comes to home jobs. Remote nurse jobs are readily available for those who are looking for them. Not all RNs work directly with patients at their bedside—in fact many RNs are able to do their work anywhere in the world. Due to technology and the ever-changing medical industry, remote options are readily available to registered nurses.
There are several types of nurse jobs that offer home job options for an RN. If you're an RN or hope to become one, and you want to have a remote position and be a registered nurse, it's important to understand all the different career options you can take advantage of. Many of these positions require candidates to be a registered nurse, or even have a bachelor's degree in nursing or healthcare in order to be qualified.
Clinical appeals nurses review denied insurance claims and conduct the appeals reviews. Clinical appeals nurses analyze the denials of the claims or coverage. They review medical code data and records to determine if the denial was warranted, or whether an appeal should be made. Health care regulations, input from medical staff, pre-existing conditions, and more are part of this consideration. Clinical appeals nurses then make reports and notify the parties involved, and may help patients get their questions answered. All of this is able to be done remotely in most cases. In order to have this job, you will need to be an RN first in most cases. The average salary for clinical appeals nurses is $60,854 per year.
Health informatics jobs use a blend of healthcare and IT knowledge to gather, store, and manage the massive amount of data that comes from patient care. Professionals in the health informatics field utilize medical coding to help them classify and document this data for a major part of their job. They use this data to help facilitate decisions, develop solutions to improve patient health, collaborate with healthcare professionals to help patients, facilitate regulatory and IT requirements, and more. Many health informatics professionals are able to utilize computers and software and do this work completely at home. While you won't need to be a registered nurse for this job, you may need a health informatics degree to be qualified. Health informatics professionals can expect to make around $62,000 per year. 
Nurse abstractors look at patient files to obtain key data as the main part of their job. They are responsible for analyzing medical data and then organizing it. They help other healthcare staff access specific information or provide statistics to them. They may create programs that help providers understand statistics for patients, and more. All of this data organization and analyzation can be done remotely, from the comfort of your own home. It is beneficial to be an RN if you want this job, though it may not be required. Nurse abstractors can expect to make an average annual salary of around $61,000. 
Nurse auditors audit financial statements for hospitals, clinics, and insurance companies. They review medical records to review medical necessity, quality of care, insurance claims, and more. They search for accuracy and compliance with regulations. They may also review the denials and appeals processes, ensure that the best billing methods are being used, and more. Healthcare software and technology help nurse auditors to be able to do their work at home. Experience as an RN is key to being successful in this job. Nurse auditors make an average salary of around $65,000 per year.
Nursing instructor/educator.
Nursing instructors and educators teach other nursing students, prepare them for tests, and prepare their academic needs. Online education is continually a popular option for students, particularly those who are current nurses and want to pursue higher education. Online nursing instructors may write curriculum, hold class sessions online, be available to answer questions, assist in assignments and projects, create lectures, and more. Online nurse educators are able to conduct class or run their program completely online with the right technology. You will have to be an RN in order to qualify for this kind of job. Nursing instructors earn an average annual salary of over $61,000 per year.
Telephone triage nurses, also known as telehealth registered nurses, see patients over video call or speak to them on the phone. They get calls from patients and hear about their symptoms or problems, and are able to give them medical advice remotely. They can advise patients to come and be seen by a doctor, suggest over-the-counter medications, keep track of their symptoms, and more. This is done remotely as patients can directly call nurses to speak to them, wherever they are. To be qualified for this position, you will need to be a registered nurse that is currently licensed and practicing. You may need RN experience in-person before moving to a remote role. Telehealth nurse jobs will allow you to earn an average of $67,000 per year.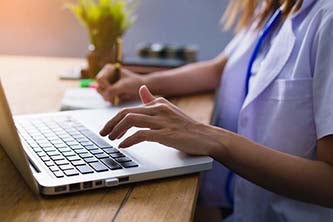 What companies hire nurses to work from home?
There are a wide variety of companies that hire nurses to work from home. If you're looking for a remote nursing position, here are few places where you can start your search:
Anthem, Inc.

Banner Health

BayCare Health System

Broadspire

CareCentrix

Center Health Care

Ensemble Health Partners

Grand Rounds

Humana

Magellan Health

Mercy Health

Netsmart

Parallon

UnitedHealth Group

Aetna

Cigna

McKesson
If you're considering a future as a registered nurse, or are a current RN looking for new job opportunities, WGU can help you get the degree you need to meet your goals.