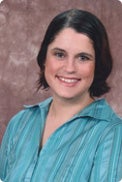 Creative, community-oriented, and committed to a brighter tomorrow – one student at a time. Robin Preibisius of Murrieta, California, exemplifies the well-rounded, busy WGU student as she earns her master's degree in education online.
Robin, a San Diego native, started her college career as an undergraduate pursuing a computer science and business major. But it was during that time that she was appointed as co-director for a university program teaching computer skills at a local senior center, and the teaching bug stuck.
"It took some time in the software industry working in training and instructional roles to realize that my real inspiration came from the classroom," she says. "So that's where I set my sights three years ago, and I'm excited to be so close to having that opportunity to help students build confidence in a subject that tends to be less than a favorite."
That subject – math – is one of the most in-demand teaching jobs, according to the Bureau of Labor Statistics. President Obama last year put out a challenge for the nation to educate and train 100,000 highly qualified, highly skilled math teachers within 10 years. The ability for students to earn a math degree online is an important step toward achieving that goal for our nation.
It's the flexibility and independent nature of an online university that makes WGU work for students like Robin, who is pursuing her master's degree in mathematics education for grades 5-12.
"I love having the flexibility to work independently at an accelerated pace instead of being fixed to a specific class schedule," she says. And WGU's student and course mentors mean she gets to enjoy that independence without lacking for support when she needs it.
When she's not studying or working, Robin does a lot of community service work, especially projects that call on her to use her creative side. She loves to write, draw, knit, and sing, and she also works hard to stay current with her technology background, especially subjects like web programming. It's that connection to the community that has her anxious to finish her degree and move to a community where she can play an even more active role.
Meet Robin and other WGU students in the most-recent edition of the WGU Student Source electronic newsletter.
And we want to meet you! In the comments below, tell us your WGU story! What's your program, why did you choose it, and how is it working for you?