The WGU School of Education is a champion of next-generation teaching, learning, and leading. To help our community understand what next-gen education looks like, Dr. Kim Round (Associate Dean of the School of Education) and Dr. Laurie Boen (Program Chair, Learning Experience Design, and Learning Analytics) are offering a deep dive into what it means to commit to next-generation teaching, learning, and leading. They were joined in this story by former SVP of WGU and Executive Dean of the School of Education, Dr. Mark David Milliron who introduces the topic. Enjoy the read, then browse our Learning Community to learn more about this emerging and exciting trend.
What is Next-Gen Teaching, Learning, and Leading?
"There's no short answer to that key question," said Mark Milliron. "There may be ways in which next-gen education stands apart from the way education was designed, delivered, and experienced in the past; however, if you look closely, it usually builds on and learns from the past even as it pushes us forward." At WGU, we believe next-generation education begins with the core belief that the art and science of teaching, learning, and leading in education must continually evolve, becoming better and better with each subsequent generation. While anchored in a deep understanding and appreciation of the rich traditions, research, and history in education, next-generation education embraces the constant pursuit of advancement in our work with people, practice, and technology.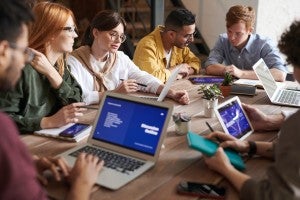 Milliron cautions that where education innovation historically fails is when people either become protectionist of past policies and procedures and become unwilling to change, or conversely, they become so excited about the future and new opportunities they are dismissive of the past and the important lessons we have learned. 
"At WGU, we want our School of Education to bring that insight, understanding, and appreciation of the past together with an interest, curiosity, and excitement about the future so we can ensure our road maps moving forward are charting the right course," said Milliron.
"WGU is championing next-gen teaching, learning, and leading," said Kim Round, "and that right road map for us is building around these core pillars of people, practice, programs and technology that Dr. Milliron mentioned, and placing the student at the center of all we do." Round shares this overview of how this unfolds at WGU:
People
Healthy Learning Environments, Social Emotional Learning, Diversity Equity and Inclusion, Character Education, Mental Wellness, Basic Needs
Practice
Mastery/Competency-based Learning, Design Thinking, Project-based Learning, Learning Experience Design, and School Design
Programs
Curricula Mix, Skills Architecture Mapping and Design, Modular Course Builds for Personalization, Self-Direction, and a Sense of Ownership
Technology that Enhances Learning
Blended Learning Design and Delivery, Metaverse such as Virtual Reality, Augmented Reality, Analytics for Improved Student Outcomes
Empathy at the Core of Design
"We've talked about the concept of empathy-centered design in other articles on the Learning Community, but I'm bringing it up again because I really want to emphasize next-gen teaching and learning is about starting with empathy and translating that into action across the learning journey," said Round.
"You begin by understanding who the student is. You need to understand the articulated needs as well as the unarticulated needs. Empathy is nice, but on its own it isn't going to change anything for that student, whereas taking empathy into action will be transformative for the learner," said Round. "That means we must ask ourselves how do we design… how do we ideate solutions… how do we prototype and test them all with learner feedback and learner empathy in mind? What does that learner need, what do they see, what do they do, what are their goals, pains, and gains? Each touchpoint is critical."
"WGU has been student and learner-centered since the beginning, so this move toward next-gen learning is an exciting, but natural transition and evolution for us. Personalized learning is in our DNA," said Round.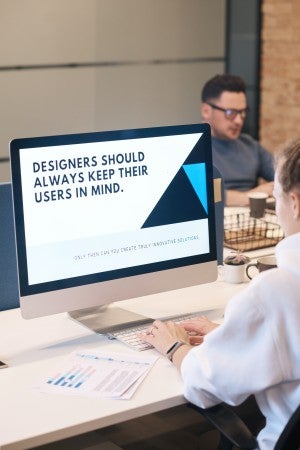 Digital Transformation and Next-Gen Learning
Digital transformation is a cornerstone for next-gen teaching, learning, and leading. "As Peter Dercerney and Caroline Levander point out in their blog for Inside Higher Ed, in 2022, the leader of digital transformation is not the university president or provost, it's COVID," said Round. And while necessity remains the mother of invention, much of the digital transformation and move toward online, blended and hybrid learning since the onset of COVID has been highly reactive. "That reactive stance was 100 percent necessary in 2021, but we as a nation cannot let that become our model for innovation," said Round. "We must move from reactive to proactive in order to truly embrace next-gen teaching, learning, and leading,"

In addition to student empathy at the core and digital transformation as a cornerstone, the organizations embracing next-gen education do not relegate the work to a small subset of designers that are responsible for this transformation. The focus is not on a select group of courses. It's a mindset the entire organization adopts, and the lens aperture opens to move well beyond a select sampling of courses to the expanse of the student's entire learning journey. The organization recognizes that everyone is involved in the learning experience a student receives and co-creates.
Defining the Instructional Plan
"In traditional learning, the overarching problem statement has been 'The learner needs to do X…' but in next-gen, it's 'The learner needs to do X because of Y,'" said Round. This is where the research, focus groups etc., that help build empathy come into play. Now the designers, the community of care, the faculty, the assessment team, the mentors, and more are ready to curate and create what the learner needs. The learning environment is dramatically different because of this. Laurie Boen explains, "This approach helps address the needs of each student in a learning environment. Next-gen teaching and leading supports and delivers a caring ethical culture, diverse perspectives, an open-minded approach that acknowledges and addresses neurodiversity, and builds on a solid foundation of diversity, equity, and inclusion," said Boen. In this model each student has the best opportunity to have a positive, transformative learning experience. Each generation has done the best they can with the technology and research they have. With next-gen learning, we can differentiate and personalize instruction so each learner's needs can be addressed. It's very exciting for teachers and it builds agency and ownership in the learner."
Development of Critical and Complex Thinking Skillls
"One of the greatest attributes of next-gen learning," said Boen, "is a move away from memorization and recitation of facts as the sole proof of knowledge acquisition. Times and technologies have changed. Our learners and our leaders have endless information in their pockets now. We can Google anything 24/7." Boen advocates for approaching the process of educating the next-gen learner from a perspective of 'How do we build bridges that take each learner from where they are to where they need to be?'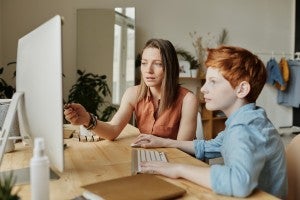 "The answer is by developing complex and critical thinking skills in our learners that can serve as that bridge between where they are and where they need to be," Boen said. "Here's an example. Say you are teaching about the American Revolution. Instead of having students memorize key names, cities, and dates that might be quickly forgotten, instead create and curate content and multi-media curricula mix with immersive exercises 
that build critical thinking and creativity. Have students develop and share ideas related to the concepts of freedom and independence. They'll still learn the years of key events and names of Revolutionary leaders, but they'll come away with a much deeper understanding of what happened and why. This is how we are transforming education." Boen says next-gen learning uses facts to support learning, but also encourages students to build mental schema, relate to past knowledge, think across subjects, and discover and support new knowledge and understandings in a way that feels relevant to the learner. "These critical and abstract thinking skills are needed in the workforce of today, now more than ever," said Boen. In fact, WGU has worked closely with employers throughout its 25-year history mapping skills architectures to degree pathways to ensure graduates are workforce-ready.
Immersive Experiences and Authentic Learning
Another example of next-gen learning is the WGU Teachers College use of virtual reality for students in Initial Licensure Programs. Instead of saying "this is how you complete a federally required IEP (Individualized Education Plan) for a student in a special education class," students instead interact with human-led avatars and build an IEP plan in an immersive simulated classroom.
In this environment, their learning experience has them demonstrating knowledge and theory in practice and experimenting - including making mistakes in a safe environment where they can grow without actual students bearing the brunt of any lack of real-world experience they may not have acquired yet. This moves a learning experience from transactional to transformational. This builds complex thinking and deep understandings in the students as they make their way on the pathway to becoming next-gen educators. The transformational aspect is evidenced by the students talking in the video above about getting sweaty palms in their virtual reality exercise because the learning was so authentic and real for them.
Healthy Learning Environments
"Another hallmark of next-gen learning," says Round, "is the emphasis on social emotional learning." Round and Boen both emphasize that SEL is about people, not politics. The pandemic left a mark on students nationwide regardless of age or income. "We see increased need for SEL in our learners at WGU, and our graduates see it in the students in their classrooms," said Boen.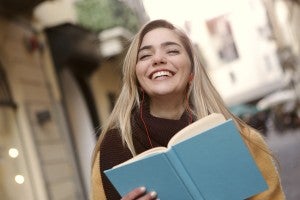 "There are growing concerns for everything from complex PTSD, to concerns about basic needs. By focusing on the holistic needs of each student and acknowledging that each student has a right to learn, we also acknowledge that some are going to need more or different support than others," said Boen. The School of Education is actively involved in building out a coalition for Healthy Learning. Read more about that here in our Learning Community. 
Honoring the Past While Building for the Future
"Next-gen learning doesn't ignore centuries of research and the art of this practice, it embraces it," said Milliron. "It teaches students theory. It also teaches them how to apply those theories with skills that are needed today and tomorrow. The discipline of teaching, learning, and leading should always be evolving as we gain new tools and understandings, and still honor, understand and appreciate the past. It's a natural and ethical evolution, and student outcomes improve because of it."