This is the second installment in a three-part series on the student support WGU provides each student via the Community of Care. In Part One, we discussed the Admissions team, the Enrollment Counselor, the Transcript Review, Financial Aid, Scholarships, Military Services, and the Enterprise-wide CRM. We highly recommend you read part one here. before beginning part two. This series is by Dr. Stacey Ludwig Johnson, VP of Operations for the WGU Teachers College.
Orientation and Program Mentors
Once the student has selected a course of study, had transcripts reviewed and transfer credits established, and met the other admissions criteria, the Enrollment Counselor introduces them to one of several specialized faculty roles at the University – the Program Mentor. At WGU, faculty serve in one of three specialized areas – as course instructors teaching the content, as program mentors guiding and supporting the students throughout their journey to degree completion, and as evaluation faculty who score and provide personal feedback for assessments. The course instructor's role is fairly intuitive. Link to this story to understand how assessment and evaluation faculty work to support each student in our model.
The Program Mentor is someone the student becomes very close to over time as this person will stay with this student, in most cases, from just prior to starting their first course until they graduate. Regular check-ins help assure the student is always supported and barriers are being removed so they can make progress toward their degree or credential.
The Enrollment Counselor and the Program Mentor work together closely in this handoff because the EC now knows quite a bit about this student's needs and interests and wants to ensure a smooth transfer of that information to the Program Mentor, who now will take on that primary relationship role with the student. Students meet their Program Mentor at the virtual orientation that takes place a couple of weeks before courses open for that student. Program Mentors help students familiarize themselves with the student portal, the model for competency-based learning, setting goals, and planning the courses taken each term, in addition to scheduling assessments and finalizing term-to-term planning. They are the primary advocate the student goes to for support.
In a unique model, WGU's tuition includes tuition, fees, and student support services, including texts, learning centers, and much more. For many of our students, it has been a while since they were in school, and they may need some scaffolding in writing, math, or test-taking and time management.
Writing Center faculty empower students to develop competency, confidence, and independence as writers through individualized, timely instruction, meeting students' unique needs as they work toward achieving their educational and career goals.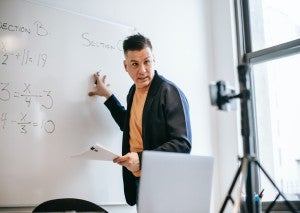 The Math Center provides support to students who need to upskill their math knowledge. In addition to on-demand resources and group sessions such as webinars, they will work with each student individually to meet them where they are. We've heard from many graduates over the years that math support was what enabled them to be successful at WGU while they had not succeeded at other colleges.
The Student Success Center Instructors provide comprehensive student support in a collaborative, holistic, student-centered way to promote metacognitive, affective, and skill development. SSC Instructors meet students with where they are at in their learning during one-to-one appointments and one-to-many webinars. The Student Success Center supports students and has self-serve resources in these academic support topic areas: academic confidence, computer skills, goal setting, life balance, stress and coping strategies, study skills, test anxiety, test-taking skills, and time management.

Students can opt into these learning centers at any time, or they may also be referred by their Program Mentor if that mentor sees them struggling with certain courses or assessments. In some cases, the Evaluation Faculty may recommend or refer a student as well when they notice key gaps in knowledge that may be holding a student back.
The Student Services team is available during extended hours to assist with general questions and requests. The Student Services team members help resolve issues, listen to student issues and concerns, reschedule assessments, and make recommendations for improving policy and practice based on student feedback. The Student Services team is committed to facilitating equitable resolutions for all students.
Service Desk personnel are available to support students contacting this call center. Each student is met with a caring, knowledgeable human who provides individualized support. Phones are answered extended hours day and night, seven days a week – providing technical support, or helping students understand where to go for services. If a student experiences a technical issue that is blocking them from completing coursework on, for example, a Friday night, they can phone in and get help so they can complete an assignment over the weekend if that is when they do their coursework.
Mental Health and Wellness Services
Adult learners often come in with more complex lives than the average 18-year-old graduating high school, and therefore may need additional layers of support that extend beyond how to succeed in school. WGU provides students access to free 3rd party counseling and mental health services by licensed professionals. These can be virtual, or in or near the communities where they live. These health and wellness services also include crisis counseling, local resource connections, and legal counseling, such as if the student is having a pressing issue with a landlord or tenant agreement. The legal services can also help students understand other legal documents they may have in their lives taking their time and attention. Services are also available for personal financial counseling. And, since so many of our students are caught in the middle of trying to raise their children while also providing elder care to their parents, we can give them access to searchable referral sites to facilitate their search for quality daycare and elder care to save them time searching for qualified help.
I want to pause here for a second and give a shout-out to the teams working in these Centers. Our mission is so real to everyone who works at WGU, and so many of us had our lives dramatically changed for the better by education. Because of those experiences, each team member is extraordinarily dedicated to helping students find their pathway to opportunity and succeed in college, and later in life.

Digital Library and Resource Librarians
Research will be a key component of any degree program, and many students who tried online learning 10-15 years ago often hit a roadblock when it came to library services. WGU was one of the first universities to lean heavily into digital library services, and today, we have not only a full suite of resources for our students, but also staff resource librarians that students can connect with to help them navigate those services 1:1, so they can master how to search for what they need.
Career and Professional Development
Since so many of our students are working adults, it's worth noting our Career and Professional Development (CPD) professionals guide students in understanding that career management is an ongoing process that starts day one of their program. CPD Services are available throughout the student's academic journey from enrollment through graduation and beyond. CPD serves alumni for life! Students are guided through the career exploration process, while CPD professionals help students understand career pathways and help them understand how their skills align with their desired career path. CPD professionals provide strategic guidance and coaching on creating a career plan that leverages their academic experience, coach and educate on career assets such as resumes, cover letters, and portfolios, and educates students on how to leverage their industry relationships within their career community as they progress toward their next career step.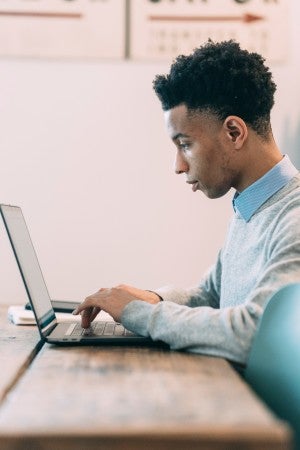 Environmental Barriers Group
One thing we've seen a lot of in the last year is catastrophic weather and events, and WGU has students front of mind in the event environmental issues produce barriers. Whether it's floods, fires, tornadoes, or hurricanes, we staff a team of people who proactively scan for these disasters every single day, and then reach out to students in affected zip codes to ensure they are safe and have what they need. They also help us track the needs of students impacted by COVID. This group can help with rescheduling assessments or getting loaner laptops and other things to help alleviate stress while the student gets to a less impacted environment.
---
Since 2017, Stacey Ludwig Johnson has served as Vice President of Academic Operations for WGU's Teachers College.  In this role, she leads the largest competency-based Teachers College in the nation with responsibilities that include guiding the faculty operations, field experience, and enrollment. Stacey joined WGU in 1998 as an early pioneer of competency-based education. She was privileged to enroll and mentor WGU's first cohort of students. In roles ranging from Director of Financial Aid, Registrar, and Associate Provost of Academic Services, she led the design and build of the key student experiences in financial aid, records, orientation, library services, career services, alumni relations, field experience, and student services. Stacey has dedicated her career to WGU because she firmly believes in the mission to change the lives of individuals and families. The Teachers College provides a unique opportunity to extend this mission beyond the boundaries of WGU into classrooms and communities across the nation. Stacey holds a Ph.D. in Educational Leadership and Innovation and is relentlessly focused on increasing access and student success.