At Western Governors University we celebrate and support the inherent worth of all individuals. As you will see on this page, our goal is "to foster a diverse, inclusive environment where students, faculty, and staff can be their best selves as they learn and grow. WGU is committed to promoting inclusion, respect, and acceptance for differences, equal opportunity, and diversity in all of our operations and endeavors."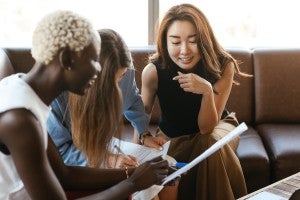 WGU has an active and growing Diversity, Equity, and Inclusion (DE&I) program, which is focused on advancing equity among all of our stakeholders—students, employees, and alumni. Our DE&I initiatives are aimed at building communities that value each individual and encourage open, respectful conversations. In addition, we incorporate DE&I into our foundational curriculum in all initial licensure programs for future teachers. Link through to learn more about our initiatives.
The links that follow are free and open resources you can use in your personal and professional life to advance understanding and inclusion to support diversity and equity.
What is Diversity, Equity, and Inclusion?
While often used together, these three things are distinct and unique.
Diversity is about reflecting the mixture of differences and similarities found in the world, and acknowledging the related tensions as we strive to develop more inclusive and high-performing environments. 

Equity is the explicit commitment to access, opportunity, and advancement for all people. It is the active identification of and elimination of barriers that prevent the full participation of any group.  
Inclusion is about creating, embracing, and maintaining an environment in which an individual's uniqueness, contributions, and strengths are welcomed and valued. 
---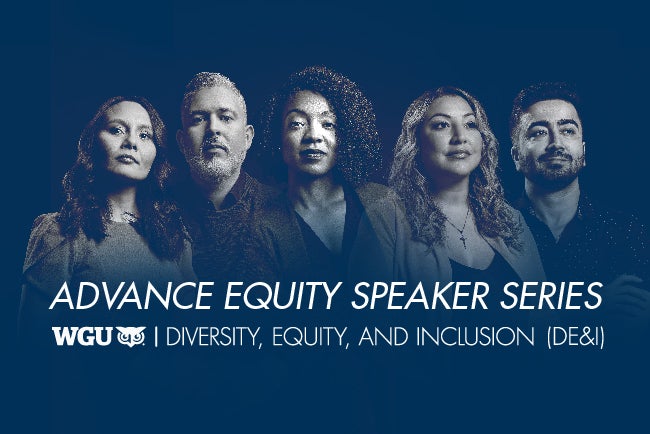 Advance Equity Speaker Series
WGU's Office of Diversity, Equity, and Inclusion (ODEI) hosts this monthly speaker series as part of our commitment to change lives for the better by advancing equity and expanding access to opportunity. The objective for this webinar series is to share insight and perspective on various DE&I topics. Each one-hour session will feature renowned DE&I experts and personalities such as Olympic gold medalist swimmer Cullen Jones, TED Talks speaker Sara Jones, civil rights activist Novella McCline-Page, executive leaders, and WGU faculty. A brief description and link to a sampling of recent recordings follow. Link to the page for the full list including bios, and then sign up to be notified of future events. (Mac users may find the best experience with Chrome rather than Safari as their browser when viewing theses recordings via Webex.)
Lunch with Cullen Jones, a U.S. Olympic Champion
As a former world champion and Olympic gold medal swimmer, Cullen Jones began speaking with the purpose of motivating and inspiring others. Knowing the absence of diversity in swimming, Jones has built his career around changing the landscape of his sport. His topics include, mental toughness, overcoming cultural norms, setting goals, and reaching them, and exceeding expectations. Using humor and life experiences, Jones develops speeches with a focus on displaying the parallels between the sports and business world. This pursuit has transformed into a career in public speaking with notable company's such as Deloitte, Boeing, Bank of America, Citibank, Phillips 66 and many universities. View recording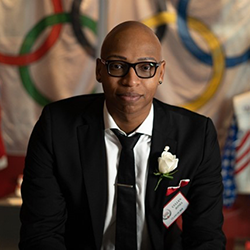 DE&I Executive Roundtable
In this executive roundtable, Talia Mark Brookshire, Director of DE&I will discuss the successes, lessons learned and opportunities various professionals in the DE&I landscape face. Attendees will gain insight from the guests listed below. View recording
Brandon Thompson, Vice President of Diversity, NASCAR
Sharese Shannon Mathis, Assistant Dean-Campus Life, Albion College
Kara Adams, Director of Guest Experience and Chairwoman for B.O.L.D, Portland Trailblazers
Jorge Quezada, Vice President-Inclusive Diversity, Granite Construction; Former DE&I Officer for Northwestern Mutual and Kraft Foods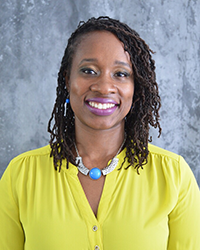 LatinX Speaker Panel with Edward Gonzales, NASA
As part of WGU's Hispanic Heritage month, Edward (Eddie) Gonzales shared his inspirational story about how he overcame childhood challenges to landing a career at NASA. Presently, Eddie leads diversity, equity, and inclusion efforts at the NASA Goddard Space Flight Center. Additionally, he serves as a mentor and promotes STEM engagement for underrepresented and underserved communities. View recording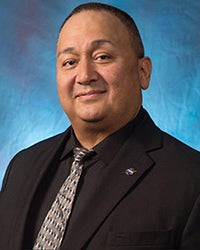 Civil Rights Activist Novella McCline Page
Native Nashvillian, Novella McCline-Page, became an active participant in the non-violent civil rights "sit-ins" in the 1960s. As she and other college students sat at Woolworth's lunch counter in Nashville, they were bombarded with racial slurs, doused with food, spat upon, showered with cigarette ashes, and arrested. Her picture, sitting at the counter at Woolworth, is on display at the new Tennessee Museum in Nashville as well as the Muhammad Ali Civil Rights Museum in Louisville, Kentucky. During the Centennial National Convention of Alpha Kappa Alpha Sorority in 2008, this picture was prominently displayed in a life-sized poster, honoring her as a Civil Rights activist. View recording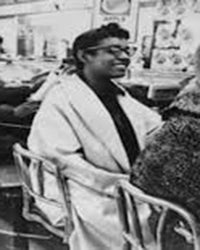 ---
Diversity, Equity, and Inclusion Dialogues for Rising Educators
In case you missed it on our Thought Leadership page here in the Learning Community, this one hour live Facebook event is worth seeing and sharing broadly with friends, colleagues and students. The conversation will guide educators in how to think about addressing these important topics in their classrooms and communities.
Guests:
Jason Thompson, Vice President, Diversity, Equity and Inclusion, WGU 
Dr. Mamie Pack, Course Faculty Diversity, and Inclusion, WGU Teachers College 
Dr. Mark Milliron, SVP WGU, and Executive Dean, WGU Teachers College 
Host: Dr. Aaron Popham, Dean and Academic Vice President, WGU Teachers College 
---
Books on Teaching Diversity

Here is a small sampling of the ever-growing array of excellent books to share and savor on this topic. Reach out to your favorite bookseller or library and start learning more today.
Culturally Sustaining Pedagogies: Teaching and Learning for Justice in a Changing World, by Django Paris and H. Samy Alim
Why Are All the Black Kids Sitting Together in the Cafeteria? Revised Edition, by Beverly Tatum
Teaching and Learning in Diverse Classrooms : Faculty Reflections on Their Experiences and Pedagogical Practices of Teaching Diverse Populations, by Carmelita Rosie Castañeda
Culturally Responsive Teaching : Theory, Research, and Practice, by Geneva Gay
Studying Diversity in Teacher Education, by Arnetha F. Ball, Kim Fries, Cynthia A. Tyson, Arnetha F. Ball, Gloria Ladson-Billings, Patricia D. Quijada Cerecer, Thandeka K. Chapman, Marilyn Cochran-Smith, Jeffrey M. R. Duncan-Andrade, and Donna Y. Ford
Innovative Voices in Education: Engaging Diverse Communities, by Eileen Gale Kugler, Ashley Harris, Edwin Darden, Shriya Adhikary , Jioanna Carjuzaa , Jesse Bethke Gomez, Waliha Gani , Debra Fulcher , Sean Grainger , and Young-chan Han
The Wiley Handbook of Diversity in Special Education, by Marie Tejero Hughes and Elizabeth Talbott
---
Five Top Diversity and Inclusion TED Talks from the Diversity Agenda
Treat yourself to these on topics ranging from how diversity makes teams more innovative to ways to be a better ally in the workplace, and more.
Dig into this collection of three video playlists about Diversity. Playlist one (8 talks) explores How to Innovate for Collaboration and Success, playlist two (14 talks) offers a view into Why Tech Needs Diversity, and playlist three showcases A Blueprint for Diversity in the Workplace.
---
Here are a few other resources on the DE&I topic. Check back often as we will be adding more!
The Center for Black Educator Development
Follow and engage with this group focused on addressing educational inequities and improving academic outcomes by increasing teacher diversity. 
In Defense of Caring about Differences
This thoughtful article in Learning for Justice points out the important distinctions teachers can make to move toward greater equity in their classrooms. 
The importance of Black educators to student success has been documented. As this article reminds us: "Having just one Black teacher during elementary school can make a Black student 13% more likely to enroll in college, and having two Black teachers bumps that likelihood up to 32%, according to a working paper from the National Bureau of Economic Research." Read more.
WGU Building a Future Ready Workforce: Race in the Workplace
And here is another webinar for your viewing. This session offers a panel discussion moderated by WGU Vice President, Diversity, Equity and Inclusion, Jason Thompson. His guests include:
Karen Pavlin, North American Inclusion and Diversity Leader for Accenture
Denise Banuelos, Equity, Inclusion and Diversity & Workforce Development Director for Kaiser Permanente
Crystal A. Banks, Diversity and Inclusion Director, Ulta Beauty
Heath Clayton, Executive Director, Head of Diversity and Inclusion, JPMorgan Chase
And more...
The Social Impact Show: What is DEI? 
Diversity – The First Work is Within
From Equity Includes You: 105 Things White People Can Do for Racial Justice