For third-grade teacher Justine Hurley, the pursuit of learning never stops.
Justine has spent the last 13 years of her teaching career at White Sulphur Springs Elementary in Montana. In 2019, she was the recipient of one of the U.S. Presidential Awards for Mathematics and Science Teaching.
This award recognizes teachers who have both deep content knowledge of the subjects they teach and the ability to motivate and enable students to be successful in those areas. It's also the highest honor given by the United States government specifically for K–12 science, technology, engineering, mathematics, and/or computer science teaching. 
For some, earning that level of achievement might've been enough—but not for Justine.
"Getting the Presidential Award really spurred me to get my master's degree," Justine said. "It pushed me to that next level of teaching by becoming a student again so I could become a better teacher."
With the nearest college more than two hours away, Justine started to explore her online education options.
"I knew going to a traditional college to get a master's degree was not an option. But I was never going to increase my pay if I didn't get one," she said.  
After looking into online universities, Justine landed on WGU.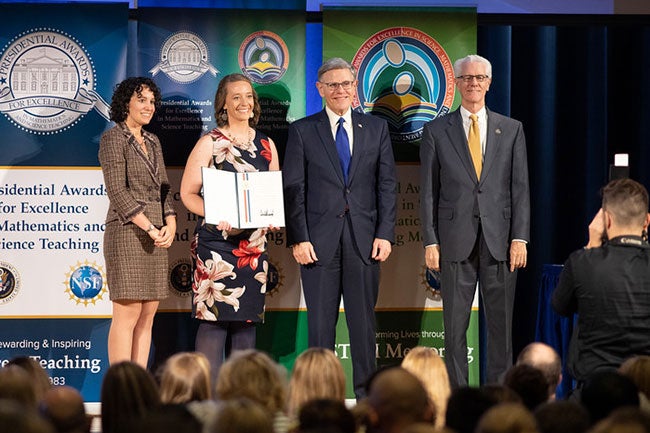 "I knew WGU was my option. My schedule didn't have to change to get my master's degree. I held all my other jobs and was still able to get my degree in seven months."
Because of WGU's competency-based education model, Justine was able to move through courses quickly and tap into her teaching experience to progress even faster.   
"I wanted my experience to mean something. I wanted it to have value, and at WGU, my past experience in teaching held accountability," she said.
Since earning her Master of Science in Curriculum and Instruction at WGU, Justine's latest passion is to inspire and grow the teaching community.
"I would say to anyone wanting to get their teaching degree that any time is the best time. These kids are here, and they're waiting for a really good teacher."