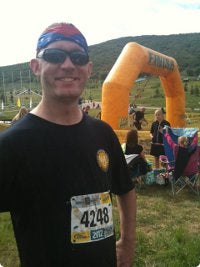 Education is a bridge—a bridge between where we are now and the future we're looking for.
It's that philosophy that led Salt Lake City's Ryan Wall, a former employment counselor, to be a mentor in the WGU online Teachers College.
"I coached individuals on achieving their employment goals, and the more I worked with them, the more I saw how important it was to have substantial education as well," Ryan says. "I am happy to say that my customers were able to realize this, and many of them went on to get their degrees in order to achieve their employment goals."
That's how Ryan learned about WGU.
"I learned how much emphasis this great university places on mentoring," he says. "I knew that this was the job for me! I saw an opportunity to help people even more with something that I am so passionate about—education."
In fact, he was so impressed with WGU's learning model that he earned his MBA online in WGU's Business College.
Outside of work and his passion for education, Ryan's time is best spent "writing, reading, running." In fact, Ryan recently joined more than 50 of his fellow WGU mentors and staff members to run in the June 2012 Dirty Dash race in Soldier Hollow, Utah, to benefit The Road Home homeless shelter. (That's where the mud-splattered photo of Ryan accompanying this post comes from.)
He's also a movie buff, a huge fan of Yellowstone National Park, and, most of all, a husband and the father of three kids.
It's a full life, and he's proud that he's able to find so much fulfillment not only in his personal life but also at work.
"Ever since I've joined WGU, I've been impressed with how much we focus on helping students with building that bridge," Ryan says. "Any individual student enrolled at WGU has an entire team of people here to help them at any given moment. As a mentor here, I have the opportunity to do this every day. Not only do I get to work with the students, but I get to work with other mentors and teammates from other departments that all share the same enthusiasm for helping our students."