Are you thinking about going back to school to be a teacher? Maybe you started college a few years ago but didn't finish your degree. Maybe you're looking to change careers. Maybe you've always enjoyed working with kids as a coach or tutor but want to do more. Maybe your kids are now in school and you finally have the time to take some courses.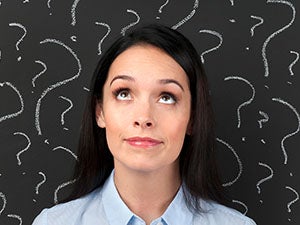 Whatever your situation, if you're considering going back to school for teaching, you probably have some questions. Checking college or state education department websites can give you information about course requirements and cost, but how do you know if teaching is right for you? It's a big decision. Maybe the following examples of people who struggled with the same decision will shed some light on what to do.

Discovering a new passion.
A few years ago, I met with a student's father. He was retiring from the Army and looking for a second career. He had expertise in math that he thought he could apply in the classroom as a math teacher, and he asked for my opinion. "I know you'd have the math skills," I said. "But do you like working with kids?" He thought for a minute and then said, "I've never done it. I just know I like math."
I invited him to sit in on some of our math courses so he could get a feel for what teaching math to kids is like. Eventually he did go back to school, and it turned out that he did like teaching kids, and kids liked him. He's now a very solid math teacher.
Discovering a new letting the pieces fall into place.
I knew another parent who decided to go back to school. When her kids were little, she had stayed home, and now that they were in school, she told me she was considering going back to complete her teaching degree. It had always been her dream, and the school calendar would allow her to be home when her kids were home. She eventually decided to take the plunge and ended up working part-time as a reading teacher.
Another friend of mine dropped out of college the first time around because of a lack of money and commitment. Now more mature, she was ready to go back. "But would anyone hire me as a new teacher at age 37?" she asked. I told her I couldn't speak for all administrators, but I know several (myself included) who take a serious look at a candidate with some life experience and the drive to go back to school.
One of my favorite examples of someone who successfully returned to school was a woman who worked as a special education teacher's aide in my school district for many years. She was an excellent aide, but the job didn't pay much. She had no college credits, but she decided to take college courses online so she could move up from being an aide to being a teaching assistant. One day, she asked me if I thought she'd make a good special education teacher. "Absolutely," I said.
She enrolled as a part-time student at the local college and eventually took a leave of absence to complete her student teaching. I had an opening a year later and hired her, and she continues to do outstanding work today.
Knowing if teaching is right for you.
Before you commit to going back to school, ask yourself some questions. Do you like spending time with kids? Are you ready to learn new things? Are you willing to put in the time and effort it takes to be a successful teacher? If your answer is yes, test the waters by talking to someone at your local community college or exploring opportunities at accredited online colleges. These colleges offer relatively inexpensive ways to try out the coursework and see if you like it.
Volunteer at your local school to see if you'd be comfortable not only in the classroom, but in the lunch room and in the halls. Ask the principal about the school's hiring practices, what they look for in new hires, and what openings are expected in the next few years. If you can, talk to local teachers about their jobs, too.
Some people who consider going back to school worry about being 30, 40, or 50 years old before they finish their degree. But you're going to get older no matter what, and good teachers come in all ages! So is teaching right for you? You'll never really know until you try. Take the opportunity to enroll online or at a brick-and-mortar school, and see what happens. You may be opening the door to new opportunities.