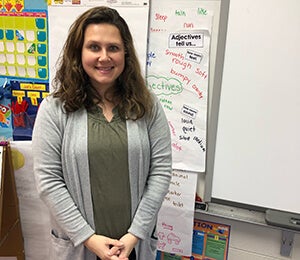 Cherity Hunt in her classroom.
Elementary school teacher and WGU Tennessee alumna Cherity Hunt has been honored as the 2019–2020 Whitesburg Elementary School Teacher of the Year in Morristown, Tenn. Cherity, a first grade teacher, received her Master of Science in Curriculum and Instruction from WGU Tennessee in 2013 — and cites the program with transforming her as an educator.
Cherity's journey through higher education did not take a traditional route. 
She began her career as a librarian and media specialist at Whitesburg Elementary after earning her bachelor of arts degree from Tusculum University in 2009, and a few years later sought a master's degree. However, with a young son and another baby on the way, she needed the schedule and cost-adaptability that traditional brick-and-mortar universities didn't offer. Cherity ultimately enrolled in WGU Tennessee on the recommendation of a fellow teacher.
"I wanted the flexibility to continue my work as a teacher, be an effective mother, and advance my education," Cherity said. "At WGU, I knew what my classes would hold and how to pace myself, so I could evaluate my roles as a teacher and mother and still complete my degree." 
During her time at WGU, her devoted mentor, the cost-effective tuition, and self-paced coursework kept her on track and allowed her to thrive in her classes and all areas of life. The competency-based curriculum gave her necessary experience, built her confidence, and transformed her as a teacher. Most importantly, it taught her how to put students first and keep them engaged — crucial skills that led to her award.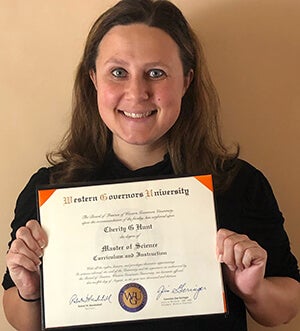 "At WGU Tennessee, I became a better educator, deepened my knowledge of teaching, and changed the way I look at assessment. The coursework shaped me into the kind of teacher I want to be, which is student-focused with the learners at the center of the environment."
A joint resolution has been introduced by state Sen. Steve Southerland (R-Morristown) to officially honor Cherity with the "Teacher of the Year" title and recognize her for her passion and remarkable tenure as a teacher. The resolution cites Cherity's extensive experience, ability to forge relationships with students, and leadership among her colleagues as a few of the many driving forces behind her award. Upon approval, the resolution congratulates Cherity for her honor, commends her service, and salutes her talent and compassion.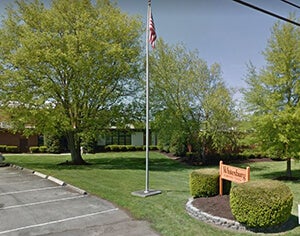 Whitesbury Elementary