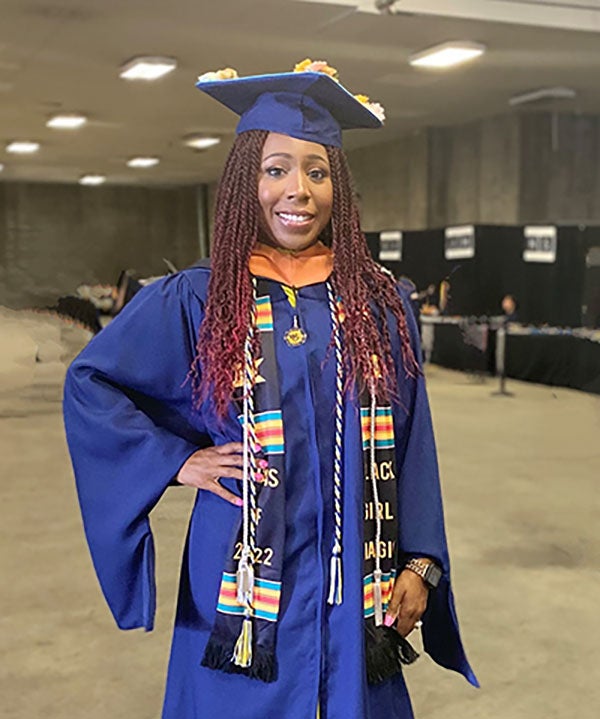 Many parents put their careers or educational goals on hold during the pandemic, trying to juggle household and workplace duties. With competency-based, online degree programs at WGU, many aspiring students and full-time parents can continue their pursuit of higher education by completing their coursework and exams whenever and wherever it works best with their busy schedules. For WGU Texas graduate Daschelle Weaver, the pandemic "dismantled my number one excuse and forced me to make the best decision I could have ever made--to get my masters."
Daschelle is an example of persevering through these challenging times, leaning on her program mentor for support, and harnessing a program that would allow her to continue achieving her goals. In this Q&A, she discusses family, work-life balance, barriers and how the support system WGU provides kept her on track toward achieving those goals.
1. Give a brief description of your background. (Work, family, future career, etc.)
I work for Baylor Scott and White Health as a Hospice RN Case Manager. I am the wife to my loving husband James, and we have 3 children. In March 2022, I completed the Master of Science in Nursing Leadership and Management. I plan to enjoy the fruits of my labor for the next year or two and start my journey to earning a postgraduate master's as an Adult-Gerontology Nurse Practitioner in the Fall of 2024.
2. What made you decide to get your degree at this point in your life?
After completing my BSN in 2020 while living in Connecticut and homeschooling my children during the pandemic, I decided to pursue a higher degree. I began the MSN program in Connecticut but moved to Texas in January 2022. I had a lot more time being home with the children, so I decided to invest that extra time into myself.
3. Was your mentor important to your success? Did your mentor help you overcome any obstacles on the way to completing your degree?
My Program Mentor Chris Tackett was an excellent source of support. She anticipated my needs and advocated for me when I needed it. She helped me navigate my collegiate goals while I cared for my brother-in-law Ahmad, who had passed away after a battle with cancer. During the program, my daughter and I had COVID at the same time during our cross-country move. There were a ton of other challenges and Chris helped and supported me through every last one. I wouldn't be here had it not been for Chris, my course instructors, and my family.
4. Were there any other barriers you've had to overcome?
I must admit, I was my biggest barrier. My main excuse was that I did not have the time to complete another program. The pandemic dismantled my number one excuse and forced me to make the best decision I could have ever made, to return to school and earn my master's.
5. How important is education in your family and who were your influencers, cheerleaders, and supporters?
My parents always encouraged education, especially because they only had a high school education. They never forced us but offered their full support that was available anytime we decided we wanted to pursue our degrees. My parents followed through with their word through four degrees and two licenses. They were one of my main supporters.
My husband and children heavily influenced me, overcoming my barriers and completing these degrees. I could not expect my children to go to college and not hold myself accountable and to that same standard. I did not want to let them or myself down and sometimes that thought alone kept me from waving the white flag.
Other cheerleaders include my brothers, family members, Sorority Sisters, church family, and even those who didn't support me. The more they talked about me, the more I focused on myself until I was successful. Here I am again, another degree stronger!
6. Can you share your future career and life goals?
My future goal includes becoming an Adult-Gerontology Nurse Practitioner. My life goals are 20 years as a Nurse Practitioner, raising my children, retirement at 65, financial freedom, mentoring youth, and living my best, blessed life for the rest of my life.
Learn more about online nursing degree programs at WGU Texas. Visit our website or contact an enrollment counselor to get started on your path to higher education today!