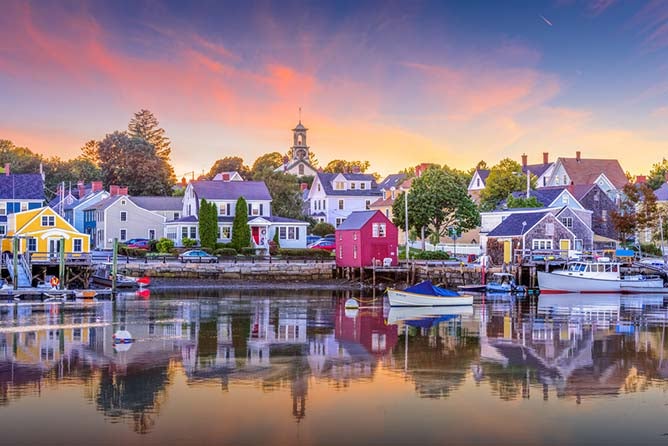 Covering just less than 72,000 square miles, New England is a compact region. It's dense, too: New England packs more than 14.8 million people, per the United States Census Bureau, into its six states (Connecticut, Maine, Massachusetts, New Hampshire, Rhode Island, and Vermont).
Many of these residents came to New England because of the region's various business opportunities. No matter what's on your list of must-haves for a place to live and work, you'll find that it's easily accessible from anywhere in New England. 
Business school graduates starting jobs in New England will discover that lively big-city entertainment is but a short commute from the quiet charms of small towns and rural communities and that colonial history sites sit next to ski slopes, whitewater rapids, and other outdoor recreation venues. Each of these areas needs marketers, accountants, project managers, and other business professionals to keep business booming.
Key New England industries.
New England's economy is diverse, with the top industries in each state accounting for less than 10 percent of the total workforce, USA Today says.
According to the newspaper, insurance is the largest employment sector in Connecticut (3.4 percent), New Hampshire (2.3 percent), and Rhode Island (1.9 percent). Hospitals, nursing, and residential care facilities are the top employers in Maine (9.3 percent) and Massachusetts (9.5 percent), while ambulatory health services—including doctors' and dentists' offices, outpatient health centers, diagnostic laboratories, and home health services—is the largest industry in Vermont (5.5 percent).
Tourism, education, and manufacturing—including the aerospace and biopharmaceutical industries—also drive jobs in New England. Employers in each of these sectors need employees with degrees in business and related fields, such as IT management. With a bachelor's degree in business management or healthcare management, you could be well poised to take advantage of New England's booming business opportunities.
Business career opportunities.
Small but bustling New England offers myriad opportunities in many growing industries, and a business degree can give you the fundamental skills to succeed in any of them. Here are a few roles to consider.
Healthcare manager. If running an entire healthcare department sounds exciting, healthcare management might be the right field for you. Healthcare managers coordinate and manage healthcare services strategies and help build teams to execute on those strategies. PayScale reports that healthcare managers make about $63,000 a year.

Accountant. Tourism is big in New England. Whether bed and breakfasts or adventure tour operators, companies in the tourism industry need skilled accountants to manage their finances, analyze their financial data, and manage their payrolls. Accountants make about $50,000 a year, on average, according to PayScale.

Human resources manager. Whether they work for a small insurance company in Burlington, Vermont, or a Fortune 500 company in Boston, human resources managers tap into their company's culture and advocate for employees. Human resources managers handle conflict, train and develop employees, and coordinate administrative duties. On average, they bring home about $66,000, per PayScale.

Marketer. Every industry needs marketers to define and promote a company's mission and vision. Marketers improve sales by strategizing and executing advertising initiatives and showing prospective clients how the organization can benefit them. Glassdoor reports that marketers make about $61,000 a year.
No matter what business career path you follow, having a relevant degree will help you along the way. A bachelor's degree from WGU in healthcare management, for example, will introduce you to subjects such as regulation and financial resource management, important to business operations in that sector. A master's degree in healthcare management will equip you with the more specialized knowledge and teach you the necessary skills for advanced management and leadership posts. A bachelor's degree in accounting, business management, human resources management, or marketing provides credentials that will make you an attractive candidate to a wide range of employers.
New England packs a lot of career possibilities into a small package. If you can see yourself at home in this historic, picturesque, and economically diverse region, look into the variety of available jobs in New England.