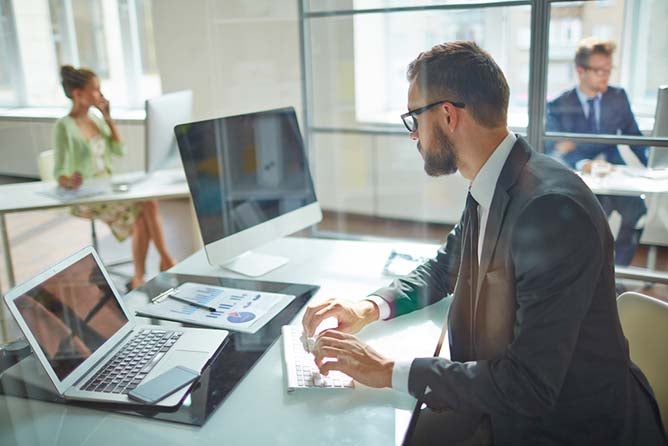 In today's tech-focused world, every company needs a team of skilled IT professionals to maintain their networks, to fine-tune their servers, and to change the occasional password. If you want to transition from the business industry to an IT career, you already have a leg up. Many of the skills you've relied on to advance in business are easily transferable to a wide range of IT positions.
Business skills for the IT industry.
Making the transition from business to IT doesn't have to be hard. Here are five key business skills that can help you make a smooth and successful transition to IT.
Communication.
Whether your background is in accounting, customer service, or management, communication has likely been critical for your success. You've developed the skills needed to connect with people, to capture their attention, and to convince them of your ideas' merits.
Communicating clearly and effectively is just as necessary in the IT field. Systems administrators, for example, explain complex information to non-technical employees, including leadership. IT operations managers and technical support staff troubleshoot employee tech problems and communicate solutions. Systems analysts communicate solutions for business problems to executive business leaders.
Strategic thinking.
To succeed in business, you must be able to think strategically. You have to critically evaluate information, recognize big-picture trends, and analyze how key decisions will either support or hinder your organization's mission.
Thinking strategically also positions you for success in an IT career. IT leaders and managers must understand how technology is used in support of operational goals, such as improving efficiency or optimizing workflows, and they must be capable of evaluating IT decisions in terms of the bottom line.
Creativity.
Businesses succeed or fail based on their ability to innovate, and innovation is an important quality for IT professionals as well. Solving problems and troubleshooting issues are significant aspects of any IT employee's job, but software developers, web developers, and database engineers are specially tasked with creative responsibilities, such as creating applications and products.
Collaboration.
Few tasks in the business world are completed in isolation. Business managers bring out the diverse skills and perspectives in their teams, while human resources professionals foster collaboration and teamwork for the betterment of the company.
IT functions similarly. As the IT certification organization CompTIA says, "Technology is not a solitary field, despite how it's often portrayed." Cybersecurity professionals, for example, work in teams to evaluate an organization's security and put new procedures in place. Data managers, on the other hand, work with teammates to analyze data and improve business procedures.
Organizational skills.
Business and IT are typically fast-paced working environments. In your current business job, you're probably well versed in juggling numerous tasks and meeting tight deadlines. IT environments require similar skills, such as handling multiple projects, outages, or IT emergencies at once. Having good organizational skills helps you stay on top of everything and ensure nothing falls through the cracks.
Multiple paths to success.
There are many paths you can take from a business career to an IT career, depending on your current role and the IT job you're interested in. The most common way to make this transition is to earn an IT degree that can help you build on the skills you've developed in your business career. Courses on IT project management and business communications, for example, will help you apply your business skills to your new industry. Other courses will train you in the fundamentals of IT—including programming, web development, emerging technologies, and security—to help you succeed in the industry.
If you have a knack for business management, becoming an IT leader might be in your future. An MBA or a master's degree in IT management can connect your business knowledge to the IT industry. In these programs, you'll specialize in project or financial management, and get hands-on IT experience that will help you develop the technical acumen needed for the industry. With the right technical skills, business expertise, and education, you could be a successful IT leader or manager.
Whatever path you choose, moving from business to IT can launch you on a promising career path with enormous growth potential as technology continues to fuel rapid innovation.