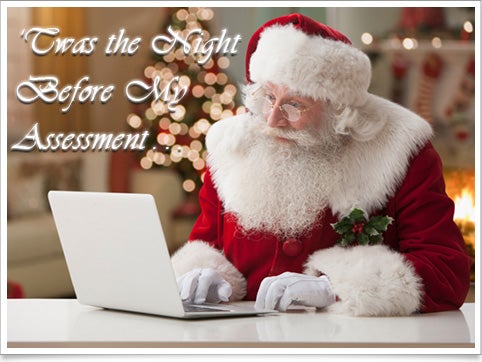 Here's a little Christmas cheer we received from WGU employee and student Lori Bawden. 
She took the holiday classic "'Twas The Night Before Christmas" and gave it a little WGU twist that anyone attending an online university can relate to! Merry Christmas and have a great weekend!
'Twas the night before my assessment
'Twas the night before my assessment, when all through the house,
Not a creature was stirring but me and my mouse.
With my mind like a steel trap, I studied with care
In hopes that come tomorrow the facts would be there.
The rest of the family was snuggled in bed,
While Course of Study topics flooded my head.
The glow of the monitor all snug in my lap
Made it hard to resist the urge for a nap.
When outside the house there arose a loud clatter,
I sprang from the couch to see what was the matter.
Away to the window I flew like a flash,
Just in time to see lightning strike with a crash.
The moon through the trees on the new-fallen snow
Was now the only light. I yelled out, "Oh no!"
Through the blind darkness my eyes tried to peer,
As I searched for a flashlight and battery gear.
With a rumbling of feet and some shouts of panic
I knew in a moment this was going to cause havoc!
More rapid than eagles the children all came
And I whistled, and shouted, and called them by name!
"Now Johnny! Now, Suzie! Now, what's-your-name—Donna!
Everything's alright! Back to bed! Mind your mama!"
I continued my quest to dispel the deep dark,
When on came the power—the lights were quite stark.
As dry leaves that before the wild hurricane fly,
Such were my notes now, and I let out a sigh.
In a wink I remembered I had nothing to dread,
For my notes were all saved on the web drive instead!
As I sprang back to work and started to whistle,
Away flew the hours like the down of a thistle.
I saw one last email 'ere I switched off the light,
From my mentor: "Good luck! Graduation's in sight!"
by Lori Bawden, WGU employee and student