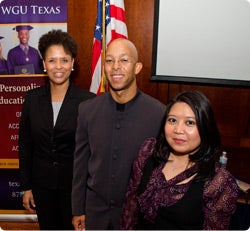 Jason Franklin of San Antonio, Texas, has earned two degrees – a bachelor's in Network Design and Management and a master's in Information Security and Assurance – and is now working on his MBA. All three of his online degree programs were at WGU.
Phyllis Boon of Humble, Texas, is the first of her parents' nine children to earn her bachelor's degree. She earned her online teaching degree at WGU after years of frustrating attempts to make a traditional university education fit in her life – and earned it despite several personal tragedies along the way, thanks to the support of her WGU mentor.

And Elliette Teague of Kyle, Texas, moved to the United States from the Philippines in 2003, seeking her American dream of self-sufficiency, self-confidence, and self-made success. But she was stymied by a lack of a college education and an accent that left her feeling insecure and invisible in the job search. Entering the online business degree program at WGU not only gave her the skills and knowledge she needed to land a job that she loves; it also greatly improved her written and spoken English skills and boosted her discipline and confidence.
All three of these Texas online university students and graduates spoke at the September 2011 official launch of WGU Texas, the newest state subsidiary of Western Governors University.
Listen to Jason, Phyllis, and Ellie share their stories in this video playlist:
WGU Texas was created by Governor Rick Perry on August 3, 2011, the third state after Indiana and Washington to create state-endorsed online nonprofit universities in partnership with the national Western Governors University.
"Earning a college degree is one of the most effective ways for individuals to improve the quality of life for themselves and their families," Governor Perry said when he signed the Executive Order establishing WGU Texas.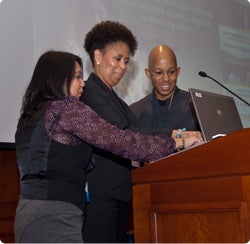 "By offering online, competency-based courses in key workforce areas, WGU Texas provides another flexible, affordable way for Texans to fulfill their potential and contribute their talents for years and decades to come, without any need for state funding. Our strengthened collaboration with WGU plays an important role in the effort to ensure Texas has an equipped workforce to meet the needs of job creators."
A workforce made up of people like Jason Franklin, whose years of IT experience have made him a highly skilled and valuable employee but whose lack of a degree had prevented him from climbing the ranks in his government job – and who now, with two degrees under his belt and a third in progress, is able to grow and progress in his career and live up to his full potential.
People like Phyllis Boone, who has used her degree to co-chair a program preparing middle and high school students for college.
And people like Ellie Teague, who is working for the world's No. 1 computer company, earning more than she was before, and planning to continue her WGU education at the graduate level after earning her bachelor's degree, which she expects to do in March 2012.