The teacher shortages across the United States are no secret, and it's a problem that will likely be around for years to come. According to the U.S. Department of Education, public schools in more than forty states claimed teacher shortages in Math, Special Education, Science, Foreign Language, and English as a Second Language (ESL) for the 2017-18 school year.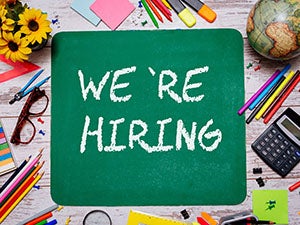 Yet many people will focus on the size of the needs and overlook the most important detail: Needs in a handful of specific subjects/disciplines are driving a majority of the shortages. In fact, according to the National Council on Teacher Quality (NCTQ), there are plenty of teachers coming through the college ranks, just not enough to fulfill the needs within these subjects.  
In general, STEM (Science, Technology, Engineering, and Math) teachers are in demand across the country, as are Special Needs and Gifted Education teachers. English as a Second Language (ESL) teachers are needed not only in the U.S., but all over the world, and the opportunities will only continue to grow: Demand for ESL teachers is expected to increase by 11-14% over the next decade.
So, if you're thinking of becoming a teacher, or looking to specialize in a high-need area, where can you have the biggest impact? Let's take a closer look at teacher needs at the state and regional level. 

State-specific teaching needs.
A shortage of teachers means there are many vacant teaching jobs, which are increasingly filled by individuals who don't have a formal education in teaching. California has the largest number of public school students in the country, and 80 percent of districts reported a shortage of teachers for the 2017-18 school year. Below is a cross section of several state's current teaching needs based on subject:
Utah – Disabilities, Special Education, Speech Language Pathology, Science and Math
Ohio – Arts, Foreign Languages, Math, Science, Social Studies, Special Education, Speech Language Pathology
Georgia – Special Education and Spanish
Delaware – Art, English, Business, Science, English, Math, Reading, Nurses, Special Education, Technology Education
North Dakota – Art, Computer Education, Language Arts, Health, Math, Science, Social Students, Special Education, Technology Education
Colorado – Art/Music/Drama, Special Education, Foreign Languages, Math, and Natural Sciences
Florida – Hearing Impaired Education, Reading, Science
Indiana – Blind and Low Vision, Business Education, Career and Technical Education, Mathematics, Science (All Areas), Technology Education


State initiatives to address teacher shortage.
'Great,' you might be thinking, 'Now I just need to figure how to go back to school and how to make the transition to a teaching career really work for me.' Well you're in luck: A growing number of states are implementing aggressive programs to address the shortfall.
California – School districts have applied aggressive tactics to fill their teaching positions. Salary caps have been lifted and bonuses are being offered for veteran teachers. Some districts have offered money to help outside teachers move to the area, and others have offered a 5-10% bonus to all employees, including new teachers.
Virginia and Illinois -  According to the Learning Policy Institute, these two states are addressing the shortage by recruiting retired teachers.
Indiana and Nevada – Both states have invested millions of dollars in service scholarships and forgivable loans in order to subsidize the cost of obtaining and keeping teachers in the classroom.
Oklahoma – With 1,000 job openings for the 2015-16 school year, Oklahoma took action to address their teacher shortage. According to the final report for the State's Teacher Shortage Task Force, the state's Superintendent of Public Instruction commissioned a Teacher Shortage Task Force consisting of 91 members. They worked with legislative members, communities, and an internal agency to figure out a solution. Based on these recommendations, Oklahoma adopted a range of policies to address the teacher shortages, including offering scholarships for those taking their teacher licensing tests and simplifying the licensing process for teachers coming from out of state. That's not all: There are also proposals to incentivize retired teachers to return to the classroom and raise teacher salaries.
South Dakota – In 2015, Governor Dennis Daugaard and legislative leaders established a task force to address all education issues in the state. To address the teacher shortage, they adopted a statewide half-cent sales tax to raise teacher salaries an average of $8,000. At the time of the raise South Dakota had the lowest teacher salaries in the nation.
Georgia – Schools districts in Metro Atlanta have begun boosting starting salaries, offering signing and retention bonuses, and including additional incentive pay for teachers taking jobs at struggling schools.
On a national level there are great incentives for qualified educators. To attract more teachers to STEM teaching positions, the federal government has loan cancellation programs, and some school districts offer salary bumps and other benefits to these qualified teachers. In roughly two-thirds of large school districts, differentiated pay is offered for teachers in hard to fill subjects and high-needs schools. A few of those include Columbus City Schools (OH), Buffalo School District (NY), and Dallas Independent School District (TX).
Building better data systems to track teacher applicants and vacancies in other local school districts was another suggestion given by NCTQ. States have the ability to build systems that pull together this data. There are currently eight states addressing the teacher shortage by connecting teacher preparation program data to current hiring statistics. Making it easier for teachers to transfer their licenses to other states, with teacher certification reciprocity, could be another of many possible solutions to filling these high-demand teaching positions.

 

Where challenge meets opportunity.
Ultimately, becoming a teacher is all about making a positive impact in your community. If you want to maximize that impact, there are few better ways than becoming a teacher in a high-need subject area. Federal and state governments have already recognized this and are making the transition to teaching in these areas more enticing for anyone who wants to undertake it.
Western Governors University (WGU) provides programs for aspiring teachers designed specifically for busy working adults. If you're been looking for a more fulfilling career, the teacher shortages provide the perfect opportunity to check out your options.