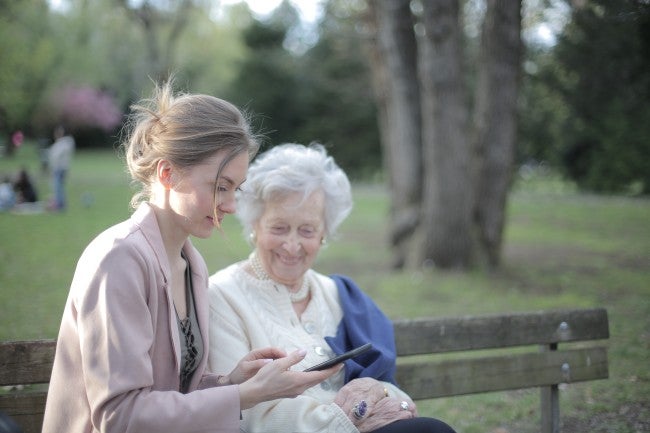 It's hard to think about who will care for you or your loved ones if you are terminally ill and want to leave the hospital. But there is still so much medical care that needs to be offered to patients as they near the end of their lives. This is where hospice nurses come in. The term "hospice nurse" is a broad term that is used to describe the variety of medical professionals that care for patients towards the end of their lives. Commonly the term is used to refer to CHPNs, Certified Hospice and Palliative Nurses or CHPLNs, Certified Hospice and Palliative Licensed Nurses. Both of these specialized nurses are responsible for helping care for terminally ill patients as they near the end of their lives. 
Hospice care is often called end-of-life-care, and these nurses are tasked with keeping patients comfortable, instead of providing treatments that extend their lives. Learn more about the work of hospice RNs and how you can become one. 
An overview of hospice nurses.
There are many tasks involved with hospice nursing, and many different types of hospice RNs that may be responsible for each task. Hospice nurses jobs can take these RNs to work in many places like hospitals, private care facilities, and very often in the home of someone who is receiving end of life care. Hospitals may employ some hospice workers, but often hospice workers work for a third-party organization dedicated to end of life care for patients. Physicians connect their patients to hospice nursing professionals to help them as they are dying. The type of work a hospice RNs will do depends on where they are working. Some different types of hospice RNs include:
Admission nurse. Admission nurses are the first point of contact for patients moving to hospice care. They guide a patient and their family through assessments and admission processes, educating them on the process and their situation. They work closely with physicians to understand a patient's needs as well, formulating a care plan for the patient, and explaining that care plan and process to the patient. Admission nurses play a vital role in patient education, answering questions, helping them understand what care equipment they might require, learning about their medications, and more.
Case manager. Case managers have an extremely direct, hands-on role in the hospice setting. They oversee the direction and coordination of a care for a patient. They learn about the role family plays in caregiving, line that up with needs that still aren't being met, and coordinate with physicians and medical professionals to help meet those needs. The role of a case manager is one of the most direct, hands-on nursing roles in a hospice organization. They regularly meet with the family, the patient, and caregivers to analyze changes in the care plan. Case managers help prepare the family and patient for counseling, education, and services before, and even after the patient's death. They also ensure that the patient's voice is heard, along with the voice of their family.
Visit nurse. Visit nurses are the ones providing the care that a case manager has coordinated for the patient. They do routine care duties like administering medicine, helping patients walk, taking care of wounds, and more. These nurses are also responsible for ensuring that there is proper documentation for all of the aspects of their visit and care.
Triage nurse. Triage nurses are on-call, ready to help patients or caregivers with emergencies that happen at home. Triage nurses assess the situation, and advise care. They also work with visiting nurses or case managers to help determine if an immediate visit is required. Triage nurses usually have a remote-work setting when it comes to hospice care, and it is vital that they can help prioritize care needs, explain to patients and caregivers what to do, and be ready to move quickly. 
Dietitians. Dietitians are focused on helping hospice patients maintain a good diet so they can feel better. A healthy diet is key for many hospice patients feeling as good as possible in the time they have left. Dietitians evaluate what a patient is suffering from, their medication, and helps craft a diet plan that can help them.
Hospital liaisons. Hospice care facilities are usually third-party organizations that have case managers and nurses who help patients. Hospitals like to partner with these facilities to help their patients get the best care possible after they choose to leave the hospital, and go home for the rest of their time. Hospitals diagnose patients and refer them to a hospice organization to be cared for at home or in a facility. Hospital liaisons are key to these partnerships—they are trained nurses who help build relationships between hospitals and private hospice organizations. They make sure the best care is available for patients, work with patients and their families to guide them through the enrollment process, and communicate carefully the wishes of patients and their families. Hospice care is all about ensuring a patient is comfortable and happy for the time they have left, and hospital liaisons are key to accomplishing that. 
How do hospice nurses care for patients?
While there are different types of hospice nurses, all hospice nurses are responsible for helping patients in specific ways. Most hospice patients require this kind of help as they are finishing out their life, and it's vital for all hospice nurses in any role to be qualified and prepared to help them. Some of their responsibilities include:
Monitoring and Documenting Patient Vital Signs. An important part of hospice care is regularly checking on the health of a patient. This may be a daily or multiple-times-a-day requirement. A hospice RN will check vital signs, record any medical concerns or issues a patient has, and understands what all of these symptoms and signs mean for the patient. 

Administering Medications. Often hospice patients are taking medication, and hospice RNs are in charge of administering it for them. Whether this is shots, pills, or IV medication, hospice RNs are responsible for knowing when patients need their medicine, how much they need, and ensuring it is administered properly. 

Managing Symptoms and Pain. A large part of hospice nursing is helping a patient feel comfortable as they end their life. These patients often aren't receiving treatment to try and help them get better, but rather pain medication is administered to help them feel comfortable. Hospice registered nurses are responsible for talking to patients to understand if they are in pain, helping administer medication, and documenting what symptoms and medication a patient has. 

Helping During Crisis Situations. End-of-life care often means that a patient can face crisis situations where they are close to death. A hospice RN is responsible for helping family and caregivers handle these crisis situations. Often hospice patients are DNR, or do not resuscitate, which means if they stop breathing or have heart problems, hospice registered nurses aren't to extend their life. It's critical for a hospice RN to know when to intervene and when to not intervene, to help family and caregivers and even the patient themselves understand, and to always focus on the patient and their family in crisis situations.

Psychosocial Support. Hospice care is complicated for the patient and family because they are dying. Mental, emotional, and social support is key during this time. Often hospice nurses become close to their patients and their families as they are with them during an extremely difficult time. It's important for hospice nurses to be able to be professional while still offering that mental and social support to their patient and their family. 

Spiritual Support. Beyond social and emotional support, many patients and their families seek spiritual support as death comes closer. Hospice nurses can offer help and kindness to patients and their families as they navigate thoughts of death and loss. Spirituality can often help hospice patients feel calm and relaxed about death, so hospice nurses can increase the peace and comfort a patient feels by offering spiritual support.

Educating Family Caregivers. A large role of any hospice nurse is to keep the patient and their family educated about what will happen. Family members often appreciate transparency and want to be in control as much as possible. Hospice nurses can educate family members on the condition of the patient, on medications, comfort and pain, and offer that support that is crucial to helping them cope with a difficult situation.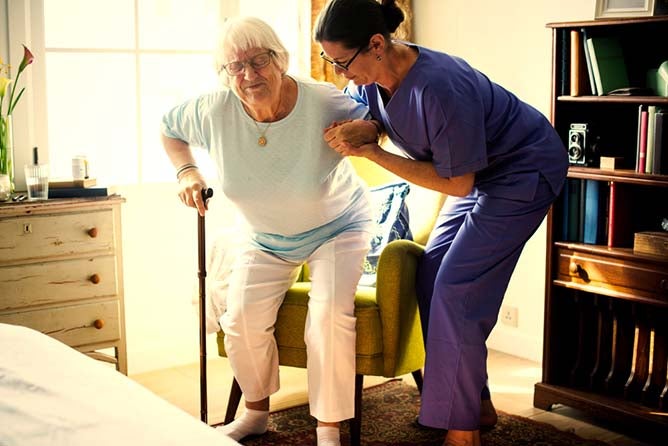 Hospice nurse salary and job outlook.
Hospice nurses earn an average hourly wage of $29.00 per hour, which translates to a salary of roughly $60,000 per year. The bottom 10% of hospice workers earn an hourly salary of about $20.00 per hour, while the top 10% earn more than $39.00 per hour. Salary levels for hospice nurses often depend on the experience level they have, where they are working, and their education level. Different job descriptions will have different salary levels when it comes to hospice care, and the more time a nurse has worked in the profession, the higher their salary will likely be. For example, someone who has worked their way up to a case manager may have a higher salary than someone who does admissions and is just beginning in the hospice world. The salary for hospice workers is consistent and competitive, and those looking for a job with a good salary that has regular raises find what they're looking for in hospice care. This salary level is fairly steady with other nursing professions, making it a great option for many healthcare professionals. 
The number of hospice nurses and workers has increased dramatically over the past few years. As medical technology grows more sophisticated, hospice nurses will continue to be in higher demand as life is extended for many terminally ill patients. There will likely always be a great demand for hospice nurses who can help guide patients and families through this difficult time. 
How to become a hospice nurse.
There are many benefits of becoming a hospice nurse including steady salary, high job security, and job fulfillment. While it is difficult to work with patients who are dying, most hospice nurses say they find their jobs extremely rewarding. They spend their days making sure patients and their families are comfortable and enjoying time, which can lead to high job satisfaction. 
There are specific steps and requirements to become a hospice nurse, and it's important to understand them before pursuing this career. There are some hospice positions that don't require nursing experience, like a nursing aide or hospice aide. However, the majority of hospice positions require education and certification. 
In order to become a hospice nurse or CHPN you must have a Bachelor of Science in Nursing degree (BSN) and be a registered nurse (RN). A degree is often key in helping demonstrate your experience and knowledge and preparing you for additional challenges in hospice nursing. Students can either become a registered nurse and then pursue a bachelor's degree, or pursue a bachelor's degree and then become a registered nurse. Becoming a registered nurse is vital to working as a hospice nurse, and often nurses will need a few years of experience before they can transition to hospice nursing. CHPNs may also be currently on the path to earning a BSN while working as a CHPN or hospice nurse. CHPNs must pass the standardized HPCC CHPN exam to be certified for four years as a hospice nurse. Continuing education or recertification is required to keep up the certification. 
There are different requirements to become a CHPLN or certified hospice nurse. Different states may also have unique requirements for licensure. Similarly to CHPNs, CHPLNs must have a bachelor's degree in nursing and be a registered nurse to pursue this career. They also generally need to have nursing experience before they can be qualified to move into a hospice role. In general CHPLNs will need to take and pass the HPCC CHPLN exam which is valid for four years. However, some states have different licensure and experience requirements in order to become hospice nurses.
If becoming a hospice nurse sounds like an ideal career path for you, get started toward your future today by pursuing a bachelor's degree in nursing from WGU.